The value of a good quality belt sander cannot be underestimated. It's an incredibly useful power tool that tackles multiple surfaces and helps you prepare wood surfaces for a re-coat.
Sanding by hand is a slow and laborious task and anyone who has a large piece of furniture, doors or window frames will know just how taxing it is on your arms and back and just how long it takes to sand manually.
With a good belt sander and the correct grit sand paper most of this hard work is avoided and you save a lot of time.
You don't need to spend hundreds of dollars to find a good reliable belt sander there are many good quality ones in many price brackets and if you only want it for a few jobs or for light work you don't need a contractor grade one.
For light work you can purchase a hobby grade sander and as long as you have done some research you will find one that will meet your expectations.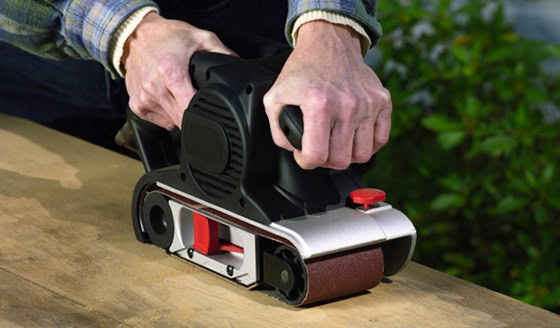 1. Variable speed settings
One of the important elements while choosing a sander is its variable speed control. It'd be best to choose a tool that enables you to set the ideal belt speed to allow the device to move as quickly or slowly as it's needed.
Before purchasing a belt sander it is best to research previous purchasers reviews or use a power tool review site like best belt sanders on Tool Inspector to ensure you end up with one that will match your expectations and stand up to the work you need completing.
You can also find the manufacturers warranty on power tool review sites and it is important to take a good look at what is being offered by the manufacturer.
Some offer the standard 12 months parts and fitting warranty and you will be responsible for sending them the sander.
There are some brands that offer large 3 years warranty and this can be taken as a positive sign that they have the belief that those tools will withstand heavy work for many years.
Some belt sander models come in either low or high speed. However, as a beginner, you ought to choose one that comes with a dial. Thus, you can select for yourself the desired belt rotation speed. It'll enable you to control better the time spent while sanding and layers you'll remove from the material.
2. Sanding belts and sizes
Using the correct grit sand paper is half the battle with sanding and if your not sure what the grit ratings stand for then remember that the higher the number the smoother it is and the lower the grit it is the abrasive it is.
Higher grit paper is suitable for finishing pieces whereas lower grit paper is better for removing thick layers or numerous layers from the wood.
While looking at sanders it can be a good idea to check that it has a good belt tracking system. With a feature that automatically adjusts the tension, you won't have to worry about doing it independently.
This prevents having to stop every ten minutes to realign the sanding pad which gets annoying really quickly.
3. Belt sander features
There is many different models and they come at varying prices. These prices tend to differ due to available features as well as their different brands.
It'd be best to take time and look at the available features before making the final choice. It'd be helpful also to check out the pros and cons of the sander and see whether they're equal to the task at hand.
It's advisable to check out what other buyers have to say about a given sander before spending any dime on it to make sure it is suitable for your home maintenance tasks.
4. Belt sander sizes
Depending on the size of the sanding tasks at hand you will want to pick a suitable size belt sander.
If you have large work pieces with massive surface areas a large belt sander will be the best option as it will save you a lot of time and cut down on the effort too.
If you are just sanding items with small surface areas then a smaller belt sander will be adequate enough.
Have a look a good look through the best belt sanders and choose one that suits your needs.
5, Dust extractors
A very good feature that comes with most belt sanders is the dust extraction system and if you are carrying out a lot of sanding it is important to prevent you being exposed to too much wood or paint dust as these are incredibly bad for your health and that is why there are sites like https://www.osha.gov/wood-dust that advise on how to deal with any power tools that create wood dust in the workplace.