Looking to brush up your knowledge on the various home styles and architecture in your area? Learn more about how you can use it to enhance your career!
To be a real estate agent means you have to have extensive knowledge about home styles, architecture, and designs.
While negotiation skills and trust go a long way, it's equally important for you to have proper knowledge about the house you're showing to your buyers.
If you have an ambition to become the town's local expert when it comes to home styles, then you'd better be ready to know about the different types of home styles present in your state or region.
So, if you're unaware of these common styles and want to get to know more about them then you've come to the right place. Here is our take on the common home styles, interior designs, and flooring styles that may help you in the end!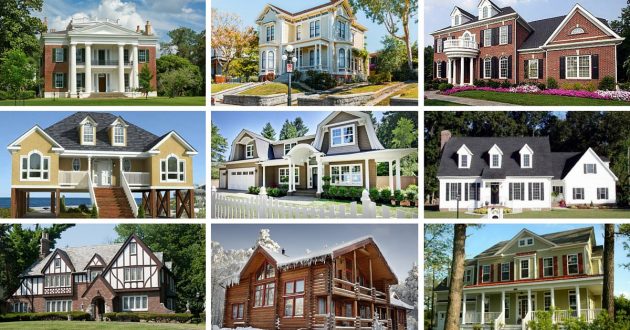 Common Home Styles in the United States
Knowing the common home styles can be a huge factor to a real estate agent. Incidentally, if you're working for a known realtor like the Myrtle Beach Realtor, then this could be of great help to you.
With that being said, here are a few common home styles in the United States:
Rowhouses
Popular in the 19th century, rowhouses were a great initiative to save costs on building homes. The idea of building multiple homes on one plot of land was sensational and thus rowhouses became popular fairly quickly.
Made for single families, the buildings share a roofline and one or more walls with a group of other rowhouses on a single block. They may usually share the same features such as front stoops, yards, window styles, and placements.
To make the construction of these buildings convenient for the workers, they would build doorways that connected each rowhouse. Of course, these doorways were sealed once the homes were sold.
Ranch Style Homes
Ranch style homes became popular around the 20th century. With their low slung roofs and one-story design, the buildings have an open-plan layout. Even the style is less formal and more laid back, which makes it affordable for family living.
Ranch style homes are truly versatile and were built for every family types. They can range from being luxurious mid-century modern homes to basic starter homes and can be used perfectly for outdoor decorations.
Mid Century Modern Homes
Taking inspiration from the European architect Ludwig Meis van der Rohe, the mid-century modern home became popular during the 1940s.
The homes had popular features such as flat roofs, large picture windows, single-story construction, and minimalistic design with no ornamentation. The attempt was to blend natural surroundings into the design of the home.
The interior design of the Mid-century modern homes was also consistent with the common open layouts. With just a few walls that separate the space that allows rooms to mix into one another.
Some Common Interior Design Elements
It's no secret that most homes have elements that are similar to historic homes, these styles are now implemented in modern homes. Let's take a look at some of the common interior design elements that are being used today as well:
Crown Molding
Crown molding is the decorative trim that you see at the corner of the house where the top of the wall meets the ceiling. Used in historic times, it was then made from plaster with molds which were later attached to the wall.
Now, crown moldings can be made from PVC, MDF, or even wood. The upside of using wood or any type of synthetic material is that they are easier to work with and don't require much skill to install them!
Chair Rails
Chair rail moldings are usually attached to the wall around the kitchen or dining rooms at the height of a chair. This mold was designed to protect the plaster from being damaged by chairs if it hits the wall when being pulled out.
They are regularly installed along with decorative panels, wainscoting below the chair rails to protect the plaster wall.
Shiplap
Shiplap was mostly used as an exterior design during cold climates but now, they are a must-have feature for chic country homes.
The thing that makes shiplap boards unique from other ordinary boards is that they interlock together. This creates a tight and weatherproof seal that is ideal for homes in cold climates but this was used before the arrival of modern weatherproof siding.
Common Types of Wood Flooring
Other than interior designs, it's also important to know about different types of flooring as well. It's common knowledge that replacing doors is super easy, windows are a bit tricky but replacing floors can be really expensive.
Flooring can change the total outlook of a house as it is visible the most in any type of home. Here are a few common types of wood flooring that are being used today in many homes:
Parquet
Parquet, which means small compartment in french, uses small pieces of wood that are cut into shapes to fit together and make a large pattern. The traditional parquet style looks like squares interlocking into each other, and it's the most common type of wood flooring that is used in almost every type of home style.
Herringbone
Easily the most striking floor styles you'll come across as a real estate agent, the herringbone floor is made with small strips of wood that are installed in an interlocking pattern in the shape of the alphabet 'V'.
They have been used as a decorative feature since the 1500s and are still popular to this day.
Chevron
Finally, chevron floors are a modification on herringbone parquet floors with a pattern that is simple to install. Unlike the other types of wood floors, this particular floor design doesn't interlock. Instead, small strips of flooring are directly cut at matching angles and finally installed on the floor.
Final Thoughts
In conclusion, we'd like to say that it helps a lot when a real estate agent has in-depth knowledge about the various styles, designs, and architecture of home styles.
Not only does having this knowledge make you look like you know what you're doing, but it also adds points to your selling credibility too. So, get out there and sell some houses!