By Bryan Anthony, Houzz Whether you prefer a serene, sophisticated or edgy boudoir, these trending bedrooms on Houzz have you covered. Counting down to No. 1, here are the 8 most popular bedrooms, as measured by the number of people who've saved photos of them to their Houzz ideabooks from July through September. Tell us in the Comments which space you'd want to wake up in.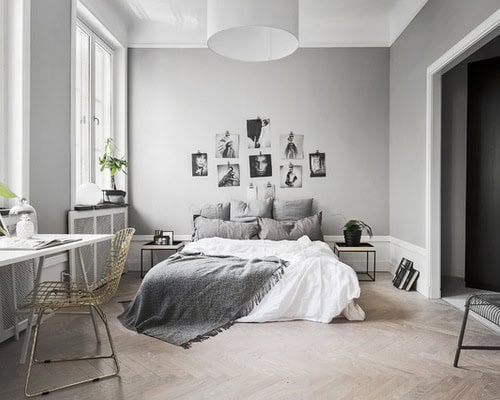 Popular Bedrooms 1: Stylingbolaget, original photo on Houzz
Fade to Gray
At first glance, the photo of this master bedroom in Sweden might appear to be a black-and-white picture, but soon you begin to pick up colors like the green of the plants and the gold of the desk chair. This minimalist space designed by Stylingbolaget is truly a case study in casual-chic style.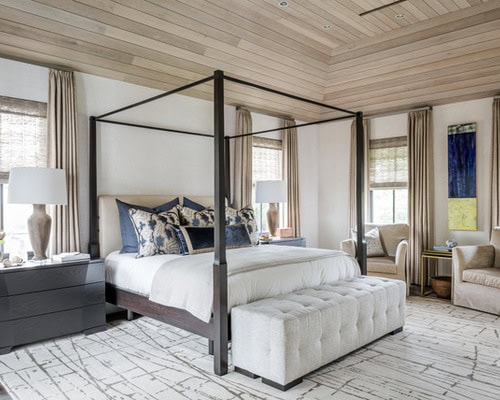 Popular Bedrooms 2: Mann Designs, original photo on Houzz
Contemporary-Cabin Cool
This master bedroom in Houston created by Mann Designs contains a wealth of wood, but it still manages to feel light and airy. The high coved ceiling helps, but it's the furnishings, such as the tufted bench covered in Osborne & Little fabric and the cream Turkish rug, that team up to keep the space contemporary and cool.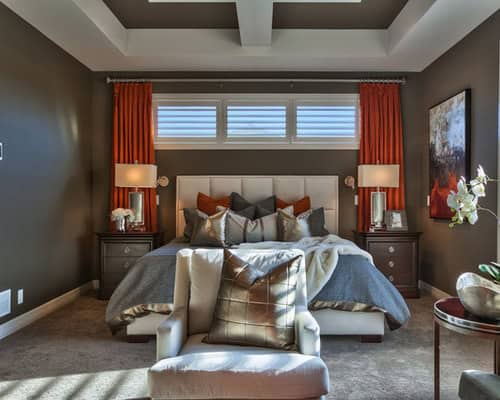 Popular Bedrooms 3: Falcone Hybner Design, Inc., original photo on Houzz
Muted Metallics
If you feel that metallics are too flashy for a bedroom, this space by the team at Falcone Hybner Design may change your mind. The room sports a variety of warm hues, so the muted metallic upholstered pillows and silver accents throughout add only the slightest touch of bling to this cozy room.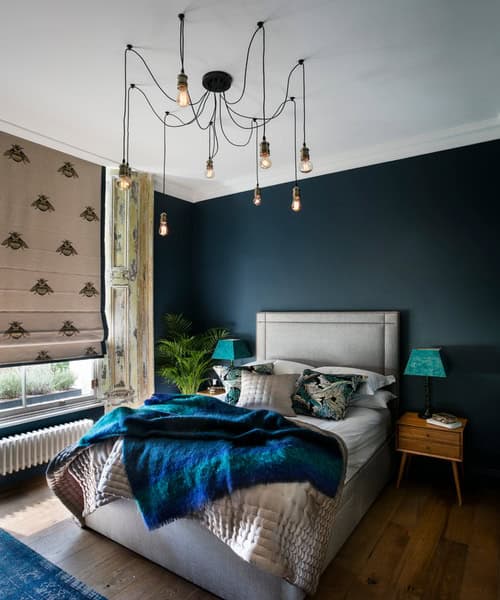 Popular Bedrooms 4: Nathalie Priem Photography, original photo on Houzz
While the fabric used to create the shades in this eclectic London bedroom most definitely features bees, the designer may or may not have intended for the ceiling's light fixture to resemble a spider. Whatever the intention, the space certainly packs a powerful punch.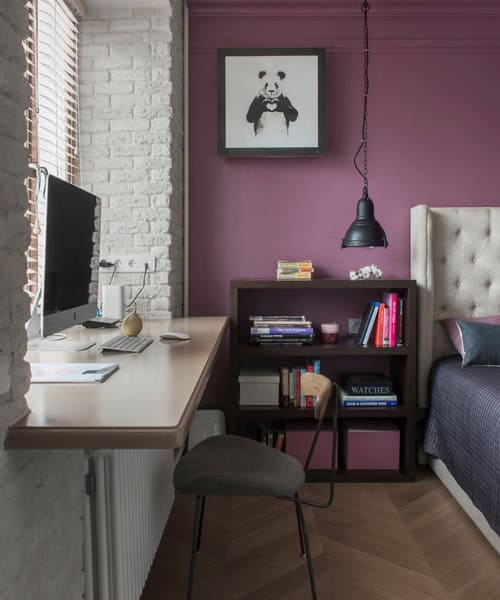 Popular Bedrooms 5: m. kunyakina, original photo on Houzz
Plum Perfect
The vivid purple accent wall, chevron-patterned wood floor and whitewashed bricks in this master bedroom in Moscow make a bold statement. The design team at M. Kunyakina also hung a black lantern-inspired pendant from the ceiling to serve as bedside lighting.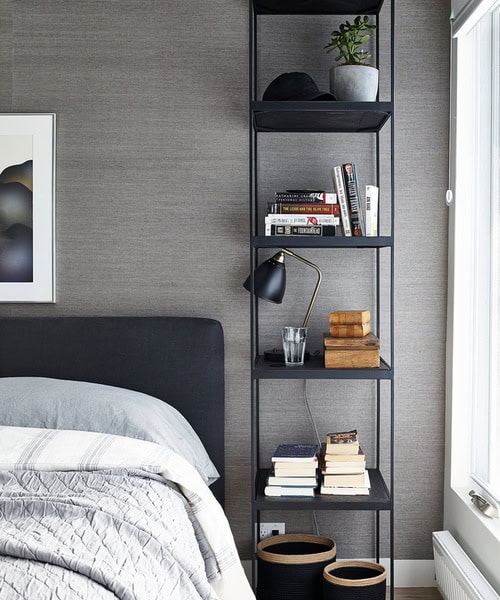 Popular Bedrooms 6: Contemporary Bedroom, original photo on Houzz
New Take on a Nightstand
The designer's decision to place a bookshelf, rather than a traditional nightstand, next to the bed in this Toronto master bedroom pays off. The tall metal bookshelf adds a visual contrast next to the low-profile bed.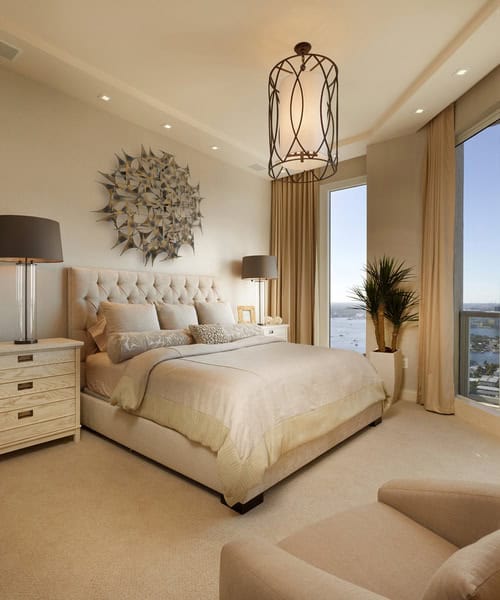 Popular Bedrooms 7: Dmitry Serba Design, original photo on Houzz
Serene in Cream
This Palm Beach, Florida, master bedroom by Dmitry Serba Design boasts beautiful Atlantic Ocean views, while the cream tones offer a soothing neutral backdrop. The tufted upholstered bed is from Nathan Anthony Furniture, and the chandelier is from Troy Lighting.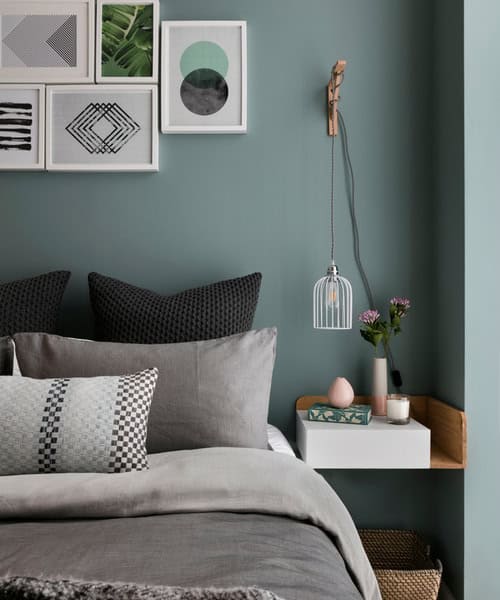 Popular Bedrooms 8: Shanade McAllister-Fisher, original photo on Houzz
Related: Key Dimensions to Remember When Designing Your Dream Bedroom
Pendant Power
This stylish London master bedroom designed by Shanade McAllister-Fisher has a lot of things going for it, including its fresh coat of Farrow & Ball's Oval Room Blue, but it's the sculptural pendant light hanging from its cord that really catches the eye. Pendants lights used as bedside lighting is becoming a hot trend.