By Bryan Anthony, Houzz
Whether it's adding tiered seating for the ultimate viewing experience or building a second kitchen to draw a crowd, there have been lots of great ideas for basement makeovers this past year. Here are the 8 most popular basement photos uploaded in 2016, as measured by the number of saves to ideabooks. Tell us in the Comments which one is your favorite.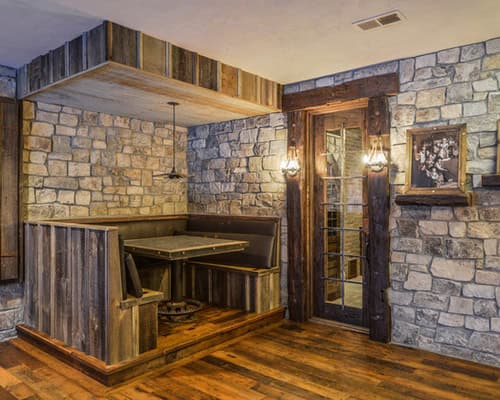 Werschay Homes, original photo on Houzz
Banquette dining
Banquettes are a fun way to gather friends and family around the table, whether for dining or playing a board game. This Minnesota basement features reclaimed wood floors salvaged from an 1890s grain mill and post and beams recovered from a 1900s barn.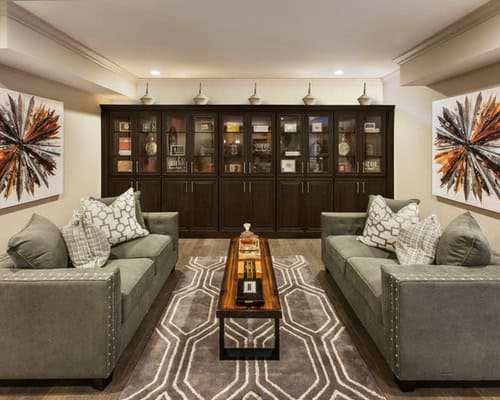 Possibilities for Design, Inc., original photo on Houzz
Formal attire
There's no reason a basement can't be just as formal as your upstairs living room. Since a basement is sometimes the largest room in the house, it can make a terrific place to host a large number of guests. Keep it as well dressed as your upstairs spaces, and no one will complain that the party is happening underground. This Philadelphia basement features crown molding, recessed lighting and matching sofas.
Stadium seating
Just like a movie theater with stadium seating, adding a bar counter and bar stools behind a sofa or sectional allows those farther from the screen a clear view from their elevated perch. This basement also features a custom reclaimed wall unit for the flat-screen TV that cleverly hides all wires and electronics in the cabinets underneath.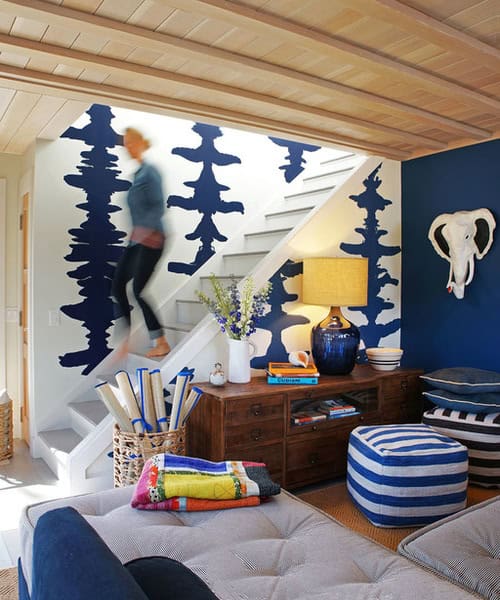 Rentschler & Company Interiors, original photo on Houzz
A place to go bold
If adventuresome design defines your home, there's no good reason to deny your basement the same treatment. Conversely, if your design aesthetic runs to the tame side, why not push the boundaries down below? This basement on Martha's Vineyard, Massachusetts, uses bold blues and fabulous wallpaper by Porter Teleo to draw folks downstairs.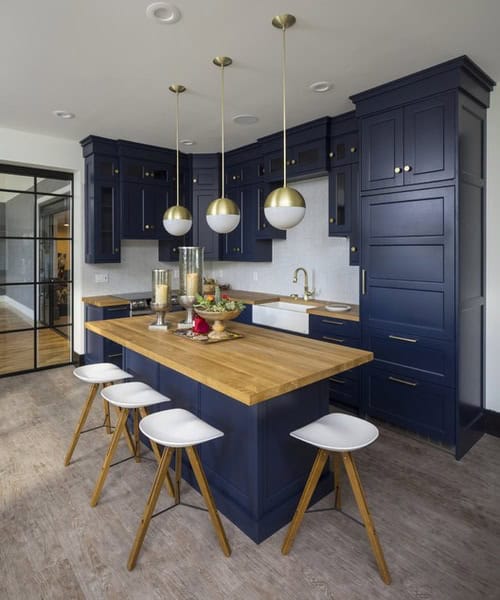 Inouye Design, original photo on Houzz
Kitchen or kitchenette
If you really want to attract people to your basement, a kitchen is likely to do the trick. You may have a large kitchen upstairs and just want to add a kitchenette in the basement so the kids can make a snack. Or you may want to forgo an upstairs kitchen altogether and add your full-time one downstairs. This blue-and-brass kitchen in Utah has all the allure of any kitchen that's located a floor above.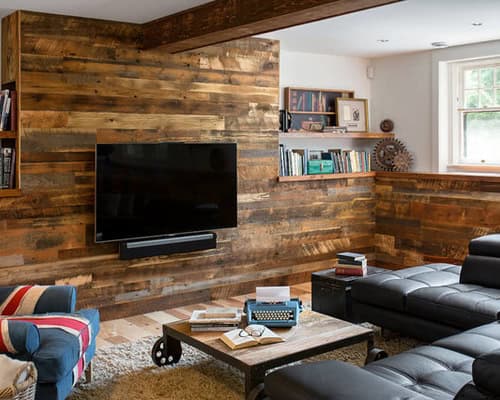 Reclaimed DesignWorks, original photo on Houzz
Rustic refinement
This industrial-style basement in Denver has a few windows for natural light, but it still provides a comfortable media room for the family. It also includes a wall of reclaimed wood, which seems to be a popular design material in many basements these days.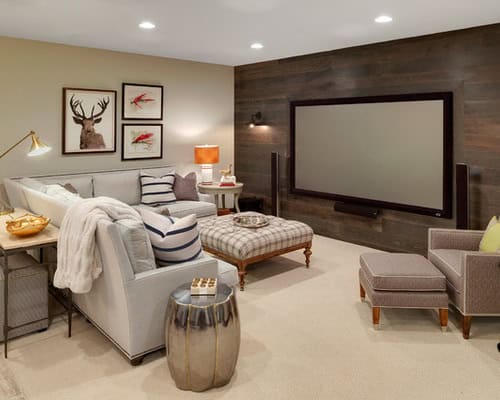 Grace Hill Design, original photo on Houzz
Movie time
One of the most popular uses for a basement is as a media room. The relative darkness, large-screen television and comfy seating combine for a theater-like experience, as found in this Minnesota basement by Grace Hill Design.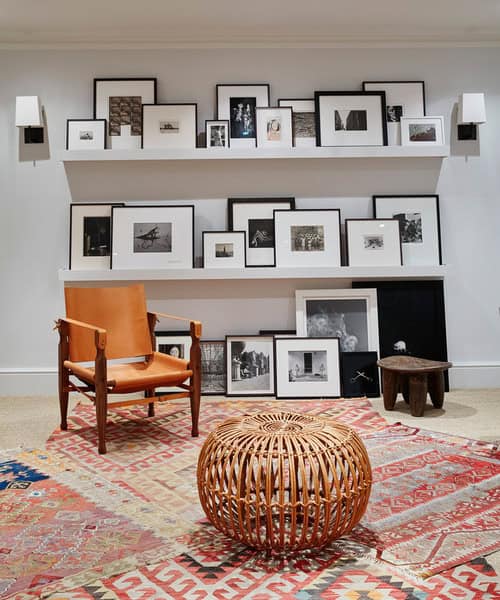 Sigmar, original photo on Houzz
Picturesque view
Since many basements have no windows, the views are going to have to come from the inside. A gallery wall can be a great way to offer visual interest. This London basement designed by the team at Sigmar features two floating shelves and a floor lined with a collection of black-and-white photography that's likely to make people forget about any lack of windows.