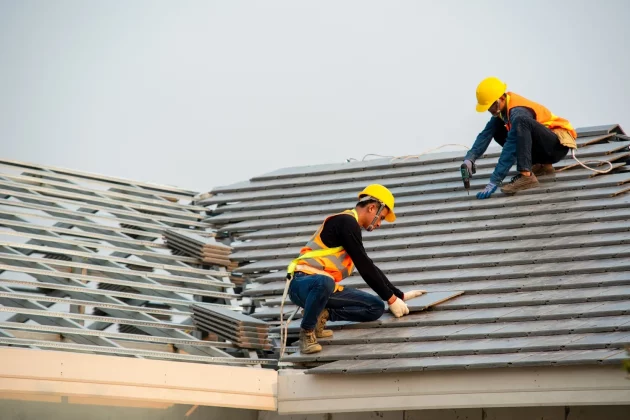 New builds and old properties are always in need of roofing materials. Whether your next project is for an in-progress residential site or an existing commercial building, remember these considerations for the roof. The project will be much more manageable by considering these factors before the project begins.
1. Consider the Weather
Environmental factors have the most influence on any roof. The roof has to withstand the region's most common weather conditions around the clock, but they may fall apart if the builder or architect selects the wrong materials.
Picking metal sheets for a hot-weather roof would deflect 66% of the sun's heat away from the house without eroding in the sunshine. Asphalt or ceramic tiles may not have the same longevity in identical conditions. Likewise, slate and synthetic tiles could last longer in freezing weather conditions based on their makeup.
Considering the weather is essential to picking the best materials for the roof of your next project. It affects whether the client needs to utilize their warranty in the months after their project finishes or if they discuss their positive experience with locals and online.
2. Provide a Schedule
Clients may want to repair, replace or build their roofs, but they don't want the process to take too long. You'll keep them happy by providing a project schedule as soon as possible. They'll understand how long it will take to get the materials and complete the project, which may influence which architects or builders they ultimately hire.
It's also helpful for clients to access a project portal. Whenever they have questions about the project's progress, they can track the work in real-time with an online portal that updates daily. It will streamline their schedule-related questions and help them feel more included in the process.
3. Remember the Noise
Installing roofing materials can get noisy. The client may need a quiet environment to work remotely in their home or conduct meetings in their workplace as the roofing project progresses. They could also live or work in an area with strict noise policies. Even with a quick roofing project, breaking those policies would lead to an unhappy service experience.
Talk with each client about the likelihood of higher noise levels during installation to decide if a different date would suit their needs better. Adjusting the start date by a few days could positively impact the client's experience, depending on their needs.
4. Evaluate Existing Industry Conditions
The construction industry still needs to catch up in production and shipping. Labor shortages and high demand have experts estimating a 25–28% price increase on products like roofing materials compared to pre-2020 costs. These industry factors aren't going away overnight, so they'll likely affect client projects in the coming year.
Affording the more costly materials and shipping each client's roofing selections might take longer than their initial schedule estimated. The project may also need more time if the existing roofing materials need stripping or partial removal. Getting ahead of these details by thinking about them early in the process will make your next roofing project more manageable for everyone.
5. Check the Power Outlets
The equipment needed to install roofing materials often requires power. Inquire about existing outlets on the client's property to determine if they have the wattage necessary to operate the equipment. If they don't, a generator is the next best option. However, it will add more sound to the site and potentially foul odors as it burns gasoline.
6. Make Room for Equipment
Space is another issue to consider for the roof of your next project. Cranes and lifts need specific amounts of room to get close to the building and navigate the property. Your equipment should easily move around the client's building without blocking emergency exits or operational dock doors.
7. Include Any Warranties
Clients often expect excellent warranties for their new roofs or roofing materials because many roof installation companies have improved their warranty terms. Discuss applicable warranties with each client so they know their best interest is your first priority. They'll move forward with the project more confidently if they understand what they're financially responsible for if their roof requires repairs.
8. Provide Clients With Options
You're the expert at designing and installing roofing materials, so you'll likely know what's best for your client right away. However, they may feel more comfortable if they have a few options during your initial assessment.
You could mention material variations that hold up best in their region, plus cost differences for each type. Depending on seasonal differences and material availability, they may also appreciate two or more potential installation schedules.
Prepare for Your Next Roof Project
These considerations for the roof of your next project will make the experience more enjoyable for both the clients and your team. You'll work through potential challenges while letting the client lead the way, all while providing excellent work that results in a lasting roof.