In other to offer real value on building construction with steel here are 7 rules or tips to follow that can guarantee you cut cost and economize on scarce resources:
1. Try using standard Steel Lengths
Specifying standard steel lengths rather than specialty lengths is often ignored. For example it is less expensive to order a 20 by 20-foot steel length than it is to order a 10 by 20-foot section. Ordering standard lengths eliminate the need to cut the steel to size and paying for unused remnants.
Don't be bothered about the added weight of standard steel sizes because added weight doesn't necessarily translate to more cost. If you order standard sizes the fabricators are happier to order larger quantities and this usually leads to more savings.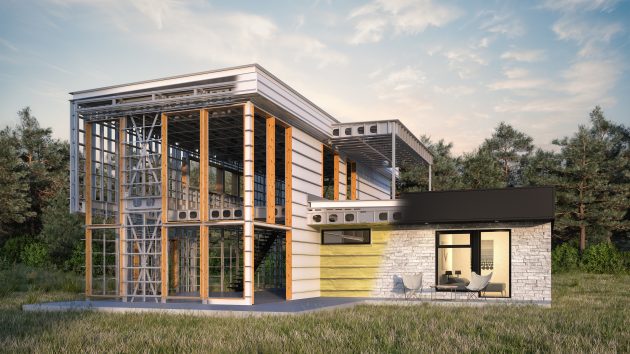 2. Leave out primed or painted steel
There is no point purchasing primed or painted steel if the steel won't be exposed to the elements or set up in a corrosive environment. Carry out some visibility studies on the building to determine the areas of the building in which steel materials are exposed to the elements.
Primed or painted steel adds unnecessary cost to buildings and they can hinder fire protective efforts because they become quite difficult for fire materials to adhere to.
To make the most of this tip, make sure your bid specifically states "no primer or paint". If you don't explicitly state this, they may add it to your package. They add primed steel because they are aware that steel often picks up on rust at a job site. Rust generally doesn't affect the structural integrity of the steel but the companies see it as unaesthetic.
3. Use BIM Models to save more
Teams involved in building can make use of BIM models to save more by identifying structural conflicts before they occur. To save more, share the BIM model with Murray Steel Buildings fabricators to prevent them from passing the cost of creating their models to you. There is wisdom in using IBM models on all jobs rather than keeping it exclusively for big projects.
You and your team will fall behind in terms of cost if you fail to pass on your BIM models to fabricators. It becomes more important in an economic slowdown were harsh conditions forces everyone to be more aggressive.
Word of caution: Ensure that the entire team is involved in the BIM model so that it becomes an integral part of the process.
4. Only make use of certified fabricators
You can reduce project cost by only making use of certified fabricators rather than paying experts to inspect the steel. Certified fabricators focus on the entire process of erection and fabrication so be rest assured that you will get the best. They adhere to a set of rules laid down by regulating institutions to weed off any problems before they make their way to job sites.
You will be better off nipping any problem from the onset than correcting them after the steel has been laid in position.
5. Get to know the details of your purchase
The total cost of structural steel on a project represents about 10% of the overall project cost. Fabrication along takes a whopping 60-80% while materials account for 20-40%. If market forces of demand and supply increase the cost of structural steel by 5% the cost of the entire steel project will only rise by 1-2%.
It definitely pays to know the details of your purchase.
6. Understand how to maximize fire protection ratings
To do this, follow any of the options listed below:
Spray fireproofing: Spray the steel with oil, grease and loose mill scale. This requires minimal time.
Gypsum Board: The cost to upgrade gypsum board is relatively low. It's an inexpensive way to fireproof steel
Make use of in tumescent paints. They are durable, have good adhesion and are aesthetically more appealing on buildings with exposed structural steels.
7. Low-cost deals won't cut in
Don't be deceived by low-cost deals, in the end you will end up with a low standard product. Basing your steel purchasing decisions solely on lowest cost is a very wrong approach to take. Steel should be viewed as a specialty and not just a mere commodity because you need to factor in fabrication, engineering and installation knowledge.
Significant cost savings can be realized by teams who work hand in hand with fabricators to deliver better steel packages. If you view steel as a commodity that can be the price you might miss out on opportunities to create a leaner and more cost-saving package.