Your living room is where you spend most of your time. It's also the place your guests often see when they visit. Therefore, it should look stunning to create an excellent impression on your guests and make you feel comfortable.
That said, small living rooms can be challenging to organize. You need sufficient furniture without taking up all the floor space. More of one means less of the other. Can a tiny room be cozy? Well, with these five hack ideas, you can organize your living room and make it cozy regardless of space.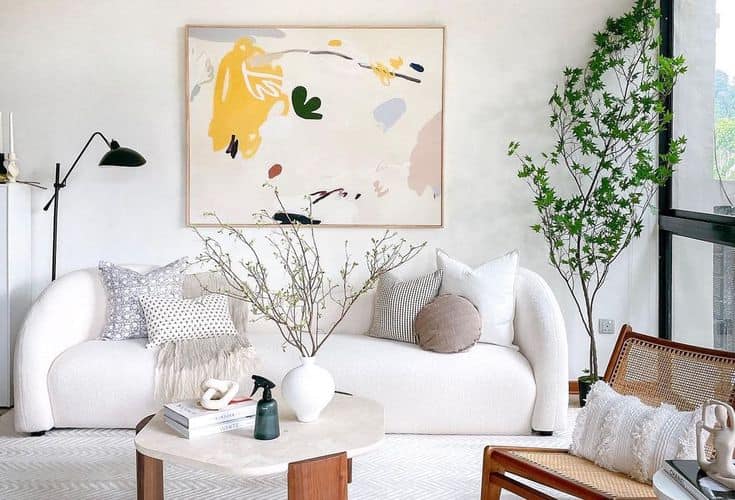 1. Utilize the Space Under the Stairs
In a tiny living room, no space should go to waste. The space under the stairs can be large enough to provide a small office. Or it could be tiny but suitable for hanging coats. It all depends on your needs. Identify what clutters your room and see whether it can fit under the stairs. From kid's and dog's toys to storage units for shoes and cleaning supplies, you can store almost anything in that space.
Sometimes, you might need to construct shelves to optimize the storage. In that case, you'll need tools like:
Wood and cardboard
Screws and a drill driver
Circular saw
Tape measure
If you have some workshop skills, you can build the storage unit under the stairs to declutter your living room.
2. Consider Multipurpose Furniture
Multipurpose furniture saves you from buying too many items which may clutter your room. A coffee table with shelves underneath can help you store remotes and stationeries that occupy the table space. Similarly, a coach with a storage unit can help you keep items like kid's toys that clutter your space.
You can also get a convertible couch to serve as a bed when you have a guest. Multipurpose furniture doesn't mean sacrificing your home décor. On the contrary, it leaves you more space to cozy up your home.
3. Build Floating Shelves
Tiny living rooms have limited floor space. But the walls could have plenty of space hiding in plain sight. Why not build floating shelves? The corners are perfect for such shelves. You can store your books, vases, toys, and anything else that can fit.
Building the shelf won't cost much, especially if you can do it yourself. You can use pallets because they're strong enough to build pallet shelves. Ensure you paint them well to contrast or blend with your interior décor.
4. Use Storage Baskets
Some items are too small to store on their own. A single basket can hold many small things, making it great for organization. You can place a smaller basket on the table to hold stationeries and remotes. Larger ones are ideal for storing pillows and extra blankets.
To save space, consider hanging some baskets on the wall. You might need to buy some wall hooks and drill them on the wall. But if you live in a rented apartment, drilling may not be the best idea. In that case, a proper metal glue will do the trick.
5. Use Fewer but Larger Items
Smaller rooms require you to maximize the available space. One way of doing so is getting large furniture. Having many smaller pieces of furniture can make the room seem congested. But large items make the room appear spacious. Instead of having two smaller couches, one larger couch can occupy less space and even carry more people.
6. Allow More Light
Light creates an optical illusion that affects your depth perception. A room with dark corners may appear smaller because you can't see what's in those corners. A smaller room appears less confined when there's light. To get more light, you can leave the windows without curtains or use light curtains. Also, painting the walls white can help reflect most of the light, leaving no dark corners.
7. Reduce Clutter
One reason the living room could look congested is keeping items you don't use. Be sure to scan the room and identify things you haven't used for several months. What could go wrong if you gave them out? If your organization methods aren't working, you may have to re-plan your entire living room. That may involve replacing single-use furniture with multipurpose ones.
You may have a small living room, but you can always make the best of it by implementing the above organization ideas. Smaller living rooms require keen planning before acquiring household items. Before buying any item that takes up space, ensure it's relevant and serves multiple purposes.