The conclusion of winter with the entrance of spring provides many opportunities to transform your restaurant outdoor area into an alfresco dining hot spot. Though often under-used by restaurant owners, outdoor restaurant patios and balconies appeal to many patrons during warm seasons making them essential. Having an underused outdoor dining area, or not having one at all, has the same consequences as a poorly designed and laid out indoor dining space. Fortunately, transforming or updating your outdoor dining area doesn't require a lot of effort – just creativity and planning. Follow these 7 simple yet effective design tips to enhance the outdoor dining experience for your guests.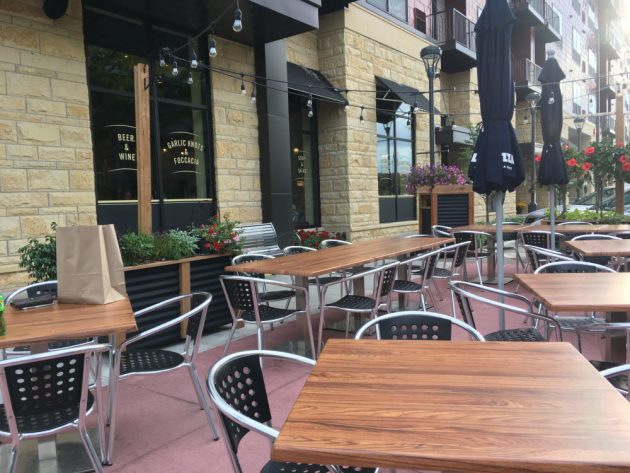 1.Finding the Right Location
Carving out the right location for commercial patio furniture should be seen as an opportunity to design a patio around your brand rather than just promoting your brand around your outdoor space. Dining outdoors and entertaining guests is one of the benefits of having a patio. Regardless of the patio size you have, you should give your guests enough room to move with ease in between the chairs and tables.
2.Strategizing your Seating Layout
Once you decided to set up your restaurant's patio, you may feel the need to fit as many patio chairs and tables as you can. But more isn't always better and doesn't necessarily mean more revenue. Before you expand your outdoor seating, make sure you arrange it in a way that doesn't interfere with service. Wait and kitchen staff may struggle to keep up with the lunchtime rush if there is too much seating. Even if your restaurant staff can squeeze another ten tables into their workload, your patio may not have enough space for them. Make sure you have enough space to fit in the number of tables and chairs you need so both servers and guests can comfortably maneuver through your restaurant's outdoor seating area.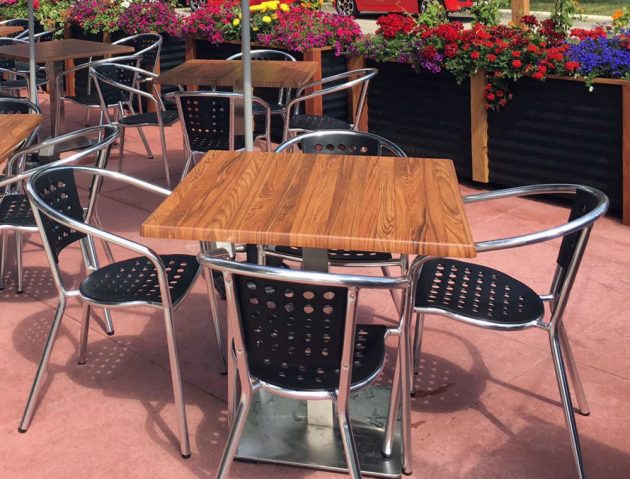 3.Providing Sufficient Shade and Weather Protection
Some form of awning, such as an umbrella, is highly recommended for your outdoor dining space to not only keep your guests comfortable but also shield them from the sun glare and other inevitable weather changes. If your patio or balcony sits underneath a roof, guests can dine outside anytime of the day. You can also consider terrace awnings for areas that are directly outside of your restaurants. Or you can use butterfly awnings for your patio that aren't directly attached to your restaurant building.
4.Commercial Quality Outdoor Restaurant Furniture
While using residential patio furniture or restaurant furniture exclusively designed for indoor use may seem like an economical solution to you at the moment, it can heavily cost you in the long run. Your outdoor restaurant space needs furniture made from high-grade materials that will stand up to the harsh environmental elements and hold up to the wear and tear from everyday use. Even with an awning, commercial patio furniture will be exposed to outdoor elements. Look for furniture that is exclusively built for commercial use, weatherproof, low maintenance and easy to clean. Stackable chairs are convenient if space and storage is an issue.
Not only should the outdoor restaurant furniture you choose should be durable and weather-resistant, it should also jive with your restaurant's ambiance and décor. Having restaurant patio furniture that is well maintained and long lasting is just as crucial for operations as it is for your restaurant's brand and reputation. If you run a high-end restaurant, for instance, you should outfit your patio with folding chairs and fashion them with stylish covers.
5.Decorative Exterior Lighting and Other Signage
Eating outdoors in the dark is not ideal for most people. Lighting design plays a big role in attracting customers in. So unless you possess some mystical ability to conjure sunlight or intend to close your patio when the sun sets, lighting is essential to the ambiance you are trying to create. Though an afterthought to many restaurateurs, lighting is also necessary for customer safety. String lights, tea lights, tiki torches, Chinese lanterns, or candles are great affordable options for keeping your patio illuminated while sufficing as decoration pieces at the same time. If you are not careful in planning your lighting design for your outdoor seating area, some of your tables may be inadvertently over-lit while others will be placed in the dark corners of your patio. Parking lots, no smoking, open/close, cellphone use and other signage displayed at the entrance of your restaurant should also be professionally done. They look better and last longer than handwritten or printed signs, plus they attract diners.
6.Beautifying Your Patio
Aside for stylish restaurant patio furniture, even the smallest decorative elements can do a lot to dress up your patio décor. And they don't have to be expensive. Extending your restaurant's entrance area with music can enhance your ambiance. This technique is commonly used among popular chain restaurants. Soft jazz, classic rock, or classical music can set the mood. A patio space decorated with lush foliage can make outdoor dining more aesthetic and inviting. You can easily achieve this with pots or growing climbers around a pergola. Miniature trees add a sense of refinement to your terrace. Adequate amount of greenery, lighting and music can improve the visual appearance of your entire restaurant from the outside in.
7.Going Above and Beyond
What separates a good restaurant patio from a great restaurant patio? A good restaurant patio has these basic tips mastered down while a great restaurant outdoor space takes it a step further. Lending a personal touch to your outdoor seating can distinguish you in the market. Food, specials, portable outdoor bars and live musical performances can elevate your diner's experience. A unique, well planned restaurant that also has a lot of character can convert first-time visitors into regular customers and significantly boost your profit margins.