One of the most common home improvement jobs on the to-do lists of homeowners is painting, with 55 percent noting it was something they needed to tackle in a study by Porch.com as reported by the NY Post.
If you're one of the many who plans to repaint the interior of you home, consider these tips for a job done right.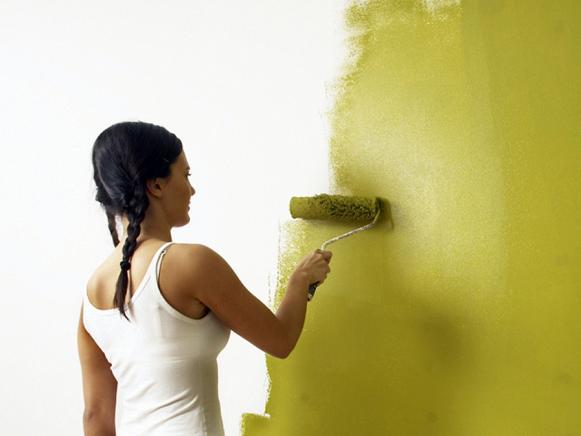 Make Sure You Have the Right Tools
Quality paint is important, but so are good roller covers, painter's tape brushes. If you don't have good tools, you're not going to get a high-quality paint job.
Protect Everything You Don't Want Painted
Drop cloths are a necessity. It may take time to cover floors, those giant area rugs, furniture and hardware, but it will be worth it. Cotton drop cloths are better than plastic as they'll stay in place better and won't be slippery when walking on them. Use small plastic sandwich bags to protect doorknobs, securing them with tape.
Prep First
If there are any areas on the walls that are peeling, flaking or cracking, scrape or lightly sand them first before applying new paint. If you fail to do this, will be wasting the entire effort. If there are any grimy areas, clean with a heavy-duty cleaner meant for pre-paint cleaning. After doing so, wipe the walls down with a damp cloth so that the paint will have a dust-free, clean surface to adhere to.
Combine Several Cans of Paint into a Large Bucket for a More Consistent Color
As paint colors can vary somewhat from one can to the next, it can result in a less desirable look. For example, if you run out of paint when you're in the middle of painting a wall and open a new can, you're likely to see a noticeable difference. You can eliminate this by estimating the amount of paint you'll need for the room and mixing it all together in a large bucket. It's better to overestimate than under as you can always pour back any extra into the cans. Before stirring, drill holes into your stirrer which allows the paint to mix more thoroughly and evenly.
Avoid Painting During Humid, Rainy Weather
Try to paint when the weather is dry as the humidity often results in drips and slow drying. If you have to paint in wetter weather, go slowly, taking advantage of slower drying paint to correct any mistakes before moving on to the next coat.
Keep Brushes Soft by Using Fabric Softener
Waking up ready to paint the second round and discovering that your brushes are stiff is one of the most common painting nightmares. Avoid this by rinsing them thoroughly with water (no soap) at the end of the day. Then combine a half-cup of fabric softener into a gallon of warm water. Swish your brushes around in it for 10 or 20 seconds and then lay them out flight to store overnight. The next morning your brushes will be ready for that next go round and will even help distribute the paint more smoothly too.