Do you want to make your home bar a great place to chill and entertain? These six fun and creative home bar décor ideas will help you do exactly that!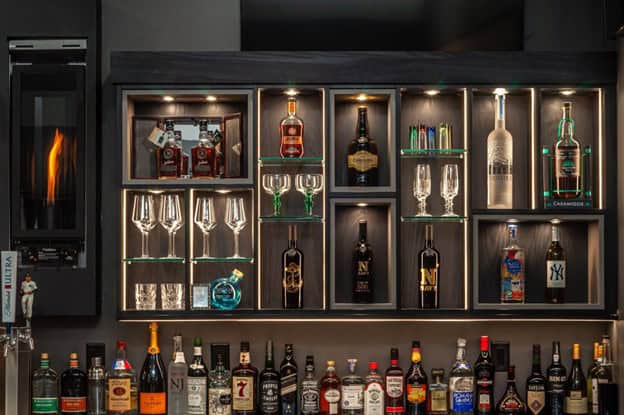 What's the first thing that comes to mind when I say "home bar"? If it's a sense of disappointment, consider this blog post an exercise in re-framing your home into a place where you can chill and entertain.
When considering creating the ideal home bar, keep in mind that it doesn't have to be packed with alcohol or be set up like a typical nightclub; it just has to be functional for your needs. It should also encourage conversation and camaraderie among guests.
Which Things Should Your Home Bar Have?
A home bar can be the perfect addition to your dream home, but it can also be the worst. Hopefully, our six décor ideas have given some perspective by now.
A home bar aims to entertain and create a place where people like hanging out, so keep that in mind when you're putting it together. For example, a classic home bar would ideally have:
Something for guests to sit on (chairs or stools)
A lovely design with good lighting
Tall chairs for people who are tall (and vice versa)
An area where people can put their drinks while they're standing up
A place to store glasses (like glasses cabinets or glass drawers)
To help get you started, we've compiled some of the best home bar ideas to chill and entertain at home; find inspiration from them, mix and match ideas, or come up with your own original designs
1. Home Bar with Wooden Cabinets
If you're looking to expand your home bar but don't want to shell out big bucks on custom cabinetry, you can still get an attractive and functional setup by using ready-made components.
For example, a bar like this one combines the practicality of cabinets with convenience, making it easy to store bottles and glasses while also keeping them visible.
The shelves are deep enough to hold the tallest wine bottles. The wood finish adds a classic touch that's sure to enhance even modestly decorated rooms while also giving you plenty of space for decorations or other accessories.
Shelves can be used for storing anything from glassware and coasters to bottles and serving trays. This bar type is perfect when decorating a basement bar or living room.
2. Small Home Bar with Vibrant Color
Vibrant color will help you organize your home bar area, allowing you to create a functional and fun space that's perfect for entertaining guests or just enjoying some quality time with yourself.
● Use Non-Matching Colors in Different Places
Using a variety of colors throughout your home bar area can give it a more prominent appearance. A great example is using white for countertops and shelves, then jazzing things up with other colors.
Using more than one color on a surface allows room for texture variation—a wooden shelf finished with glossy lacquer will add interest to an otherwise plain wall.
● Use Color Sectionally
Adding multiple shades of the same color can help anchor areas together while still leaving them feeling separate and distinct.
This makes sense if you're spending a lot of time in one particular part of your home bar—e.g., if you like sitting at the counter all night rather than coming and going from somewhere else.
● Go Bold with Primary Colors Where It Counts
One thing that will set your home bar apart from many others is the use of three primary colors: red, yellow, and blue (with green added for good measure.)
This gives the entire area an instantly playful vibe that makes anyone who sees it smile!
3. White-and-Gold Home Bar
If you have the room and the budget, using gold accents and decor is a great way to make your bar feel unique, luxurious, and inviting.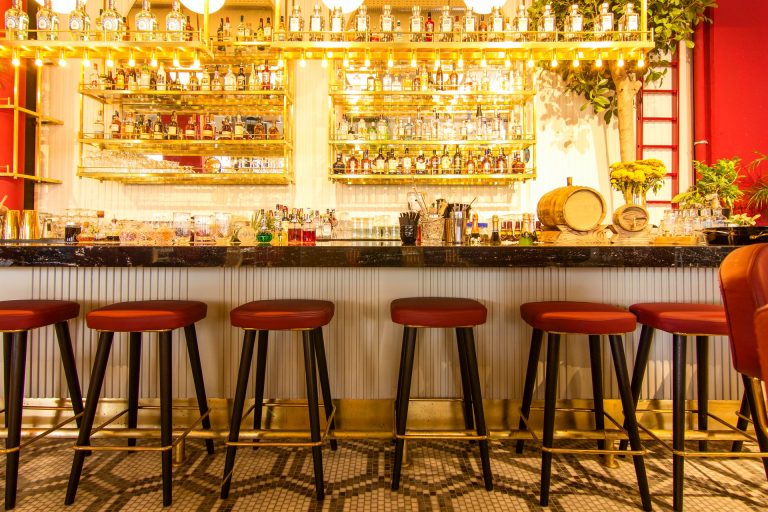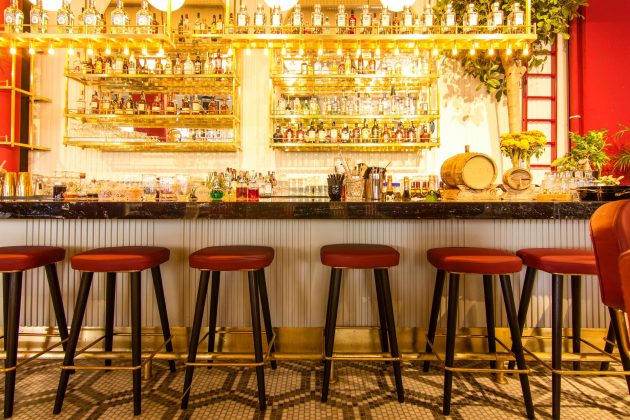 To add some gold glitziness to your eclectic home bar, try these tips:
Use golden goblets and glasses for drinks instead of plain glassware.
Gold candlesticks are great as candle holders during parties (matching perfectly with votive candles).
Add a chalkboard menu with gold chalk.
A classic red bar sign adds charm and character – but if it's not in the budget, paint it yourself! Use gold instead of oil-based paint so that the sign doesn't get sticky or ruined over time.
Gold tablecloth for your dining room table adds flair and excitement when entertaining guests or having dinner at home! Try mixing it with other colors such as white or grey for a modern twist!
Or mix it with red for Christmas!
4. Contemporary Home Bar in Black and White
To make our living room feel a little more open, we can add black and white to the decor. The classic color scheme of black and white sets it apart from its contemporaries.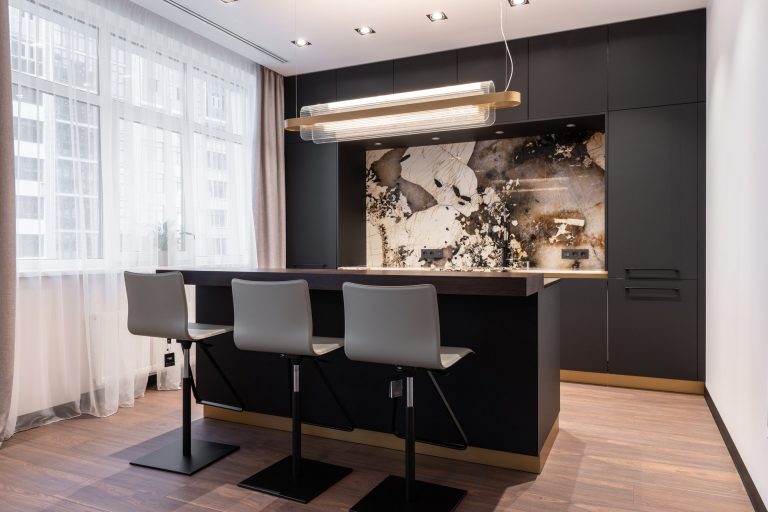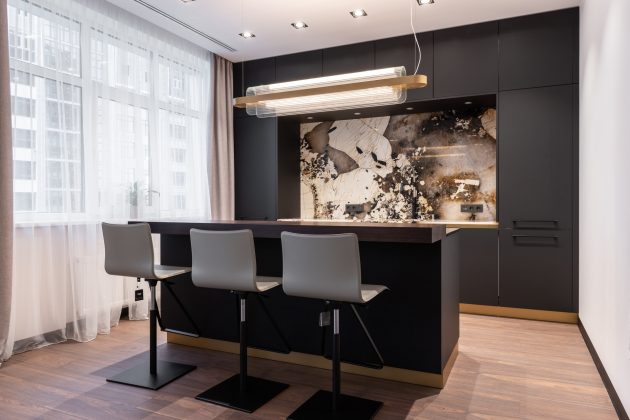 It's clean, fresh, and welcoming; you may forget you're in your living room if you're staring at a black-and-white decor. Modern interior design trends lean toward earthy tones and bolder colors, but they don't necessarily make spaces feel bigger.
Black and white give our small space an entirely new dimension that makes it seem larger than it is.
5. Cozy Neutral-Toned Home Bar
The first thing most people think of when they think "home bar" is a dark wood bar with black leather stools. Still, suppose that's not your style. In that case, there are plenty of ways to integrate different design elements into an interior space so it feels like a tropical-themed oasis or an upscale speakeasy.
Depending on who the primary user of the home bar is, one or two complementary color schemes can tie everything together while keeping things neutral-toned in case friends or family with different styles come over.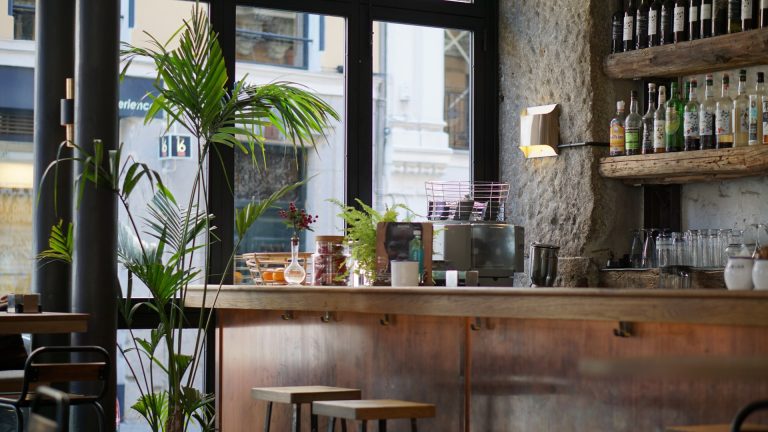 For example, if the primary user of your home bar is a man who wants something masculine and sophisticated (think Bond), he probably doesn't want pink flamingos as part of his decor.
But say that same man opens his door to other guests whose styles don't match his—they'd all still be able to enjoy themselves just fine in this home bar because it's warm & inviting.
6. Rustic Southwestern Home Bar with Brick Wall Accents
Aesthetically, most homeowners will lean toward one of two looks: rustic or industrial. If you're going rustic, using natural materials is key to creating an inviting atmosphere and making it feel like an extension of your living space.
Rough-cut wood, an earthly color scheme, stone, and brick are all great options for those who prefer a rustic style or are trying to achieve the look of a cabin in the woods. Warm tones like reds and browns are natural complements.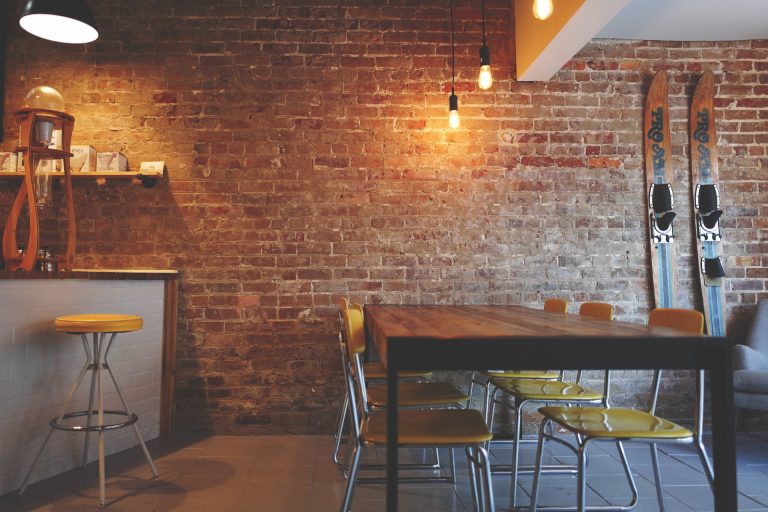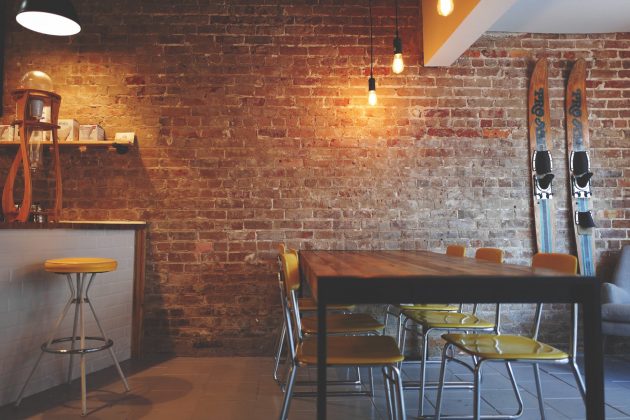 Marble and granite work well with modern home bar decor, too. Some people use multiple materials throughout their home bar—wood for cabinets and a countertop, concrete for walls or flooring, metal for accents such as towel racks—so don't be afraid to mix things up!
Brick accent walls are another option to add some southwestern warmth to your home bar's design.
Conclusion
Having a bar (or "home bar") in your living space is an excellent way to achieve the vibe of having an adult den where things like entertaining friends and keeping drink bottles are acceptable.
In this guide, we've provided six home bar ideas to chill and entertain at home and what you'll need to assemble it (a lot less than you think) to create a space that doesn't look like it belongs in the bachelor pad from HBO's Silicon Valley.
With just a little bit of time and investment (not necessarily money!), everyone can have convenient access to drinks at any time!