The trend for sleek, minimalist contemporary kitchen design has been hugely popular for some time, but it's not everyone's cup of tea. If you prefer your kitchen space to have a comforting, timeless and farmhouse-y feel, traditional kitchens are the way to go.
But what makes a traditional kitchen? I consulted kitchen design experts TBKC for some insider knowledge about the classic must-have elements that really make a country kitchen. Whether you are designing a new kitchen space or simply want to add some traditional touches to the kitchen of your modern home, here are 6 design features you should be looking to incorporate.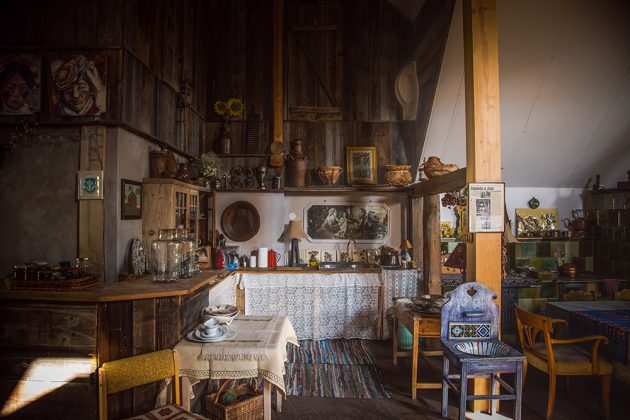 1. Wooden kitchen units
When it comes to farmhouse kitchen design, wood is always good. Look for a timeless Shaker style kitchen, recognizable by cabinet doors having recessed central panels, in a warm wood such as oak. Even if the rest of your kitchen is modern, this will give you an instant old-school feel.
If you prefer a painted kitchen, pale shades of white and neutrals, or pretty pastel blues and greens will create a traditional look that isn't too heavy. Matt heritage shades such as grey and mushroom are more forgiving than white or cream and add a touch of elegance that is very on trend. Add wall units with glass doors or open shelving to maximise the sense of space.
2. A classic range cooker
No farmhouse kitchen is complete without an Aga. Range cookers are the embodiment of the heart of the home, adding a cosy country feel to any kitchen, particularly in the winter. Cooking on one is a delight, whether you're doing Sunday Lunch or baking scones, and modern models offer a choice of gas, electric or dual fuel.
Choose an Aga, Rayburn or Rangemaster in a bright feature colour for a fantastic centrepiece in your kitchen. Range cookers may not be cheap to buy and they can be expensive to run but once you're used to having an Aga in your kitchen, you won't ever want to go back.
3. A traditional Butler sink
The traditional 'Butler' type sink is another essential feature that no country kitchen should be without. These roomy, box shaped vintage style sinks not only look great, especially if paired with gorgeous traditional taps, they are incredibly practical to use too.
Butler sinks and Belfast sinks have been around since the 17th century. Originally, the difference between the two was their size – the Belfast sink was bigger – and the overflow: Butler sinks had none. Nowadays, the two terms are used interchangeably.
For authentic pieces, your local architectural salvage dealer may well be able to help, but new reproduction sinks are widely available in a huge range of sizes, so there's bound to be one to suit your kitchen space.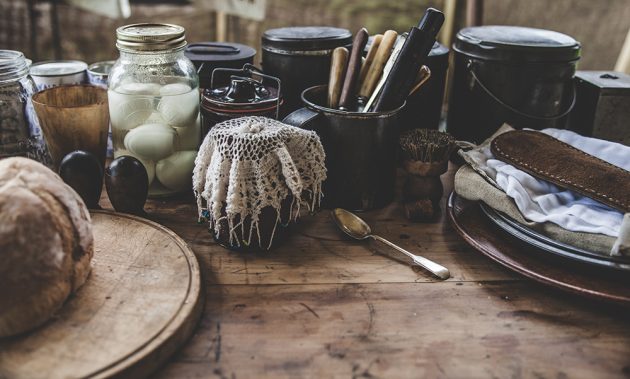 4. Rustic worktops and hard flooring
While kitchen worktops and flooring should always be highly practical, a traditional kitchen should feature natural materials. For worktops, choose a hardwearing wood such as oak, walnut or iroko. On the floor, you could go for terracotta tiles – reclaimed if you wish – for instant warmth and a timeless feel.
If you have a larger budget to play with, natural stone will look beautiful and authentic while adding a unique sense of history to your home. Consider slate or marble for worktops, honey coloured limestone floor tiles or perhaps the ultimate in country kitchen flooring: natural flagstone!
5. Old style knobs and handles
Sometimes, the smallest details can make a big impact. Finish your kitchen units with traditional knobs and handles to achieve a rustic look. Depending on the style of your existing kitchen units, maybe changing the handles is all that's required to give you more of a period feel?
You can choose the classic simplicity of round wooden 'peg' knobs, leaving them unpainted to contrast with painted cabinets. Or go for vintage style hardware in antique brass, pewter or brushed nickel.
When it comes to handle design, you'll be spoilt for choice. From button knobs to cupped or pull handles, and a wealth of period style wrought iron door furniture and cupboard handles, it won't be difficult to transform the look and feel of your kitchen.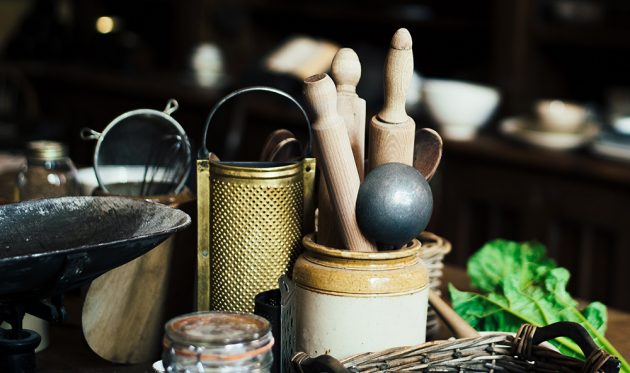 6. Vintage storage
Finally, why not add some finishing 'country' touches to your kitchen without much effort by way of storage? Classic Le Creuset cast iron saucepans suspended from a Victorian hanging rack instantly evokes a traditional kitchen vibe, especially if placed centre stage above a kitchen island.
Wicker baskets placed into open shelves or on top of wall units add a simple rustic look and feel, adding texture and character as well as extra storage for everything from fresh vegetables to kitchen towels.