Whether you're thinking about remodelling your bathroom to suit the rest of your home or you're starting from scratch, designing the perfect space can be challenging. Even the most flawless bathroom has to be tailored to work with the home's plumbing, drainage and ventilation systems.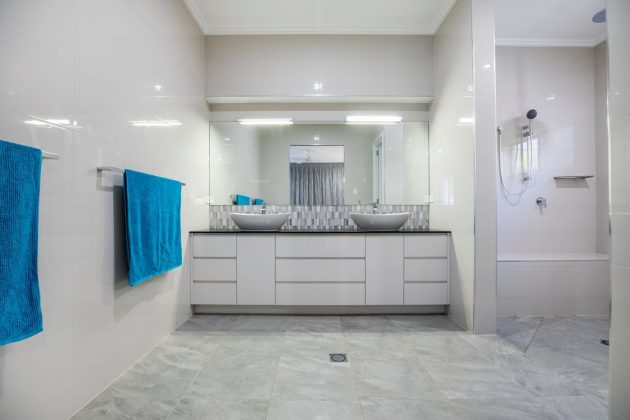 If your bathroom is on the smaller side, it can be even more tricky to give it the airy, relaxing and luxurious feeling a bathroom should have. But worry not, as even first-timers can design a perfect bathroom with the help of a few tried-and-tested tips. With this in mind, here are five expert tips for a bathroom that will exceed all expectations.
Find Inspiration
Designing a bathroom becomes much easier when you have a clear idea of what it should look like. We often struggle to realize our vision when we don't have a physical example to refer to. Take some time to browse showrooms, magazines, and even your friends' bathrooms. Don't hesitate to mix and match until you have something that suits your style.
Compile a Solid Plan
It's one thing to have a clear idea of what you want, but making it happen isn't always easy. Be aware of the additional costs and implications that come with moving major components such as the shower, sink, and toilet. Be sure to also picture yourself using the space to determine whether it'll be comfortable.
You don't want to struggle because the toilet bowl is right next to your bath or because the door is banging against the sink. Make the necessary measurements and create a rough floor plan of what you want. Consider paying your local showroom a visit and asking for some assistance from an experienced designer.
Remember the Importance of Lighting
You need to determine a suitable lighting plan depending on how you prefer to enjoy your bathroom. Do you need a well-lit space to see what's going on in the mirror, or do you enjoy an intimate candle-lit bath? Don't forget the power of natural lighting. It can create an open, airy feel and shave a few pounds off your energy bill.
Find the Right Components
The components you choose will not only determine the look and feel of your bathroom, but also how much money you'll be spending on it in the long run. Certain components such as toilets, taps, showers, and even accessories can fall apart or break over time, resulting in potentially costly replacements.
Take some time to find a company that offers an optimal balance between quality and affordability. You don't necessarily need to go all-out and splurge on the most luxurious fixtures, but cheaping out won't work in the long run either. Head over to Victorian Bathrooms 4 U for a good idea of what quality bathroom components look like.
Take Advantage of Colour
Similar to lighting, colour can go a long way in influencing the mood of your bathroom. Use warm colours for a more relaxing ambience and crisp pale colours and white for a more refreshing feel.
Conclusion
Taking these factors into consideration will help you create the perfect bathroom to relax and unwind in.