We're all aware how quickly our workplace can become messy, and home offices are no exception. In fact, workplaces based at home tend to become even messier than in-office spaces. At home, our personal belongings, or our family's belongings, can often make their way into the workspace and many of us might not have the same neat standards at home as we do in the office. After you've spent so much time finding the perfect home office design that best suits you, your taste and your needs, it's worth putting in the effort to keep it looking neat and tidy.
Your work environment has a huge impact on the way you work and your mood. A tidy workplace encourages organization, communicates professionalism, declutters the mind, saves you time and facilitates creativity. The quickest way to organize your home office, is to consider some sensible storage solutions for your belongings. These can range in price and style, but do not have to break the bank or drastically alter your office design.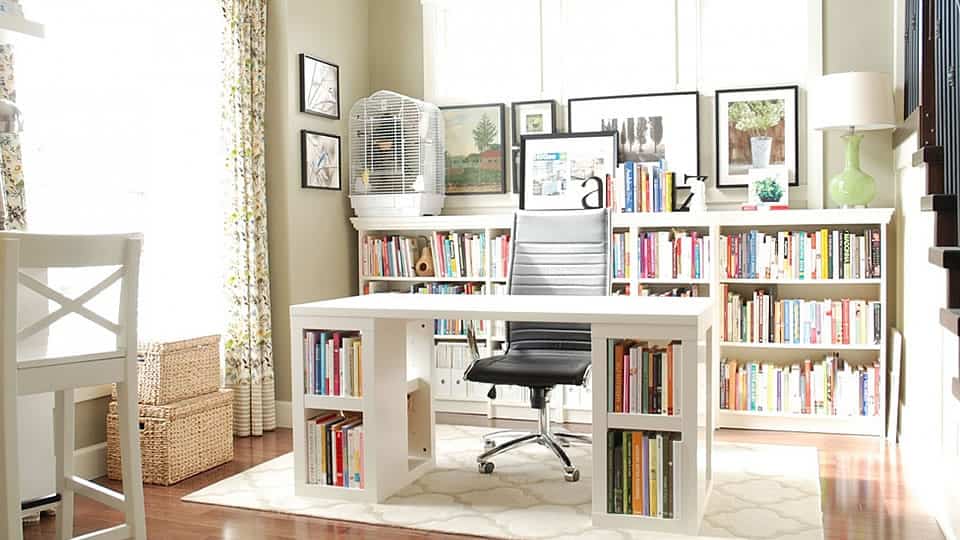 Flyers, brochures and leaflets
Regardless of your industry, you'll probably find that you accumulate heaps of flyers, brochures and leaflets that you don't know what to do with. This is largely due to the abundance of easy and cost effective brochure printing options available, meaning all sorts of businesses and organizations distribute them. Although it's tempting to simply throw these away, who knows, you might actually need them in the future. Keep a bulletin board close to your desk for the most recent flyers and then establish some sort of filing system for the rest.
Files and documents
Despite the fact that most businesses have made the shift to digital, there is, and will always be, a lot of printed documents and files in any office. While you may have a couple of files on which you're currently working on your desk, you'll need a more long-term solution for the rest. If you have open shelves at home, cardboard boxes are always excellent solutions. These make for a great customizable option and you can find the boxes in most stores and in various colors and designs.
Pens, highlighters and markers
There's nothing worse than being on a business call and struggling to find a pen to write something down. Next to files, writing instruments can often cause the most clutter around the workplace. Take some inspiration from the readers' comments on this Home Storage Solutions 101 article – there's everything from jam jars and lunchboxes to zip lock bags. Choose something that suits the amount of writing accessories you require.