It is supposed to be summer but it doesn't seem that the weather has made up its mind yet. Regardless, we've put together a collection of some of the best swimming pools in the world. There's nothing better than spending the entire day lounging by the pool with the occasional dip inside to take the heat off. Oh wait, there is – doing that very same thing but in one of the best and most scenic swimming pools in the world. Just imagine the 'hot dog legs' snap that you can make at any of the pools that are featured in this collection. Even better, imagine how you would feel enjoying a truly spectacular view while you sit back on the lounger after a swim. Don't be afraid to show off your tan lines (hopefully not burn lines) especially when you can have some of the best backgrounds in the world.
Welcome to a collection of 24 Amazing Pools You Need To Jump In Before You Die in which we are excited to show you swimming pools from all over the world that are simply going to make your jaw hit the floor.
If you are a person who loves travelling (who doesn't?) then you must visit at least half of the places that we've listed below during your life. But don't just visit those places, put on a swimsuit and enjoy the full experience.
Mardan Palace, Turkey
Alila Villas, Bali
Source: Richard Moross/Creative Commons / via: richardmoross
San Alfonso del Mar, Chile
Image by Stewart Cook/Rex USA
Amirandes Grecotel Exclusive Resort, Greece
Source: grecotel.com
Springs Resort & Spa, Costa Rica
Source: thespringscostarica.com
The Cambrian Hotel, Switzerland
Source: thecambrianadelboden.com
Hotel Hacienda Na Xamena, Spain
Source: hotelhacienda-ibiza.com
The Grand Mauritian Resort & Spa, Mauritius
Source: thegrandmauritian.com
Hanging Gardens of Bali
Source: www.hanginggardensofbali.com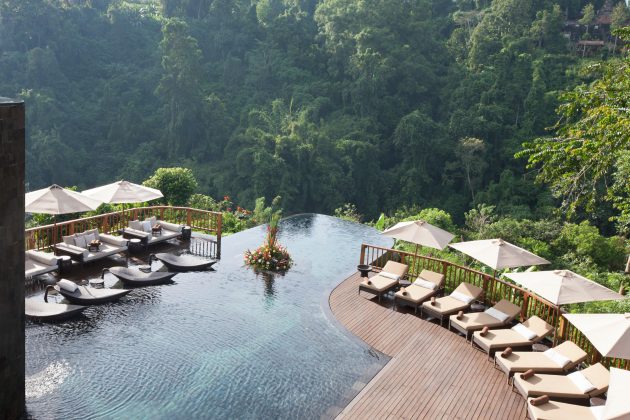 Hotel Caruso, Italy
Source: hotelcaruso.com
Golden Triangle Resort, Thailand
Source: Robert Stokes/Creative Commons / via: stokes
Jade Mountain Resort, St. Lucia
Source: jademountain.com
Crocosaurus Cove, Australia
Source: crocosauruscove.com
Huvafen Fushi, Maldives
Source: slh.com
Marina Bay Sands Resort, Singapore
Image by VIVEK PRAKASH / Reuters
The Sarojin, Thailand
Source: sarojin.com
Elounda Gulf Villas and Suites, Greece
Source: eloundavillas.com
Capella Pedregal Resort, Mexico
Source: capellahotels.com
Devil's Pool, Victoria Falls
Source: Charles Haynes/Creative Commons / via: haynes
Glenwood Hot Springs, Colorado
Source: hotspringspool.com
Golden Nugget, Las Vegas
Source: goldennugget.com
The Joule Dallas, Texas
Source: Diorama Sky/Creative Commons / via: diorama_sky
NEMO33, Belgium
Source: ivarcarol
Blue Palace Resort & Spa, Greece
Source: bluepalace.gr
Image set: www.buzzfeed.com