A home office is a luxury for the busy employee. Whether you have a demanding job or work from home, it can be a sanctuary to cover your duties while staying close to your family.
But if you get the design wrong, you won't want to work there, either. A cramped, uncomfortable, disorganized space is no place to get things done. To avoid creating such a space, here are 15 basic criteria for designing your office.
Location
Consider the layout, size, and location of the room within your house. You may end up spending many hours here, so working in a tiny closet with no windows may not be ideal.
The room's proximity to the front door might be crucial if you expect to have clients visit your home office. They won't want to walk through your entire house to get to your office, so a room that's near the front door can be a smart move.
Enough Space
Choose a room that has enough space for your needs. If it's just you working on your laptop, a cavern is not necessary. If you have a lot of technology, filing needs, intend to hold client meetings, or just need space to stretch out some of your ideas, design a larger room.
Liabilities
If your office will be used for client visits, certain liabilities may be on the table. You don't want a personal injury lawsuit on your hands. If the property is not kept up or your negligence causes an accident, a personal injury suit could be in your future.
Keep the office tidy and the pathway through it clear. The exterior of your property should also be in tip-top shape to avoid accidents and protect your clientele.
Comfortable Desk and Chair
Ergonomic furniture is vital for offices today. Hunching over a computer screen or putting a desk at the wrong height can lead to neck and joint injuries. If you're going to be spending a lot of time in your office chair at your desk, choose furniture that will promote rather than discourage good health.
Storage Shelves
Storage is a must for a home office if you don't want to deal with a mess of papers and disarray. Magazine racks on the walls, shelving, filing cabinets, bookcases, and other storage options are suitable for a clean, organized office space
Reception Furniture
If you will receive clients in your office, they'll need a comfortable place to sit. A comfortable space can also act as a respite for you to think, read, or de-stress. Invest in chairs or sofas that look professional, but are cozy.
Lighting
Natural light is the best for your home office. It can inspire productivity and chase away the blues. If you don't have a lot of natural light, augment it a little.
Start by painting your walls a light color, and use mirrors to make the space look bigger and brighter. Lamps can also improve the lighting situation, especially when it's naturally darker for longer in the winter
Temperature
Too much cold or heat will lead to unproductive time and potential health problems. Invest in a smart thermostat that can be programmed to maintain a comfortable atmosphere and learn your heating and cooling patterns. As a bonus, you'll save on utilities.
Color
Choose a color you love for the walls. If you're not a big fan of the standard beige that's common, go with something more your speed. You could also add pops of color here or there with accent features, curtains, rugs, and furniture.
Remember that color can affect your mood. It can inspire creativity and happiness, distract you, or make you feel depressed. Choose a color that works for you, so it will inspire you to work harder.
A View
Rather than turn your desk away from the windows, give yourself something to look at each day. The interior of your office won't change very often, but if you have a view of the outdoors, you'll often have something new to observe. It beats staring at a computer screen all day long.
Artwork
Artwork can also improve the view. You'll enjoy working in your office more if you have something to look at besides blank walls. Select a few of your favorite pieces and hang them at eye level for maximum pleasure.
Hide Cords
Technology is essential in the office, and there's not much you can do to mask its presence. But you can hide the unsightly cords. Encase wires in a cover and snake them through a desk grommet or hide them behind your furnishings. This will make your office look cleaner and more organized.
Personal Touches
Add photographs, knick-knacks, and other personal items to increase your comfort level. Who wants to work in an office where it feels like you don't belong, even if it's in your home?
Homey Accessories
If you want your office to be more comfortable than contemporary, add a few homey accessories like a specialty rug, colorful bulletin board, patterned curtains, classy throw pillows, and trendy artwork.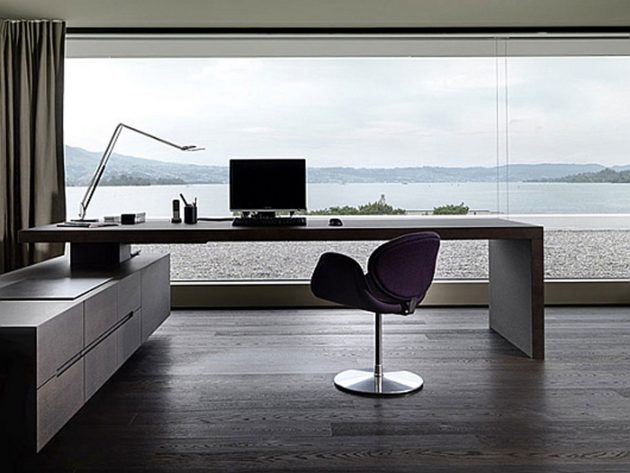 Plants
Plants can do amazing things for office décor. They brighten up a room and literally add more life. Plants are known to make people happier, so they may be exactly what you need for a complete office design.