As the pandemic started, companies hurried to mobilize their remote workforce. Savvy companies schooled their employees on how to manage remote work and collaboration.
Another piece of this puzzle is your home workspace. If your productivity needs a boost, a workspace makeover may be in order. Here are twelve ways to do it.
1.Think about workspaces where you thrive
Spend some time analyzing your preferred work situations. Think of an office where you thrived. If you can, take out a photo of it. Notice the colors, types of furniture, wall decorations, and lighting. These may be interior design features you want to bring into your home office.
Now, try to remember a work area where you felt ultra-stressed, uninspired, or constantly fatigues. Visualize the room as it was and take note of its design elements. Think about how those decorating choices affected your work. Then, make a list of décor elements you want to avoid.
2.Have a dedicated workspace
Have you ever noticed how being in a room or building primarily used for one type of activity puts you in the right mindset to do that activity? That can be true for your company building, a school, a church, or even a grocery store. So, to be more productive, you need to have a special place where you only work.
Many people have a home office, but not everyone is so lucky. Still, if it's at all possible, you need to set up at least one space in your home that you use exclusively for work. Find a spare bedroom, an attic space, or even a corner of the living room or master bedroom.
3.Choose colors wisely
The colors you choose for your walls, furniture, and accessories can enhance your performance and reduce your stress.
If you're in a high-pressure job, consider painting your walls in cool blues or greens. Blue is an excellent choice, since it's also an energizing color. Whites can be invigorating, and you can choose from a wide range of white-based hues.
Bright reds and yellows create excitement, but they can also increase anxiety. A room that's painted in a very dark color may seem confining or depressing. You can give your remote workspace a little added interest without increasing your stress. Just paint the main part of the space with a calming color. Then, add brightly colored trim, accessories, or even an accent wall.
Warm wood finishes like cherry, maple, and oak work well for desks and filing cabinets. Their warm-colored woodgrain gives a sense of comfort and stability. White or light-colored wood finishes give the room an airy, breezy feel. You can get inspiration by looking at examples at a home furniture store online.
4.Get a sturdy desk
You need a reliable desk that won't distract you from your work. After all, a desk that wobbles, creaks, or has hard to open drawers will shift your attention away from what you're trying to do.
So, what kind of desk is right for you? If you only have a small corner of a room to use as office space, consider getting a corner desk. A streamlined writing desk might work for you if you don't need a lot of equipment to do your work. If you need more desktop space, get a larger desk, or add another piece to the side to handle the overflow.
5.Create division
Suppose your dedicated workspace is in a room where other activities are also taking place. In that case, you need to separate your workspace visually. You can make the division with paint, or you can position one or more of the following items at the boundaries you set for your workspace.
Houseplants
Wall sconces
Vertical artwork
Bookshelves or bookcases
A decorative dressing screen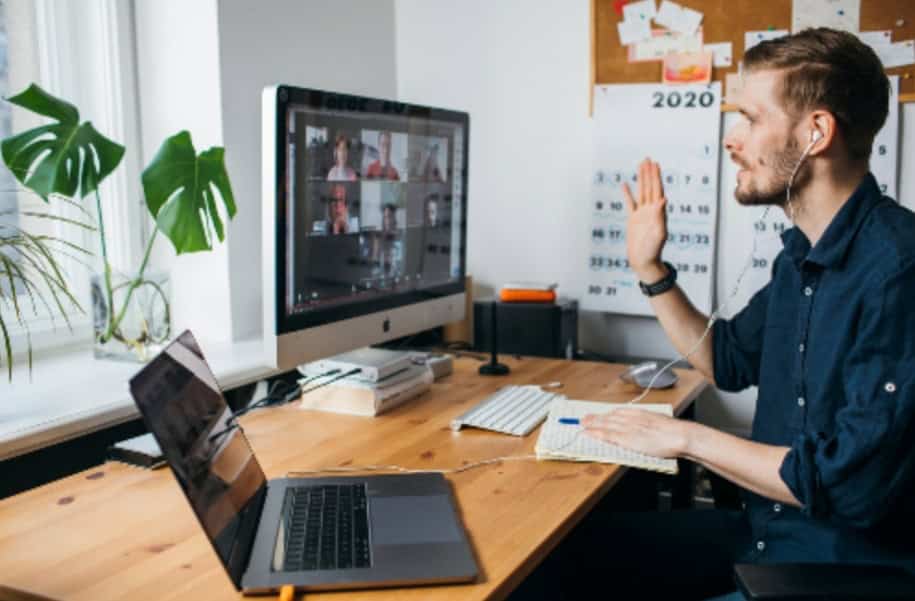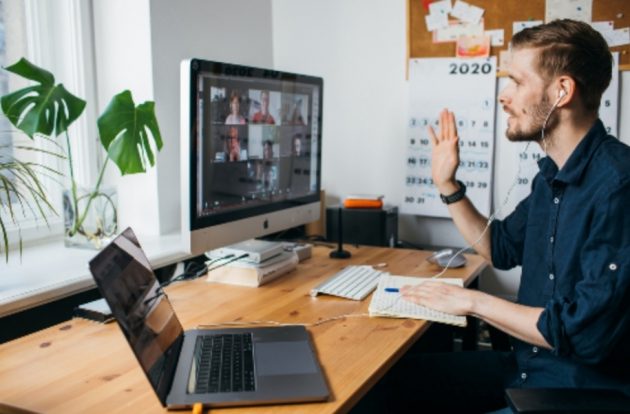 6.Layer natural and artificial light
The most productive workspaces have layers of natural and artificial light. You need lamps or other indoor lighting to see well. Yet, natural light makes you feel less stressed, more positive, and more energetic. The best solution is to use both natural light and indoor lighting.
Overhead lights aren't ideal because they don't focus enough light on your workspace. The traditional desk lamp works well for close-up work, but if that's all you have, you will likely feel hemmed in and stressed. Consider adding a floor lamp beside your desk or a hanging lamp over your work area.
For natural light, open up your curtains or remove them altogether. Place a mirror opposite the window to reflect light from the outdoors into the darker parts of your home office space.
7.Maximize storage
Decluttering your workspace can be a real chore, especially if you've been working at home for months. One way to reduce clutter is to make sure you have adequate storage space. Get a desk with plenty of drawers. Have enough bookcases, shelves, and file cabinets to hold everything you need to have handy while you work.
If you're working in your living room or bedroom, you can take advantage of storage within the furniture. For example, many bedroom benches, beds, ottomans, coffee tables, and even loveseats have storage spaces built into them.
8.Add life and growing things
Anything you can do to decrease stress will free you to be more productive. An excellent way to do that is to include living things in your office space design. One study found that participants who took time out to tend to plants during their workday experienced less stress than those who didn't. Plants also improve indoor air quality and just make the room more visually appealing.
If you don't have a green thumb, you can choose an easy-to-care-for plant. Here is a list of plants that can thrive with little care:
Cactus
Philodendron
Snake plant
Jade plant
Air plant
Spider plant
For a more complete listing of easy-care houseplants, check out this article from Good Housekeeping.
Many people also enjoy keeping an aquarium or fish tank in their home office. Many people find it relaxing to allow the family pet into their workspace. Others are distracted by needy pets. Decide what is best for you and make a change if you see that it isn't working out.
9.Personalize the space
One great advantage of working from home is that you can make your work environment whatever you want it to be. Every workspace décor decision you make is all about choosing what works for you. Personalize your space with your favorite colors, art genre, and decorative items. Make it a space you look forward to entering at the start of each workday.
10.Prepare for teleconferencing
It isn't easy to feel relaxed and natural on a Zoom call. One way to make it easier is to create the right atmosphere in your work area. Imagine working in a basement office surrounded by boxes and old trunks. It looks cluttered and out-of-date, and you know it. So, while you need to be thinking about working with your colleagues, you're dwelling on what they're seeing behind you.
The solution to a poor Zoom background may be as simple as cleaning up the space. Or you might need to invest in some shelves or storage furniture. When you're sitting at your desk, what shows up on the screen? If you don't like what you see, clean it up, organize it, and improve the interior décor.
11.Get the sound right
The sounds of your workspace can make a significant impact on your productivity. However, the best aural ambiance for productivity is a highly individual thing. Do you like lots of noise coming from outdoors, or do you want to limit distractions? Would you prefer to listen to loud rock music whenever you're working alone? Would you like to listen to soft classical music? Do family members interrupt you with their talking or television watching?
Think about the sounds that are already in your home. Consider disruptive sounds. If you can't get rid of them, minimize them by using headphones or earplugs. Now, think of sounds you would like to listen to as you work. Instead of going with whatever songs your music streaming service picks up for you, go the extra mile and make yourself a work playlist.
12.Order home décor items from top online stores
Don't get sidetracked by shopping while you're outfitting your remote workspace. Instead, choose the most consumer-friendly online stores.
Newsweek's list of best online shops is a handy reference for this. It includes the highest-rated shops based on a consumer survey. These online stores have easy to navigate websites, so you won't be frustrated in your search. They make shopping easy and provide responsive customer service. By choosing stores from this list, you can reduce the time you spend designing and decorating your space.
Welcome to Your New Remote Workspace
Once you've created the perfect work-from-home environment, you'll be ready to impress your manager and coworkers. As you begin your interior design, don't forget to focus on your individual tastes, preferences, and characteristics. Consider these decorating tips, but always remember that what's right for you is what matters most.