Creating harmony and making your bathroom a place of relaxation and well-being, marble is definitely an excellent choice for bathroom applications. Because of its many various colors, materials, and combinations that are possible, we are about to take you on a bathroom tour with a wide selection of marble materials.
This set in the bathrooms is made with high performance to make you truly enjoy the atmospheres of great inspiration. Here are the 12 Marble Ideas for Modern Bathroom.
Also, we want to share these ideas too, if you need some more inspiration when it comes to marble like the Dreamy Marble Bathrooms and these Splendid Marble Wallpapers ideas.
1.Wood and Marble
Do you want to achieve that warm homecoming effect for a bright bathroom? Well, you have one choice to make – mix wood and marble. Then you would think wood and marble in the bathroom? Is it possible? – Yes, it is possible, and you get to have it by amplifying this natural tiles imitation oak.
2. White Marble Tiles
If you are willing to create an authentic atmosphere with the beautiful aspect of the natural white marble stone, then you will get a bathroom full of charm. Who doesn't want the white glance of purity? We, do for sure!
3. Natural Ivory Stone
In a very authentic and raw way, with natural stone on the walls and on the floor, leave some uniqueness for the walk-in shower. As you can see the natural ivory stone may be the perfect decision because it revives its roots in those brown and ivory tones. This bathroom leaves the print of authenticity and it looks so elegant.
4. Colorful Marble Tiles
This is a very successful choice for a bathroom because the character of the colors of the stone that are allied with the very practical side of the tiles gives softness, serenity, and authenticity! There is an astonishing effect that has been reached with the special mention for the differences in a format that actually punctuate the décor with style.
5. Black and White Marble
For your bathroom walls maybe you should consider about this timeless combination! It crosses fashion and time and it looks flawless! The magic happens at the moment you notice that here, the black marble highlights the white marble tiles. It has all the components to make one bathroom look chic by sparkling in a very luxurious way.
6. Gray Marble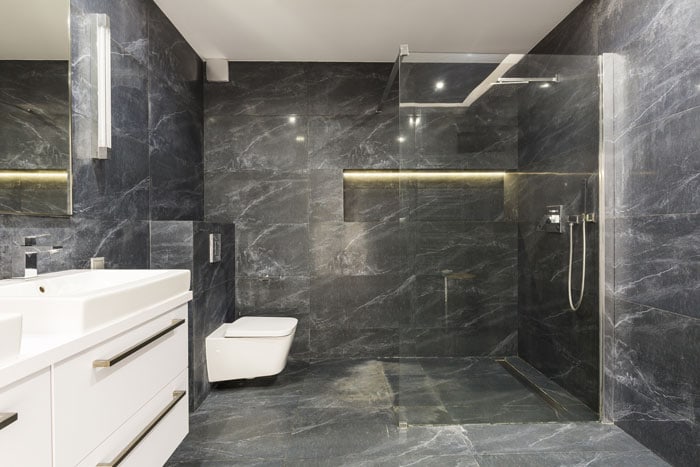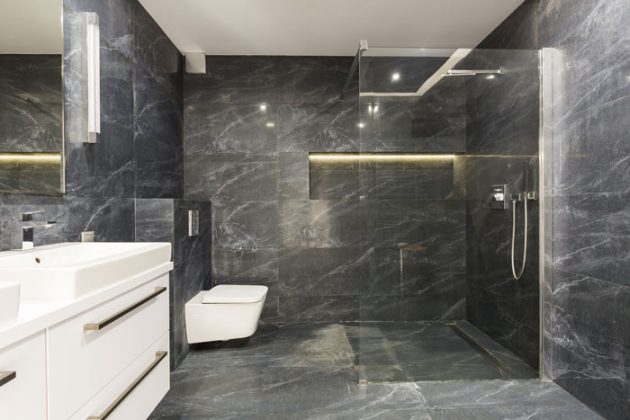 https://www.marble-luxury.com/
This is a beautiful source of inspiration and a very good idea when choosing light gray tiles! This is the choice of serenity and light, and while by alternating small and large tiles you will give a whole new personality to the bathroom. That large bright marble tiles that follow to the shower walls brings a very original decorative touch to the shower area. As you can see it still maintains an atmosphere full of relaxation and purity.
7. Brown Marble combined with Wood
While remaining harmonious, in this bathroom the wooden cabinets are in tune with a palette of browns. It may look vintage but vintage is modern these days, so you should definitely apply this one out!
8. Gray Shades of Marble
If you have a large and practical window so it can bring light into the bathroom, the gray shades will be the highlight of it. They are designed for those mornings under the sun of joy and happiness the light gray wall tiles are decorated with pastel sparkling touches.
9. Mint Bathroom
Why mint? Well, the right word is 'fresh'. This bathroom gives that one good-known feeling of freshness that we all need in our homes, especially bathrooms! Just because these wonderful large green tiles give that fresh look that "heckles" with originality and style. This mosaic of shades of green may be your favorite new marble look for your bathroom!
10. Chocolate Marble Tiles
This chocolate color for the bathroom would be a shame to deprive it, so having this classic and timeless color for the bathroom means elegance. Here, this sober effect has been reached by the chocolate tiles placed under the shower column. And they are looking like the perfect fit for your bathroom!
11. Black Marble for the walls with wooden flooring
This is a very modern look with chic colors that brings a boost to the bathroom. It breaks the uniform effect of the large black marble tiles in the bathroom, so, the result of this mix between black marble and wood creates a wonderful atmosphere. This nice effect gives a real added value ultra deco that is quite a success and highlights a unique source of inspiration for your bathroom!
12. Home Spa decorating with Marble
This pretty mosaic, black tiles flooring combined with the white tiles in the shower area is just a piece of art. It's all because this beautiful creation transforms the bathroom into a genuine home spa with such a soothing and vibrant atmosphere. Why heading to spa places when you can have one home? Yes, it definitely sounds alluring, we feel you.