2018 has been a year of bold colours, textural elements, statement ceilings and metal accents which are all here to stay. Think rich blues, greens and purples in velvet, leather, tassels and copper trimmings. It's an exciting time to decorate where taking a design risk reaps a visually exciting reward.
We have compiled our 12 best interior design trends that aren't going away any time soon:
1. Maximalism
Everything from sofas, rugs, art, and throw pillows are seeing a revival of bright and vibrant colours and textures. Jewel tones and saturated colours make a room feel layered, cosy, and stylish. Particularly in cooler months, tones of maroon, mustard, pine green and royal blue add a sense of warm and welcoming in your home.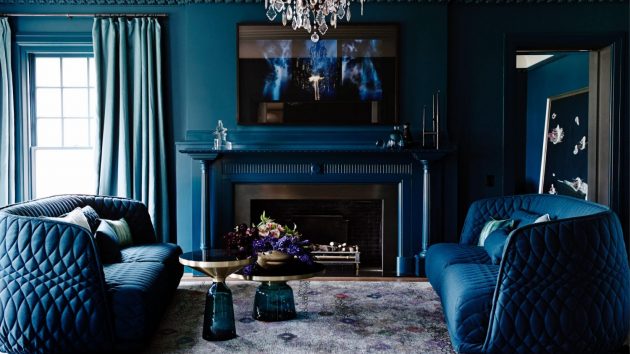 2. Statement Ceilings
Bold ceilings are back! Take inspiration from those who have already started experimenting from wallpapered, lacquered and gilded to textured plaster finishing on ceilings. The perfect way to add a touch of luxury to your bathrooms, choose a bold pattern and go wild. It doesn't feel overwhelming because it doesn't surround you yet provides an element of surprise and uniqueness. You can also run the same pattern on the ceiling down the fireplace flute or any structural columns and beams.
3. Curved Couches
Curved organic sofas are replacing sharp-edge designs. This creates a feeling of cosiness, comfort, and softness. Velvet has made a serious comeback and oozes elegance and lavishness. The great thing about a large, softly textured sofa is that it can be the hero piece and really pop amongst a lighter coloured blackground. Adding fuzzy and bold coloured throw pillows completes the look. Here is where you can contrast texture, think tassel edged leather cushions or ruched circular pillows.
4. DIY/Repurposing
As consumers become increasingly more conscious about the products they buy, 2018 has seen an increase in recycled goods. Homeowners are taking items they already have and re-painting or re-texturing to give them an updated look. Have a look around your home to see if there are any pieces you can revive before heading to the shops. It's also a great weekend project that you can get family and friends to help with.
5. Wallpaper
Say goodbye to boring walls and hello to bold, bright, geometric, and floral wall designs. Whether it's a statement wall or an entire room, 2018 is obsessed with bright colour pops and fun pattern styles. Look for prints that have a timeless element to them, this means your statement wall doesn't become dated by next season. We love simple floral prints, particularly with a dark base and touches of gold for glamour.
6. Vintage Glamour
2018 and onwards is celebrating a revival of 1970's and 1980's design glam. Deep shades of black and gray are intermixed with bright and colourful design elements. Designs are also taking inspiration from the shapes and prints of the 70's & 80's. There are specialist retro stores where you can find everything from smaller decorative items through to armchairs and coffee tables. Think sleek wooden sideboards, thin legged dining chairs and organically shaped soft furnishings.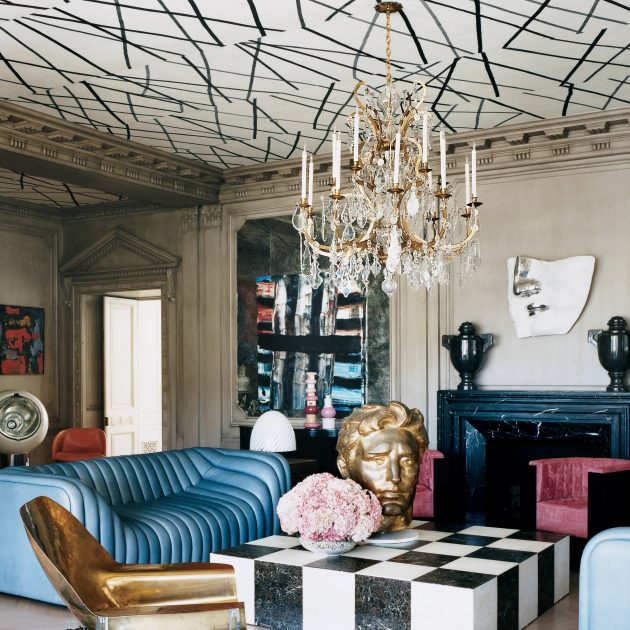 7. Self-Care
Homeowners are trending toward spa-like elements in the home. From luxe bathroom fixtures, to LED lighting, bold tile work and pops of colour. All white is out and balancing more traditional bathroom design with modern twists is all the rage. You can always include high end fixtures and fittings combined with a fun element, like fish scale tiles in deep purples or bold aquamarines.
8. Two Tone Kitchen Cabinetry
White kitchens had their moment, and now designers are opting for brighter cabinetry paired with natural wood cabinets, large and colourful splashbacks, and mixed metals. This looks particularly stunning when the deeper coloured cabinets make up the island bench, in deep blues or raw timber.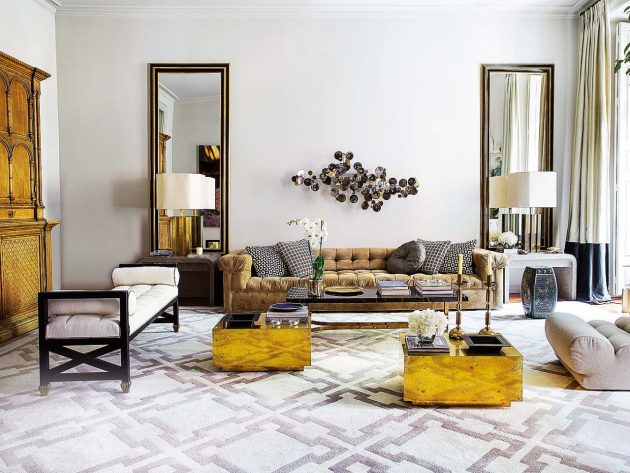 9. Curated Home
Homeowners want their spaces to feel less decorated and more personal. Try swapping mass-produced designs for one-of-a-kind hand-made pieces, and items that you pick up whilst travelling. You can create your own on-display feel by positioning unique sculptures and artifacts underneath downlighting or in custom made cabinetry. Don't over clutter the space, it's about showcasing several statement pieces. Rugs and cushion covers are also a great way to add personality to the space. Even in a modern room, you can add richness through a Persian rug or hand woven covers in a more traditional print.
10. Pendant Lighting
Lighting has become a beacon of the home in 2018. Classic chandeliers are replaced with multiple pendant lights throughout the house, creating a more artsy look and feel. Often the material of the lights is quite industrial and add another element into the design of your home. We love dark coloured outer shades with a metallic inner finish, when the light is turned on it really glows and adds a sense of luxury to any space.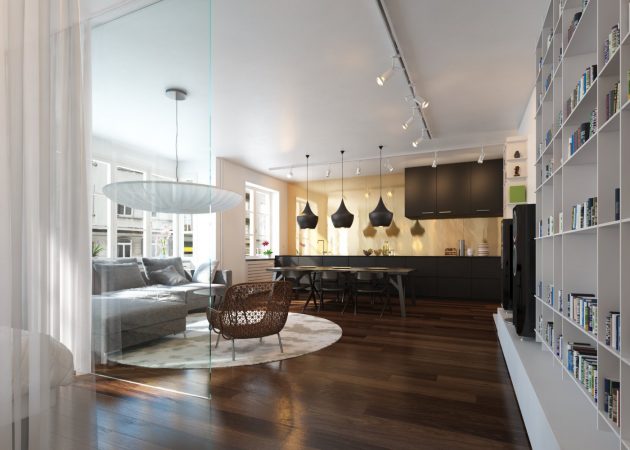 11. Smart Technology
You do almost everything from your smart phone so why not bring your property into the future? Turn on your lights and heating just before you arrive home, visually monitor your home when you aren't there and be alerted to any risk of fire or leaking pipes. It's your most valuable asset and technology can provide a convenient way to ensure it's safe when you aren't there.
2018 and beyond is a truly exciting time to be considering any interior design project. Many traditional rules have been thrown out the window and allows you to be bold and creative, mixing textures, colours and shapes.
"Freedom lies in being bold", Robert Frost.