With the festive season around the corner, you might be looking for ways to level up the home decor scene this winter.
And when you've some sewing skills under your belt, then it's time to create magic. You not only get to handcraft some of your favorite pieces but also showcase your talent by displaying them around the house.
Your entire living area would feel fresh, refined, and on-trend.
Now, we understand if you're trying to figure out which sewing machine to pick as it can get a bit tricky. To make the search process easier, you can check out these sewing machines and pick one that catches your fancy.
But anyway, let's get to the following sections for some effective sewing home decor ideas that you can put to work. Right now!
Whether you want to add an extra focal point in your entryway or create a seasonal display for your dining space, table runners will do it all. A table runner sewing project allows you to revamp the decor in the most subtle fashion. And you get to instantly change the mood of the room by just flipping over a well-designed piece to have the table all set up.
To get started with this project, you just need two half yard pieces of fabric and some quality threads. Your sewing skills should be up to the mark to help you follow the instructions carefully. However, it won't take you more than 20-30 minutes to complete the project.
Cold winter evenings get even better when you have a cozy throw blanket to cuddle under while you sit in front of the fireplace. This is one of the simplest projects that you can lay your hands on. You need to grab a few yards of flannel, and after measuring them according to your preferences, start off by cutting the required amount.
Then, you can have your sewing machine ready to complete the edges. This DIY project won't take you more than an hour to make!
Decorative throw pillow covers are one of the eye-catching pieces that you can have on your sofa or bed. It truly grabs anyone's attention who walks into the home. After all, it's an affordable way to provide the necessary facelift that your bare couch requires.
To make the cover, you'll take a maximum of 10 minutes. You need to fold the fabric and follow it up with a straight stitch on both sides.
On top of that, you don't need to limit yourself to this simple design. You can add a few embellishments such as pompoms or frills, which look great as trimmings.
If you're like one of us, who is tired of collecting toys and small pillows from all over the house, then you'll understand the value of a good storage bin.
You can collect all the loose stuff and store it in one place for keeping the house more organized. Making these reversible fabric totes is like filling in your free time for something productive.
From a beginner to a moderately skilled seamstress can have their storage bins ready in a couple of hours. But keep in mind that precise measuring is the key factor in getting the stitches right. So, as you start curating the fabric and other materials, do follow the procedure accurately to have a good outcome.
If you're a fan of bright colors, then don't hesitate to rush to your nearby store to pick up some beautiful colored fabrics. We are mostly used to boring single colored shower curtains, but you can add a spark by throwing in some splashes of color to your shower area.
Before you start this project, do stay prepared for investing some quality time in getting the ruffles on point. After all, the fabric is a great way to replace the older plastic items and a more sustainable option. But stay prepared for hours of stitching to make this stunning shower curtain.
Many of us love keeping our feet warm during the winters, and nothing tops the comfort of a felt slipper. But have you ever wondered how it would look like a tabletop decor?
The felt slippers works great as a showpiece because you can attach some crochet snowflakes or Christmas trees. As far as you use your creative abilities is used, this is going to be a hit.
You'll need an 18-by-18-inch piece of about 3 millimeters felt, silk or heavy-duty polyester thread, chalk pen or pencil, and sewing kit.
This fabric bunting technique offers you a great alternative to spruce up the door fronts or even the headboard. It's one of the festive decorations that has always managed to top the list for Christmas parties.
You don't even require large pieces of fabric to get started with this project, which makes it a great inexpensive DIY project. And if you're a beginner, then you can rest assured that this is going to be a simple project that effortlessly blends in with other home decorations.
A big part of the magic that surrounds adorable stuffed animals is the art of wet felting. The unique structures of cats, dogs, hens, etc. that you choose to make have their own individual plush. These toys usually range from a height of somewhere between 5 and 8-inches.
It's made by assembling few basic felt pieces, which is further plumped up with batting. While the appendages, such as wings or floppy ears, need to be added during sewing.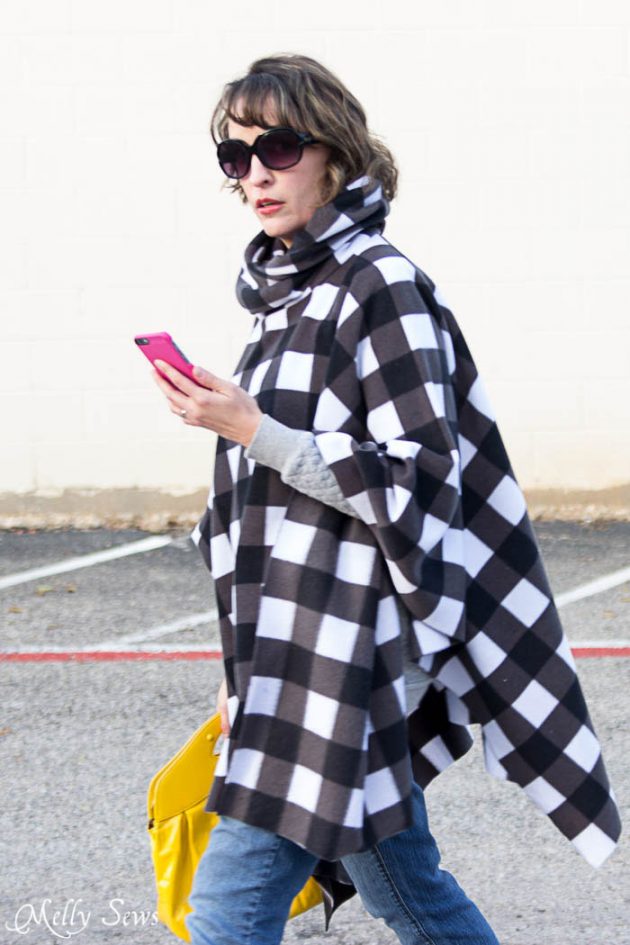 A well-designed poncho will continue to rule the runway for many more decades to come, and we say this mainly because of how comfortable it is. This piece of clothing can keep you cozy and warm all throughout the winter season.
It's one of the ideal DIY projects that you can take on when you're on a limited budget. You can also place it on your sofa because it works excellent as a throw blanket.
If you're looking for a quick DIY project, then you're going to enjoy the process of making this quilt. This quilt will keep your lap warmer when you're putting your baby to sleep.
You need to only machine sew the corners, and a few quilting skills will help you complete this project in no time. For holding the quilt together, there is an interesting trick that is used, which replaces the stitches with tassel-like ties.
Final words
Now that you've gone through a list of the varied items that we've picked out for you, it's time to get the fabrics and other materials to start your favorite project. You don't need to be a professional to try out these DIY friendly home decor ideas.
By brushing up your skills here and there, you'll be able to decorate your home with these pieces that never fail to complement a home during this festive season.
However, having a quality sewing machine allows you to level your game, so don't forget to check out these vintage sewing machines too for some inspiration.
Till next time!