Vincent Willem van Gogh is definitely one of the most acclaimed Post-Impressionist painters nowadays, despite not being justly recognized during his lifetime. He was born in Zundert, the Netherlands in 1853.
It is amazing that Van Gogh decided to follow the career of an artist only at the age of twenty-seven. Previously he worked as an art dealer and clergyman (not very long, though), then as a teacher, and eventually as a preacher. After taking the fateful decision to become an artist he was teaching himself to draw and to paint almost from scratch. At the beginning, for the most part, he copied prints, and studied drawing manuals and books on anatomy, and perspective.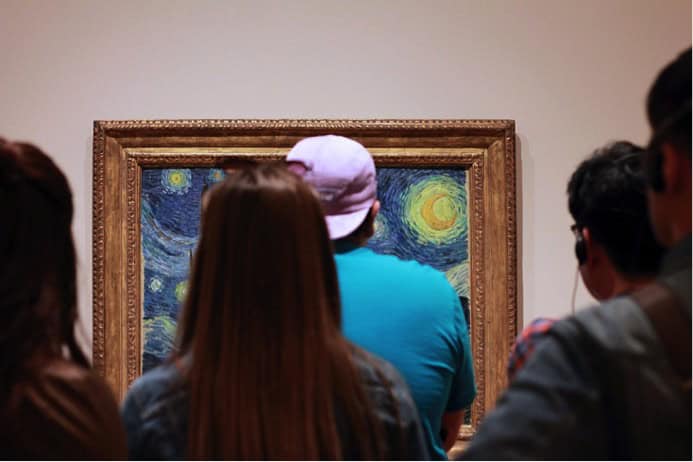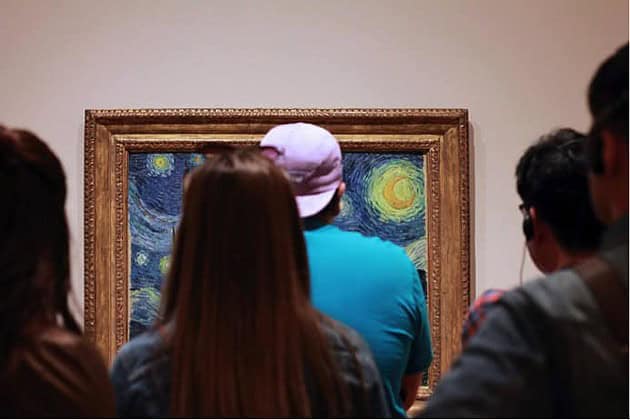 The interesting fact is that primarily Vincent van Gogh mastered black and white colors since he thought it was critical to do in the first place before switching to work with color. The first artistic steps he made being in Etten, living with his parents. But in 1882, he moved to the Hague, where he created his first independent works, and even sell some drawings of Hague townscapes like the railway station, gasworks, and many others.
Dark Palette of Nuenen Period
As a matter of fact, Van Gogh genuinely appreciated the Barbizon artists, and, thus, was inspired to paint rural life under their influence. When he was living with his parents in Nuenen, 1884-1885, he began to depict a life of peasants. This period of his art is known as Nuenen period. And it is, by the way, characterized by an extremely dark palette. His composition named "The Potato Eaters" can serve as the best example to corroborate the statement.
But Vincent van Gogh felt too detached living in Nuenen, that is why he headed to Belgium in 1885 in order to study at the Antwerp Academy. Yet he stayed there only for three months or so. The artist made up his mind to move to the capital of France, Paris. Do you want to write something extraordinary about such a beautiful city as Paris? In case you actually do but struggle to express your ideas on paper clearly, benefit from coolessay.net.
Painter's Artistic Life in Paris
Thanks to his brother Theo who lived and worked in this bustling city as an art dealer, Van Gogh had an exceptional opportunity to be in the hub of the trailblazing art scene unfolding in Paris at the time. Besides, he met a lot of world-renowned artists, for instance, Henri de Toulouse-Lautrec, Edgar Degas, Paul Gauguin, Camille Pissarro, and so forth. Some of them became his friends. The works of Impressionists and newly-emerged Neo-Impressionists transformed his vision of the art enormously.
As a result, under its strong influence, his style gradually changed. First off, the colors he used became brighter. Additionally, he lightened the palette. By and large, he experimented a lot and elaborated on color contrasts. Without any doubt, the artist's style became much bolder than it used to be back in the days.
Also, it should be noted that he lived in Paris with his brother for two years, and painted many self-portraits in a new eminent style, well-known to a majority of people these days.
New Beginning. Destination – Arles
Aspiring to establish a community of artists, Van Gogh left Paris to get settled in the south of France, namely in Arles, where he continued to experiment both with his style and technique. Plus, he was physically and emotionally exhausted living for several years in the metropolis and was seeking a simple peaceful life.
To his surprise, he was fascinated and completely enchanted by the surroundings and was highly productive as a result. Some good examples of paintings from this period might be the following ones: "The Flowering Orchard", "Sunflowers", "Oleanders", "Shoes".
Japanese Art and its Colossal Impact on the Artist
According to many sources, Van Gogh admired Japanese prints. He had a great collection of ukiyo-e woodblock prints himself. Even then the legend argued that the works of Hokusai, Hiroshige, Eisen, and others were as valuable as the ones made by famous European artists like Rembrandt or Rubens. At some point, in his own paintings, Van Gogh tried to incorporate some borrowed elements from Japanese prints like using bright flat colors, or the omission of the horizon, and the outcome appeared to be excellent. As an example, take a look at "The Courtesan", dated 1887.
The interesting fact is that on his way to Provence Vincent van Gogh imagined this new destination through the prism of Japan, as well as the works of ukiyo-e masters. While in Arles, he persisted in associating it with this enigmatic country, especially after seeing the way snowfall had transformed the countryside and made it look like winter landscapes on Japanese prints.
In summer this impression engraved even more in the painter's mind. He wasn't disappointed by the sun, brand-new color nuances, and vivid contrasts of the surroundings, with each passing day being more and more convinced that Arles was 'the Japan of the South'. In this context, it is ironic that the artist had never visited Japan, and allegedly didn't even have an intention to make this journey possible. Nonetheless, it influenced him a lot pointing out the path to follow.
In his "Self-Portrait with Bandaged Ear", one may even notice a picture with geishas on the wall in the background. Undeniably, the artist's passion and admiration for Japan was boundless.
Van Gogh's Breakdown and its Consequences
In fact, it was right in Provence, where the story with cutting off part of his ear with a razor took place, probably known by the whole world, including people that are not interested in the art at all. Unfortunately, the artist had a major breakdown caused by the following events.
Long story short, Van Gogh invited his close friend, already mentioned Paul Gauguin to join him, but after a while, their relationship started to go downhill, and ended up traumatically, as well as irrevocably on Christmas Eve, in 1888. On the other side of the spectrum, some historians tend to support the opinion that it was actually Gaugin who disfigured his left ear. But who knows for sure where the truth lies apart from these two.
Moreover, this incident became the first significant indication of his mental health problems, which would torment the genius for the rest of his life. However, after the notorious breakdown, the artist decided to enter the asylum at Saint-Rémy, where he stayed for a year. Nonetheless, he didn't stop to develop his talent and created such prominent paintings as "Olive Trees", "Wheat Field with Cypresses", "Irises", "Corridor in the Asylum", etc.
Spending a considerable amount of time in psychiatric hospitals, combating against long periods of inertia, recurrent attacks, moods of despair would be an integral part of his destiny from that time on. Although, this would alternate with incredibly prolific stages, when the artist worked really hard producing a wide range of invaluable artworks, including "The Starry Night". No wonder that intense, vivid colors, dynamics, and strong light ideally reflect Van Gogh's inner world, his astounding range of emotions and inconceivable vision of the world.
In 1890, he settled in Auvers-sur-Oise, located not far away from Paris, to be near his brother Theo. Despite being under the care of a homeopathic doctor and amateur artist, Paul-Ferdinand Gachet, who was a friend of Paul Cézanne, there were no signs of improvements since Van Gogh felt more and more inconsolable. The thing is, he continued to paint regardless of his deplorable state of health, and today we are certainly very grateful for all the treasures he gave to our generation.
Artist's Rich Legacy
Vincent van Gogh's life ended tragically in 1890, when the artist shot himself in the chest, suffering from severe depression. And even though his career lasted only for a decade, Van Gogh produced approximately 900 paintings, plus more than 1000 works on paper. A significant legacy, isn't it? It also includes a substantial correspondence between him and Theo.
The reasons that led to such a dramatic end were obvious: inability to be deservedly acknowledged, financial dependence on his brother, constant quarrels with other people (with his own doctor, among them), and the list goes on. Also, perhaps, the feeling of loneliness and doubt to be eventually cured.
Only after his death, the genius became understood, as well as recognized across continents. His unique vision doesn't cease to mesmerize us to the present day. He revolutionized the art scene of the twentieth century, and consequently, the importance of this outstanding figure in the history of art is unswerving, for sure.
Up to this day, we can enjoy a variety of the Dutch painter's masterpieces, which radiate a real boldness of the master, the emotional intensity. Millions of people all over the globe visit museums to see his works, take selfies with his paintings and drawings, admiring its indisputable grandeur. He worked hard, loved and believed in his art wholeheartedly. Of course, we cannot but agree with Vincent van Gogh on the statement "What is done in love is done well".