It is hard to qualify UGEARS products as a simple toy or a regular self-assembling construction kit. It looks like the company turns every tree chopped down into something beautiful enough to honor that tree's life. Their top models feel like passionately designed devices that are also a 3d wooden puzzle.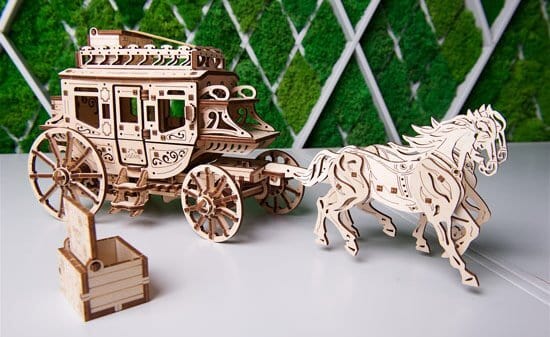 The founders of the company consider themselves as adventure lovers, brave hearts that stepped into the market with the idea of a new kind of wooden toy – a construction kit that touches you when you touch it. The effect is explained by emotions a person gets when contacting with wood. The timber UGEARS use in their models comes from Ukraine – a country where people are proud of its nature. Take any part of the UGEARS products and see how different you would feel when touching plastic and wood. The creators of wooden toys always knew the secret – wood makes beautiful products look full of life and action. For this reason, model assembling is only one part of the game process, while the other is activating the timber product. See how a locomotive moves on rails, watch a horse mechanoid making its first step ever, and hear a hurdy-gurdy's first sound. See your own work to be proud of!
The combination of the construction kit's colors gives a nice opportunity to do some creative painting. This goes like a bonus because every model looks fully completed in stock colors. Build, personalize, enjoy!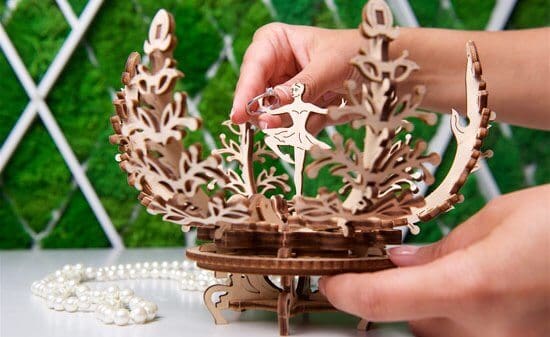 Why does UGEARS give their customers a 1-year warranty on wooden parts of their toys? Because the company offers mechanical, ready for action models. The quality of pre-cut parts makes the final result look like a piece of art, which can be used as a decorative item in an office or a child's room. Since 2014, the company has brought to life a wooden bike, Mars buggy, monowheel, aviator simulator, archballista-tower, and many more projects displayed at ugearsmodels.us.