Experts in outdoor kitchen design them outside your main house. You create enough space when cooking. You can design your outdoor kitchen when remodeling your home project, or when you are constructing your dream home. By making such a monumental decision, you increase your home value. It encourages you to outsource for an expert who will help you throughout. When you have decided and made a rational decision concerning your outdoor kitchen, you should focus on an appropriate design for your kitchen.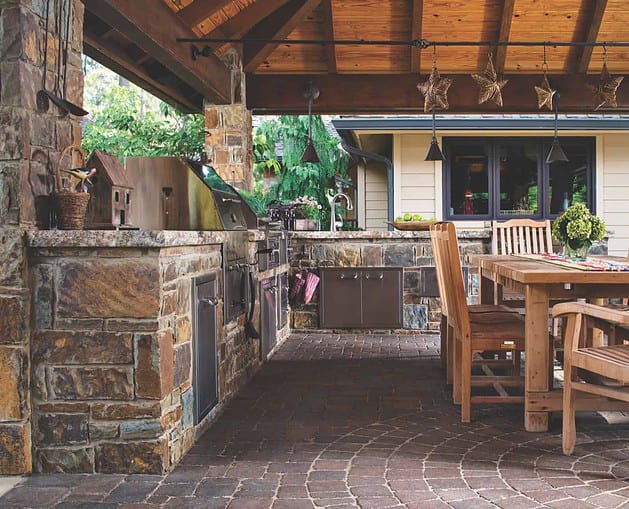 Following are the reasons why you need to consider designing an outdoor kitchen:
Makes your cooking easier
Think of your backyard, how big and spacious it is. Imagine having your kitchen occupying the entire space. Your outdoor kitchen will be bigger and you will accommodate more cooks in the kitchen, or even those willing to help you prepare or wash your kitchen will have enough space while doing so and they will not overcrowd your kitchen. When you are cooking food with strong odors, they will not extend to the entire house reporting to everyone what you are preparing for them because the kitchen has exceptional ventilation as it is outdoors.
Convenience
When designing your outdoor kitchen, the experts from outdoor kitchen Los Angeles advises you to place your large refrigerator, wine cooler and ice maker outside at the furthest end of your cabinet, this will be convenient for your visitors and guest helping themselves without disturbing the cooks in your kitchen. The experts will also be of great help to you because they will advise you concerning the total cost of different designs and what can fit in your backyard. They can as well gather around the kitchen as they take their drinks and socialize with one other while dinner is in preparation. This will give your guest an enjoyable moment because the climate outside is conducive and they are enjoying the evening breeze and view as well.
Increases your living space
You can use your small and overcrowded indoor kitchen space for something else and have a spacious kitchen outside. This space can be a part of your living room for your kids' entertainment, birthday parties, and holiday celebrations for your family and friends. It can as well be designed as a study room for the whole of your family. You can also make it a room for guests to stay.
Saves your Bills
When cooking in an indoor kitchen during hot weather e.g., when grilling you need to have your air conditioner on thought out. But when you cook from your outdoor kitchen there is enough circulation of air. When baking and cooking fries this type of meal increases the room temperature which will affect the temperature of your whole house that will kick on all your air conditioners. When cooking in your indoor kitchen you are also required to put on your entire bulb which may consume much of your electricity. Outdoor kitchens are more worth because you don't need air conditioners you can have a conducive cooking environment outside the house and you need an electrician to do outside wiring which may not cost you a lot of money but it will help you save on energy bills.
Saves your dollars
Outdoor kitchen saves your money, especially if you love going out for meals. If you have a well-designed outdoor kitchen, you will not have a desire of going to restaurants for meals which may cost you a lot because you will have to take your whole family. This saves your money and gives you time to share with your family without limitations. If you invite a guest in your home and you don't have an outside kitchen, they will require you to hire all the equipment needed e.g., tents, dining tables, and transportation, hiring cooks, etc. This is very expensive comparing paying a one-time bill for designing an outdoor kitchen because you will only hire cooks of your choice.
Having this great idea in your mind, the next step is designing your dream outdoor kitchen because it has more advantages than disadvantages. It is more worth having since it can be designed in your roof, patio, or deck. Make your design selection from outdoor kitchen Los Angeles.