The appliances you select to outfit your kitchen with are a very important investment. Not only will you have those appliances in your home for years to come but also they will drastically affect both how your kitchen looks, as well as how well it performs. If you are looking for an innovative line of home appliances that offer maximum reliability, embrace the benefits of modern technology and provide uncompromising quality than it is time to give the Bosch brand a closer look.
Bosch offers consumers aesthetically pleasing appliances to fit in with any decor that feature many technologically advanced features, allowing homeowners the ultimate experience in convenience and productivity when using appliances from their high quality line.
Discussed below are some of the features and benefits that Bosch kitchen appliances offer, with an illustration of how they can improve your time spent in the kitchen.
Health and Hygiene Benefits
Bosch's high quality appliances put emphasis on maintaining a healthy and hygienic lifestyle and can help families in achieving this by incorporating features such as the HydroFresh system in their refrigerators. HydroFresh keeps the food being stored fresher for longer and free of contamination. Another beneficial feature is Hygiene Plus, which is found in their dishwashers and developed to maximise sanitation. In addition to these special capabilities developed by Bosch all of their large and small appliances have been designed and manufactured to be easily cleaned, as Bosch understands the importance of a clean and sanitary kitchen.
Efficiency
Bosch kitchen products have been developed to be incredibly energy efficient, allowing homeowners to enjoy savings on their energy bills as well as being environmentally responsible. Although they are incredibly energy efficient, Bosch appliances still provide powerful results, especially with mechanisms such as the new Ecosilence Drive motor that provides efficiency, durability and performance without all the noise and wear and tear of a traditional motor.
Innovation
Bosch have spent big when it comes to research and development, and their spending has obviously paid off – the range of kitchen appliances features many innovations that increase productivity, add convenience and improve the performance of traditional appliances. Some of these innovations include the new control wheel and TFT touch display on ovens allowing you to adjust any and all of the settings easily leading to perfect cooking results. Other innovative features include steam features and Eco-Clean Direct, which is a special coating that automatically absorbs grime – making cleaning almost completely unnecessary.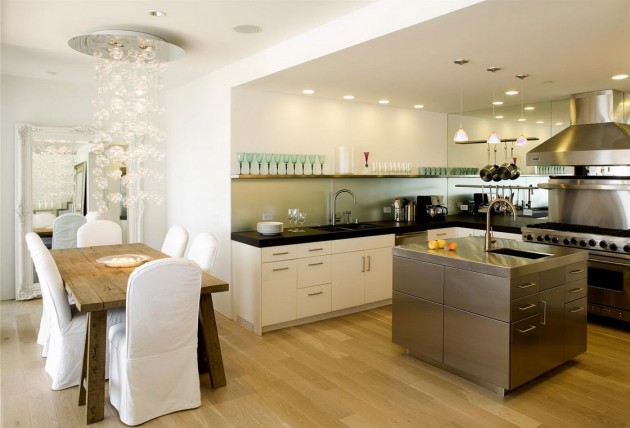 Quality
Those looking for quality appliances will delight in the uncompromising quality of Bosch kitchen appliances, both large and small. Special attention is paid to every detail of a Bosch product and the brand is committed to using only the very highest of quality materials to manufacture and employ only first class workmanship for construction. Bosch is committed to doing things right at every stage of the process to ensure their customers get only the highest quality and best performance out of their kitchen appliances for years to come.
Extensive Range
Bosch not only provides homeowners with the basics of outfitting a kitchen with their wonderful ovens, cookers, ranges, refrigerators and other large appliances but they also have a complete line of small appliances as well. Bosch's extensive product line not only meets all the needs of kitchen life with mixers, coffee machines, microwaves and every other small appliance imaginable, but provides its quality performance in other areas of daily living as well with vacuums, hairdryers, wine coolers and personal grooming products. Outfitting your home with Bosch appliances means you will experience the benefits of the brand every time you use an appliance in your home.
If you're looking for a brand that combines beauty, quality, innovation and practicality to provide efficient solutions to everyday needs, then Bosch can certainly deliver, especially when it comes to your kitchen. Taking advantage of the benefits of Bosch kitchen appliances will give you the opportunity to create beautiful dishes with the minimum of fuss.
Article supplied by Kitchen Finesse – now offering a large display of Kitchen Appliances from leading manufactures such as Bosch.