German kitchens have enjoyed an unrivalled reputation for quality, having dominated the domestic kitchen market for many years. With a long string of household brand names such as SieMatic, Bulthaup, Poggenpohl, ALNO, Nolte, Schuller and Nobilia, you are spoilt for choice when it comes to choosing a truly quality product for your home.
But what is it about German kitchens that makes them so special? Perhaps unsurprisingly, it all comes down to an unwavering commitment to delivering quality over the long term.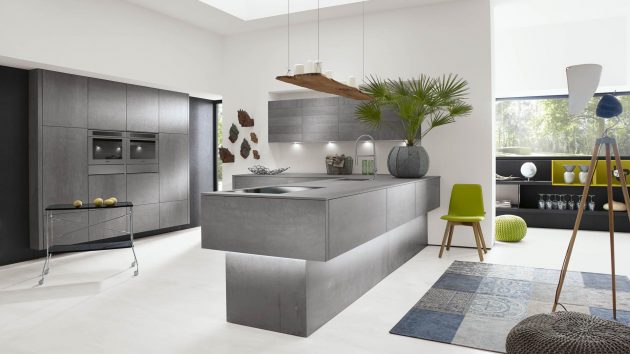 German kitchen history
German kitchen companies are big on history, investing for the long term and finetuning production methods and designs over many decades. Germany has some of the oldest kitchen brands in the world. Poggenpohl has been producing full kitchens since 1892, whereas an ALNO styled German kitchen has its origins in 1927 when the company was formed. Leicht Kitchens have been around since 1928 and SieMatic started in 1929.
The precursor to our modern fitted kitchens was the pioneering Frankfurt Kitchen, developed by Margarete Schutte-Lihotzky in 1926 as a way to optimise workflow. Kitchen manufacturers such as Poggenpohl and SieMatic were quick off the mark to incorporate some of this new thinking into their products.
Many German kitchen companies are family owned and operated. The classic Mittelstand management culture is unique to German speaking countries and based on the premise that businesses are run in the spirit of SMEs. Company owners take business decisions largely on their own, assuming particular responsibility for long term job security and business survival.
Successful 'Made in Germany' brand
Using their strong domestic market as a firm base, German kitchen manufacturers began to export in large numbers from the 1950s and 1960s onwards, contributing to the German economic miracle.
With kitchen exports going to up to 60 countries and export percentages now ranging from 40-80%, it's been a huge success story, while the label 'Made in Germany' is now an undisputed hallmark of quality.
High market and production volumes are the economic advantage needed to achieve good prices, which leads to good revenues, which in turn can be reinvested in production and research. As a result, even better and more sophisticated products can be manufacturerd and the virtuous cycle repeats.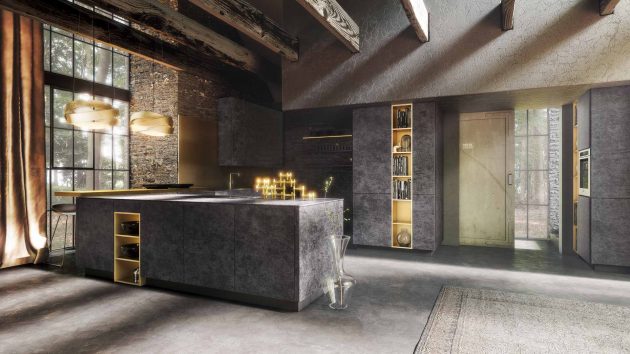 Strong engineering traditions
Germany is famous for engineering as well as design and heritage, and this includes the kitchen industry. Many precision built kitchens are made by century-old companies who still adhere to the same principles of craftsmanship and quality as they did when they first started out.
Cross-industry collaboration is a key factor, with different specialist manufacturers contributing quality components to create the overall product. It's an arrangement that can be mutually lucrative over many decades. Many kitchen company and their long-term suppliers are geographically clustered to facilitate working together, notably in North Rhine Westphalia, Bavaria and Swabia.
Beyond kitchen furniture, German kitchens benefit from high quality domestic appliance manufacturers such as Blanco sinks, Hansgrohe taps and, of course, BSH Home Appliances with world renowned premium brands including Miele, Gaggenau, Siemens and Bosch. 'Made in Germany' thus applies to every element and component of a German kitchen.
Unapologetic forward looking design
When it comes to design, German kitchens particularly excel in cutting edge contemporary styles, devised and created according to the maxims of 'less is more' and 'form follows function'. German design innovations tend to be technology led, catering for the requirements of today's and tomorrow's homes rather than attempting to evoke the nostalgia of a past long gone.
This approach is perfect for what is after all an expensive long-term investment purchase for the home, with the expectation of many years' use and enjoyment without the design going out of fashion.
That said, with minimalist kitchen designs demanding nothing less than precise workmanship, there's no room for errors and nowhere to hide. Functionality and design in perfect harmony is what German kitchens are known for.
Reliable service and delivery
A reputation for product quality and design is one thing, but service delivery is where it really matters. This is where German kitchen companies also score strongly. From order control and production schedules to reliable order delivery timetables, robust logistics chains and the final handover, German kitchen manufacturers are able to pull off the complete package.
Industry cooperation within a close network of specialised suppliers, all working within the same mind set and to similar values, then, becomes the definitive advantage for delivering outstanding products to a worldwide market.
This article was written by Dakota Murphey.