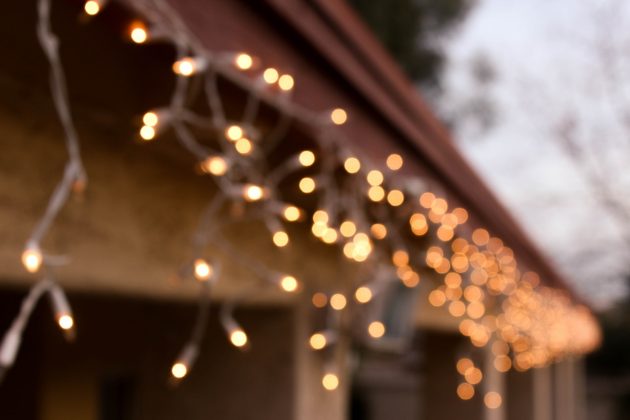 If you want a professional holiday light hanger to come out and take care of your lights, this Angi, formerly Angie's List, guide can help you to budget for the job. This guide is about the average price to hire a professional light hanger across the country, and the charges may be more or less based on the region that you live in.
The Average Christmas Light Hanging Cost
There is so much to do around the holidays that some chores may never get done unless you hire someone. And, many people don't have the equipment needed to hang their Christmas lights. It's a complicated chore that can even be dangerous to do, so going to the professionals is a smart move. The cost of hanging Christmas lights averages from $218 to $649. The average cost is $413. There are many factors that go into the price, including where you live, how difficult the job will be, how many lights you need hung, etc.
The Per-Foot Price of Hanging Holiday Lights
Before deciding on the cost of a light-hanging project, a contractor will often measure your home for its linear footage. This takes into account the roof edges, rooftops, yards, and trees when planning for the project. Contractors generally charge from $1.25 to $3 for each linear foot of the project. This generally is for the labor only- not the lights. If they have to supply lights, it will be more.
This cost includes installing the lights, removing them, and there may be maintenance needed while they are in place. For instance, installing lights to brighten up a driveway or walkway will generally cost less than putting the lights up on the roof. If the job is more dangerous, having very high rooftops, for example, you may have to pay about 20% more for the job because of the equipment and time that will be needed. If you buy the lights, they will cost anywhere from $0.50 to $2 for each foot. The cost depends on the type of bulbs that you buy. With everything put together, this makes the linear foot price anywhere from $1.75 to $5.
The Type of Lighting You Choose
There are many different types of Christmas lights, and the one that you choose for your home can affect how much the project costs. There are four main types of these lights, with each having a different set of average costs to have them hung.
C9 Lighting: This type of lighting is a favorite for many reasons. It has colors that are vibrant and bright, but it does come with fewer bulbs on each strand. That makes it necessary to use more strands over a large area. This type of lighting costs between $10 and $30 to hang each strand.
Incandescent Lighting: This lighting type is a traditional way to decorate for the holidays. It often comes in cream or white, but it can also come in other colors. This is the least expensive to have hung, but it will cost more for the energy it uses. They also tend to burn out faster than higher-quality bulbs. These cost from $4 to $10 per strand to hang.
Dome Lighting: These light bulbs are rounder than the others, and this gives their light a softer look. Many people like these for landscaping and to hang in larger areas. These strands cost anywhere from $5 to $15 each to hang.
LED Lights: LED lighting has gotten more popular because they are so much brighter and they use very little energy. They also last longer than incandescent bulbs. They tend to be more expensive than incandescent installments, costing an average of $6 to $25 for each strand.
With this Angi guide, you can be prepared for the different prices charged for various holiday light installations.