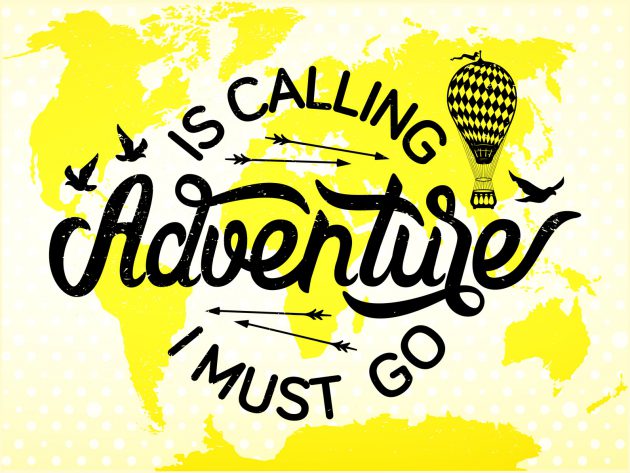 Travel posters aren't just decorations for travel agencies. If you are fond of travels and adventures, they can become a part of your home wall décor. The advantage of such posters is that they look organically in almost every style of the room design. Moreover, they can be printed in a number of various techniques and involve not only photos but other artistic works as well. Let's consider some types of travel posters, which may become a good decoration for your home.
Cityscape Travel Posters
Travel posters featuring photos of cities look very organically in modern, high-tech, urbanistic and loft-style designs. Megacities attract and excite. If you are a fan of city life and prefer to travel to big cities rather than enjoy the nature beauty, choose a cityscape print. If you think about a certain city, for example New York, seek for the images if its sights and peculiarities or, vice versa, the places, which not everyone knows about, like secret passages or abandoned buildings.
Landscape Travel Posters
If you like to travel in order to enjoy the beauty of nature and wonderful landscapes, give preference to a landscape travel poster. Landscape pictures are neutral as they can be used in any room and almost in all styles of the interior design. They are especially good for rustic and eco-friendly designs. Because of the wide range of colors, landscapes can suit a great number of the room color schemes. Moreover, landscapes act soothingly and help to recover after a long and hard working day. You may choose the Maldives seascape, the lavender fields, the mountains with snow-capped peaks, a calm autumn forest or whatever you want. The most important is that you like what is depicted on the print.
Vintage Travel Posters
If you want to add a vintage touch to the room atmosphere, vintage travel posters will be a good way out. They are bright and fun and can be a nice accent in the room décor of almost all possible styles. Moreover, they can be used in every room starting from the entryway and ending with a bathroom.
But while looking for a real vintage poster, you may face some difficulties. First, it's hard to find the poster, which you really like and which will look organic in your dwelling. And secondly, not everyone can afford to buy a genuine retro poster because the price can be too high. There are two ways out. You may try to create new "retro travel posters", which will look almost the same as the originals and print them. Or you are free to order a new print of a real vintage poster. Such a print will cost much less than the original and will serve much longer.
Silhouette Posters
If you don't want to use photos for the wall décor, you are free to choose more original kinds of travel posters. One of the examples is a silhouette poster of a certain place, city, country or, even, continent. As each place in the world has its peculiarities and sights, it won't take long for an experienced traveler to understand what is depicted on the poster. In addition, such a poster contains some mystery as all the details are hidden behind the silhouettes. The silhouette posters look better in modern designs and their color scheme can be chosen in accordance with your wall color. There are traditional black and white silhouettes as well as the bright and patterned ones.
Artistic Travel Posters
If you not only like to travel but are also a fan of art, you may combine your both hobbies in a single piece of wall art. If you have enough money, you may buy a painting of your favorite city or place. If you can't afford to buy it, you may order a poster with its reproduction. In fact, travel posters can be created in a number of various techniques, including watercolor, graffiti, pop art, pencil drawings etc. Such artistic travel prints look especially good if printed on canvases, which make them more vivid and textured.
Cartoon Travel Posters
Cartoon travel posters are most frequently used in baby rooms, but you are free to use them in other rooms if they look appropriate in the room design. Such posters may contain the illustrations of peculiarities of a certain city or country like sights, food, traditions or more general notions. Very often cartoon travel posters contain humor and irony.
Of course, the variety of all possible designs of travel posters doesn't end at this list. There are many other ways of how a travel poster can be presented. Before choosing the one for your apartment, we recommend you to think over what will be better for your dwelling and look organic in the interior design. Of course, your personal tastes must be also taken into consideration.