There are two big trends or approaches in interior design at the moment that the average homeowner can easily embrace – one is the natural trend, using wood and other natural materials where possible. The other is to recycle, upcycle or reuse items in new and interesting ways ranging from making seats from pallets to adding a reclaimed wood dining table for your home. Here are some ideas to inspire your next makeover around these trends – often that you can DIY.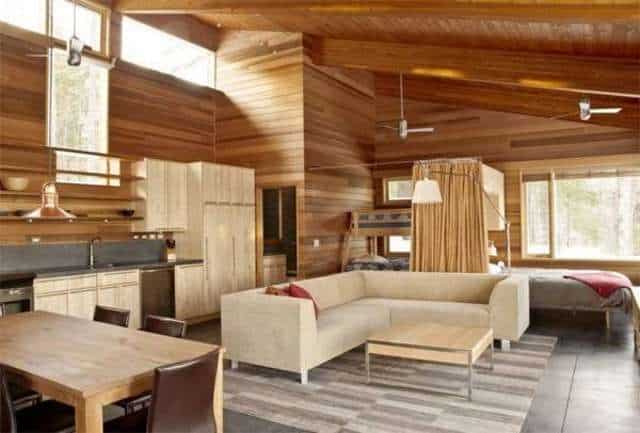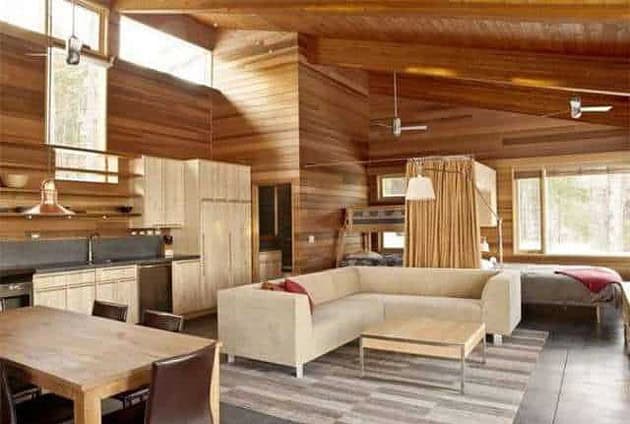 Outdoor projects
Not all makeovers are limited to the interior of the house – outdoor areas can benefit from the tricks learned from a DIY home makeover. One of the most popular materials for a makeover in the garden area are shipping pallets – easy to find, easy to work with and endlessly useful.
Take a new garden table as an example. Find a table at a charity shop or furniture recycling store that has a really shabby top on it. Take off the top and instead lay a series of pallet planks all cut to the same size. Make sure they are clean and any nails or screws sticking up are removed first. Then apply a coat of natural wax stain to make them more waterproof and add a shine to them.
You can even make useful, practical items from recycled items you might find at the tip or in a salvage yard. Wooden cordage spools are a great example and can be used to make a stylish wrap for the hose. Separate them around one foot apart against a fence or the wall of the house and you can wrap your hose around them. You can always stain or varnish them before putting them up to make them fit in with the rest of the garden furniture.
The dining room
Dining rooms can be a very flexible room to work with because they mean a little something different to different homes. To some, it may be a place for formal dining or for the family evening meal. For others, it might be somewhere to grab a bite together but also for the kids to do their homework or for Mum to do some internet shopping once the kids have gone to bed.
Reclaimed wood furniture is very popular in the dining room because it offers a unique and practical style of furniture. The aged wood is very strong, and the air-aged nature of the wood makes for unique and interesting looks. Experts in reclaimed wood furniture can also make the widest range of styles with it – from ornate French to simple Nordic styles.
You can also take the DIY approach to the table and chairs if you can't find one you like. Look for a style that catches your eye and then consider what colour or style you want it to look like – then you can sand down the wood and apply a stain, varnish or even paint it. Chairs can also be made to fit in with the look with re-covered cushions to match the room décor.
The kitchen
The kitchen is one of the most popular spaces for a DIY makeover because there is so much you can do without needing a tradesman. You should always have a professional in for anything relating to plumbing or electrics but otherwise, there are lots of things you can do yourself.
Cupboard doors are a great example – maybe you like their style, but the years of use and dirty hands have had a negative effect on them. Wood doors, in particular, are easy to gently sand down and apply new stain or varnish. And if you don't think new stain will cut it, apply paint instead. While or neutral shades are a good option and can also lighten the room.
Changing the handles on drawers and doors is a cost-effective way to completely change the look of the kitchen, especially when paired with a re-varnish or re-paint. Gold is a big trend for next year while silver or chrome shades are always a favourite and match with any colour theme.
Accessories
Sometimes your room doesn't need an entire makeover but just needs some new focal points in it to help change the look and update it. And this is where touring the charity and second-hand shops can be great fun – look for things you can repurpose, reuse or recycle into something different.
Like the idea of the pallet garden table, you can also use reclaimed wood to make shelves for any room in the house. If the wood colour doesn't match with the wood in the room, then strip them with sanding paper and paint them instead. Use a complementing shade to the wall colour if you plan to put colourful accessories on them or a neutral shade if you want them to blend in.
Even broken items can be reinvented as something useful or attractive. That picture frame with no glass that has lost its back somewhere? Attach some wires from one side to the other and use it as a place to hang your earrings. You can even paint the frame if it is looking a little tired and worn.
Flooring
Changing or updating the flooring in a room can also make a big difference to the look. But don't discount the original floor of the house for its potential to make a big change. Original floorboards can often be buffed up with the right equipment and made to look stunning. Add a brightly coloured rug to the centre of the room as a feature and you have an instead change of appearance.
Even old concrete floors can play a part if you like certain styles – such as industrial looks – then the concrete floor can be ideal. It may have a variety of colours and interesting touches to it acquired over the years so cleaning it up or even painting it can work on the right property. And again, a nice rug can soften the look at little.