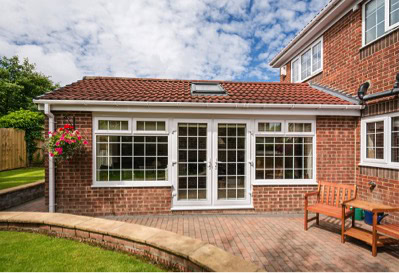 Adding a conservatory to your property not only gives you an extra room in your house to use as you wish, but it can also add value to your property. The higher the standard of your conservatory then the more added value you will place on your home.
One of the best ways to ensure the longevity of your conservatory is to add a Guardian Conservatory Roof. These conservatory roofs are lightweight, extremely durable and super energy efficient, reducing the noise of the rain as well as being beautifully tiled to give an attractive look which you can choose to be in keeping with the rest of your property.
Phil Coppell is one of the most well respected Guardian conservatory roof suppliers in the UK and the company have years of experience in designing bespoke UK conservatories. Phil Coppell have gained a reputation for being the largest and most professional conservatory suppliers, manufacturers and fitters in the UK and they have plenty of options for conservatory roofs for you to choose from including 2015's top 5 conservatory roof styles, which we describe in detail below:
Edwardian
The Edwardian conservatory roof has always been one of the most popular styles of conservatory roof due to its timeless elegance and versatility. The Edwardian roof encompasses a spacious and high ceiling which makes the most use of the space below – one of the reasons this type of roof is so popular. The Guardian Edwardian conservatory roof is also available with roof windows to add extra light to the large and spacious ceiling.
Lean to
The Lean to conservatory roof has simple and elegant lines giving it a sleek and modern look. This aesthetic matches many modern houses meaning that your conservatory will blend in seamlessly with the exterior of your property. Lean to conservatory roofs rest directly on to the side of the property so they are also the ideal solution for homeowners who do not have much room in their garden but want to maximise the space they do have. Guardian Lean to conservatory roofs can sit at an angle as low as 15 degrees so they can fit under the eaves of a bungalow.
Victorian
A Victorian conservatory roof is a classic 3 facet design with crisp and rounded edges. This type of roof suits any type of property and is a contemporary alternative to the Edwardian design. A Guardian Victorian conservatory roof has a high ceiling which makes the most of the ground space below. The 3 facet design also lends itself to more options regarding door positions for your conservatory.
Double hip
The Double hip conservatory roof is a fantastic alternative or replacement for an old lean to roof. They can be installed on conservatories attached to bungalows where a lean to may not be suitable. A double hip conservatory roof adds space and light to a conservatory to give you a room your family will enjoy using throughout the whole year.
Apex
An Apex conservatory roof has a long ridge down the centre of the roof which allows for continuous height to the room below. This high vaulted roof provides a bright and airy atmosphere and complements the exterior of any type of property. The Guardian Apex conservatory roof is inspired by the roof most commonly used in your average property allowing your conservatory to blend in seamlessly with the exterior of your house. Roof windows can be added to a Guardian Apex conservatory roof to give extra light to the room below.