The idea of an outdoor design has evolved pretty much lately. People are moving away from the image of huge driveways, big car parking spaces and cemented pavements only to be used as an entry/exit point for their property.
Instead, many people nowadays are hiring professional help for planning their outdoor spaces the best way to cater their ideas and needs. Everyone wants something extra that would make them stand out in their circle of friends and family.
Since the very concept of outdoor design has changed over the years, people are using this space for a number of purposes. Let us take a look at what it really needs to set your plan to come up with an amazing outdoor design plan that would fit your requirements and budget.
What you want: being in practical brackets, decide what you want to use your outdoor space for. The options are limitless. Depending upon your space availability and budget, you can choose from the number of options to best fit your needs.
Some of the design plans can revolve around
A swimming pool. Depending upon your budget and area, you can plan a pool to enjoy friendly-weather days.
Landscaping for a lush green garden. This may include fruits and flower trees. You may add a small kitchen garden if you want to try your hands at gardening.
A small personal space at the backyard. Only to enjoy the quiet and peace.
A patio for holding large parties and gatherings.
An outdoor living room that serves as an extension to the indoor of the house.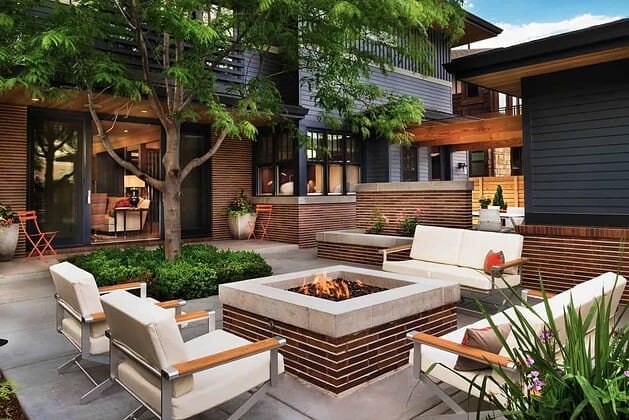 Get professional help: professionals do make a difference. They know their work and they can help you turn your place from drab to dreamy. Hire professionals once you have a clear idea of your needs and let them know of it. Let them show some magic!
Explore and visualize: this is the best part. Even with professional help, you can always explore new ideas and visualize and see if it will work with your design plan. You never know when an idea can become an instant hit!
To get you started, let us take a look at some different ideas that could liven up your outdoors.
You can add colour and texture to your patio with patterned tiles. They are cost friendly and easy to clean and maintain.
Placing few swimming pool lounge chairs around the pool area will help you soak some sun before diving into the refreshing water.
For large party and gathering spaces, adding a corner bar will add value to the setup.
Another useful addition can be a concrete or brick BBQ and a kitchen faucet.
A very different idea to hit lately is setting up giant sized games. This will ensure people belonging to all ages in your gathering are entertained. One such example of a game is ''chess''. You can choose the best size to fit in the outdoor space. These games come up with a big plastic or nylon mat and life sized pieces that need to be carried and placed by people while stepping on the board.
A private space at the backyard can do better with a hammock for lazy days. You can also add a covered area and place a music player or a few books on a shelf enclosed with glass.
These are some of the many ideas that can be used to come up with an impactful outdoor design. You can choose to go easy and add little tweaks to the space or completely revamp it and surprise your circle at the next gathering at your place.