If you're looking for a hardworking lighting solution that offers both form and function, you should definitely consider pendant lights. Pendant fixtures boast of beauty and practicality, with many style options and a variety of applications.
What are Pendant Lights?
In general, a pendant light is a solitary light fixture that hangs from your ceiling. They're sometimes called suspenders or drops because they're usually suspended by a chain, cord, or a metal rod. They are often used in multiples and hung in a straight line over dinette sets or kitchen countertops, sometimes in bathrooms.
An island or a billiard light is a longer type of pendant fixture, and they usually have long fluorescent lights or a couple of incandescent bulbs. They are sometimes considered a type of chandelier that can be used over billiard tables and kitchen islands.
If you're not into circles of intense, bright light, you may opt for a pendant with a light diffuser, or you can choose semi-opaque bulbs. You should also consider a pendant with a dimmer switch to set the perfect mood for any occasion.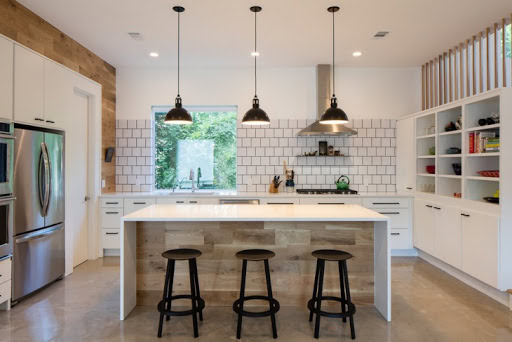 Lighting usually comes in four basic forms: task, accent, ambient, and decorative. By knowing which one you really need for your room, you'll be able to choose your pendant fixture easier.
Task lights illuminate a specific, targeted area to help you see better while working. For example, you might want some lights for basic kitchen tasks like chopping or reading cookbooks. For this purpose, you would need a fixture that aims the light downward, preferably with a translucent or open bottom to let a high degree of light out. This will be suitable for lighting your work area because the light underneath will not be too harsh.
Ambient lighting, on the other hand, gently lights up the whole room rather than focusing on a single spot. To get this effect, you should remember that bigger is not always better. Some people use their kitchen more for snacking and mingling instead of prep work, and if you're one of them, you might want to choose a softer light to set the mood. If what you're aiming for is overall light, space the pendants evenly over the work area or throughout the room.
Accent lighting highlights a specific design feature, such as a beautiful art piece. If you have a wood or stone countertop, a wash of light can help showcase the material. Pinpoint lights can also bring out the sparkle in polished metals or flecked stone.
If you already have a sufficient amount of light in your room, and what you're looking for is a decorative fixture, choose a pendant that glows softly. This will create a big impression without casting targeted light. You can also opt for lights that cast a shadow on a high ceiling.
It is possible for the fixture to fit into more than one category, so it is important to know what its function would be. A rule to remember is that the larger the area you want to light, the larger the pendant should be. For a sink or a desk area, a small pendant can be very effective. You may also cluster smaller pendants, or opt for a pendant with three or more lights over a kitchen island or a dining room table.
Hanging a Pendant Light
There are many decorative options for pendants, but you have to keep in mind that installation is an essential factor to consider when it comes to pendant lighting.
Basically, pendant fixtures should be hung twelve to twenty inches under an eight-foot ceiling. For every additional foot of ceiling light, you should add three inches. With this computation, the pendant should be hung fifteen to twenty-three inches below a nine-foot ceiling.
The pendant height may also be measured up from the surface right below the light. You need to provide thirty to thirty-six inches of clearance above countertops and tables. This is the most practical height, especially if you plan to use the pendant for task lighting.
It is also important to remember that you should hang the lights over surfaces at a height that doesn't block views in your kitchen. You should also consider switches and dimmers so you can adjust the level of lighting according to your mood or the task at hand.
Style Quotient
One of the great things about pendant fixtures is that they come in all styles and shapes. You can select any style that suits your interior decor and your preferences especially if the light fixture will be commanding a prominent presence in the room.
Pendants come in a wide variety of sizes and the materials used may vary. They can come in metal, concrete, glass or plastic. Modern pendants can be energy-saving low voltage models, and they are usually made of chrome and glass for a sleek look. Shaded chandeliers can either be transitional or traditional. For a retro look, you can opt for glass orbs and shades. Translucent-glass shades, on the other hand, help reduce glare, which may distract you while you're working.
Most lighting showrooms let you customize fixtures, so select shades that will match your lighting needs and your kitchen style perfectly.
Ideas for your Kitchen Pendant Lights
Pendant fixtures with retractable cords are efficient since they are adjustable. You can easily adjust the lighting for different tasks. You can retract the light for diffused lighting or pull it close to set a romantic atmosphere.
You can choose from an assortment of beautiful styles for energy-efficient, long-lasting and dimmable lightbulbs. Opt for the bulb that will work best for your purpose in installing the pendant. Intensity and colour can influence the mood of the kitchen and the effectiveness of the light, no matter what its purpose is.
Whether you want to update your decor or illuminate a specific task, the right amount of light makes all the difference in a room. Your kitchen pendant lights can serve a lot of purposes, so choose the one that will suit your decor and your preferences.