A DIY move can save you quite a bit of money, especially if you plan ahead and take advantage of any moving and storage discounts you can find. But, if you don't know what you're doing, you could end up spending more money on a DIY move than if you had just hired the experts in the first place. Fortunately, these tips will help you make your DIY move as easy as possible.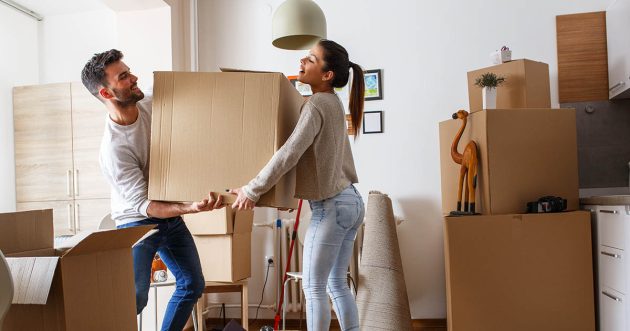 Ask for Help
You probably already knew that asking for help was going to be on the list. After all, you're going to need help from other people to move your household from one location to another unless you want to spend days doing it on your own. No one likes asking others for help with moving because everyone knows how hard of a task it is, but because they know how hard it is, most people are willing to help if they can.
Start by asking people who you have helped in one way or another, as they're most likely to return the favor. If you still don't get enough volunteers, turn to apps and sites like Craigslist, Nextdoor, and HireAHelper to find people you can pay to help. It will still be cheaper than hiring professionals. Just be sure you carefully vet anyone you don't know before allowing them in your house.
Rent a Truck or Trailer
Unless you already own a truck or trailer, you need to rent one. Don't try to move everything in your car or several cars because it's just going to take too many trips. Plus, you probably won't be able to fit your larger furniture items in most cars or even SUVs. Renting a truck or trailer is probably going to be your biggest expense in a DIY move, unless you pay for a lot of helpers. Even then, a truck or trailer rental is fairly inexpensive when compared to hiring an actual moving company to do the work for you.
Try to make as few trips as possible during your move, so rent a truck or trailer that is slightly bigger than you think you will need. You can use a truck size calculator online to determine approximately the size you need, but it's always better to rent one that's a little bigger. You usually forget one or two (or 10) things when you calculate the size of truck you need and you'll be glad you have the additional size.
Rent a Portable Storage Container
Renting a portable storage container and keeping it on your property before moving day is one of the best tips for a DIY move because you can do it at your own pace. You're able to move boxes and furniture to the storage container as you need instead of all on moving day. Then, you can just contact the company to come get the container and drive it to your new home. What's even better is that you can then take the time you need to unpack the container at your new house.
Conclusion
A stress-free DIY move is probably not ever going to happen, but if you use these tips, you can at least make it a little easier on yourself and you'll save a little money too.