Gardens come in different shapes and sizes which means everyone has different requirements when buying furniture for their outdoor spaces. Whether you are searching for the first time, or looking to replace an existing set, you should take your time to ensure you make the best choice for your home. We've put together a list of things to consider before buying garden furniture to help get you started.
Maintenance
Longevity is everything when it comes to purchasing garden furniture as you want it to be weather resistant and able to withstand high temperatures, wind and rain throughout the year. Look for furniture for the garden that offers protection against the elements, like this 9-seater rattan garden furniture dining set. Even the cushions are waterproof and when you add in a weather protection cover then it adds years of usage around the home.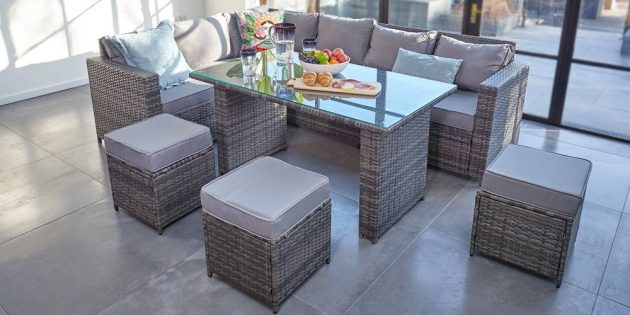 Choose the right materials
Every material used for outdoor garden furniture has pros and cons and it's all about finding the right one to suit your space. You'll be able to pick from the likes of stainless steel, iron, aluminium, wicker, synthetic resin, and one of the most popular, rattan. The reason for its popularity is its adaptability to both hot temperatures and wet environments. This 8-seater rattan corner sofa set demonstrates those benefits perfectly, fitting into all manner of garden spaces no matter what part of the UK you live, or how good or bad the weather.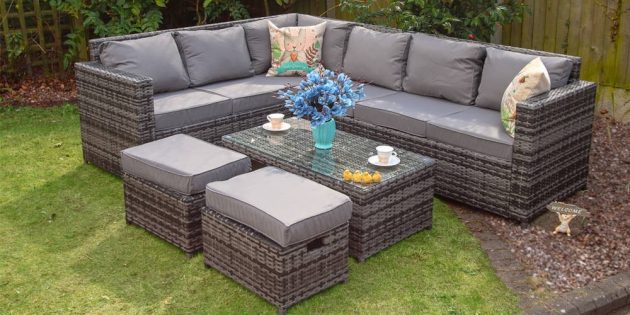 Always opt for quality over price
Everyone loves a bargain, and it makes sense to save money wherever possible, but you should always be wary of choosing cheap garden furniture sets based solely on the price tag. By weighing up all the other things featured in this list along with the price you will be able to make a more informed decision that ensures you get value for money. Before we offer any rattan garden furniture set to our customers, we ensure it meets our quality assurances tests, which you can see in our Vancouver 5-seater rattan corner sofa patio set. It delivers a great price, along with a high-quality weave and extra features, such as a glass-topped coffee table.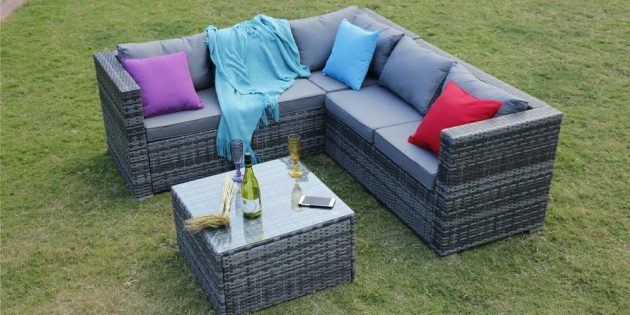 Budget requirements
While buying rattan garden furniture based solely on price is rarely a good idea, you are still likely to have a limit to how much you can spend. The best way to balance out cost with value for money is to look for deals that tick all the right boxes while also keeping you within budget. It's something we're always conscious about at Furniture Maxi, which is why we offer deals like the Lotus 7-seater rattan garden cube set. Quality is guaranteed, while at the same time you also get to save money.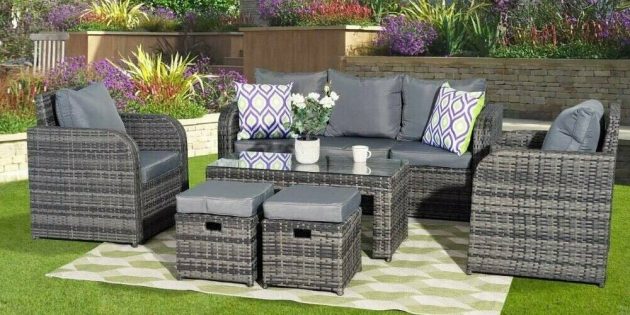 Consider your seating plan
Rattan garden furniture is becoming increasingly popular due to its versatility. Items such as this Eton 4-seater rattan garden furniture set can be used out on the lawn, as balcony furniture, or as conservatory furniture or any other outdoor space. Before choosing the items you want to use in the garden, think about positioning and where you'll get the most usage. This may change throughout the year due to the weather, but the great thing about this type of garden furniture is its lightweight construction, making it easy to move any time you need.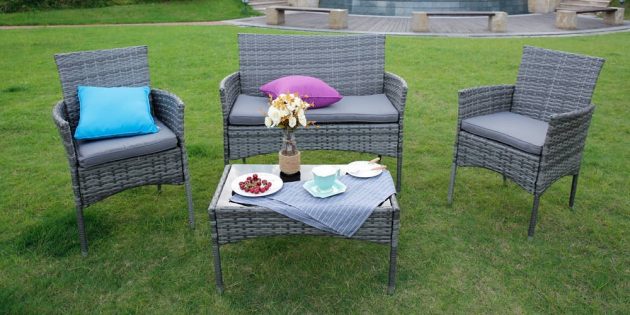 Storing your garden furniture
Whether you are buying a garden table and chairs set, cube patio furniture or a rattan garden set, you want it to last as long as possible. Storing furniture for garden will play a big part in helping you achieve that, especially if you want to invest in a larger piece like this Vancouver 9-seater rattan garden furniture set. If you choose to remove it from the garden during the winter, make sure you have enough storage space in the basement or garage during off-season.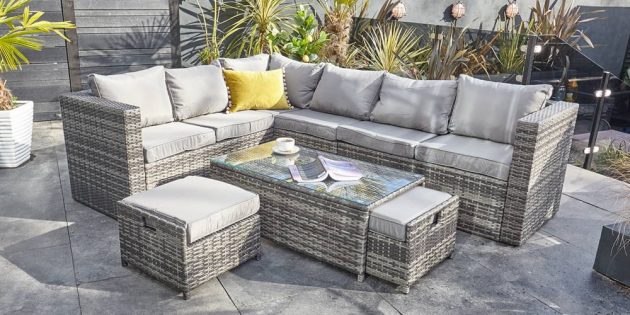 Find the right colour match
Longevity also comes from being able to strike the right tonal balance in the garden. Sticking with neutral colours means you are far less likely to change your opinion about your garden furniture 12 months down the line. This Papaver 9-seater rattan dining set comes in grey, which means it will fit in with natural colours of the garden with ease, and also offer a timeless appeal that will last for years to come.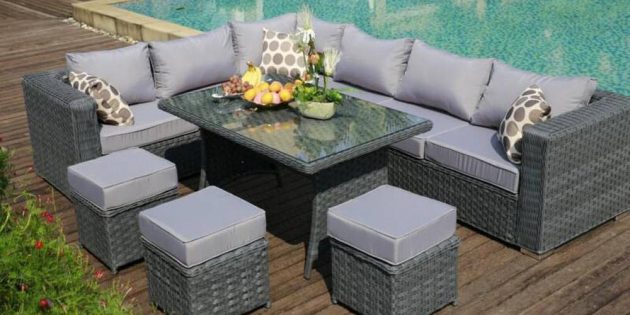 Go for comfort
No matter what type of outdoor chairs you choose for the garden, comfort has to be near the top of the list. When spending time outside the goal is to be relaxed and comfortable, and you'll want the same for your family and friends too. Cushions are always a good additional feature as they provide back support and allow you to remain comfortable for longer periods of time. This is especially true when entertaining and hosting a late evening dinner and our Rosen grey rattan outdoor 8-seater round dining set is not only stylish, but will ensure everyone can relax with ease as you soak in the late evening sun.