Spring time is a wonderful time of the year. It is every nature lover's favorite and how can it not be? It is the season that turns the dull-colored nature into artistically vivid piece of work. It is difficult to stay at home when the garden is blooming with flowers and the birds are singing their song. But sometimes, you have to give up the beautiful spring breeze and get inside because the weather can ruin your outdoor plans.
That should not be a reason for you not to enjoy your beautifully landscaped garden though. A lot of people have found a way around this with a home addition commonly known as a sunroom or a conservatory. You've probably heard of it and you've most likely seen one, especially if you browse through our page frequently.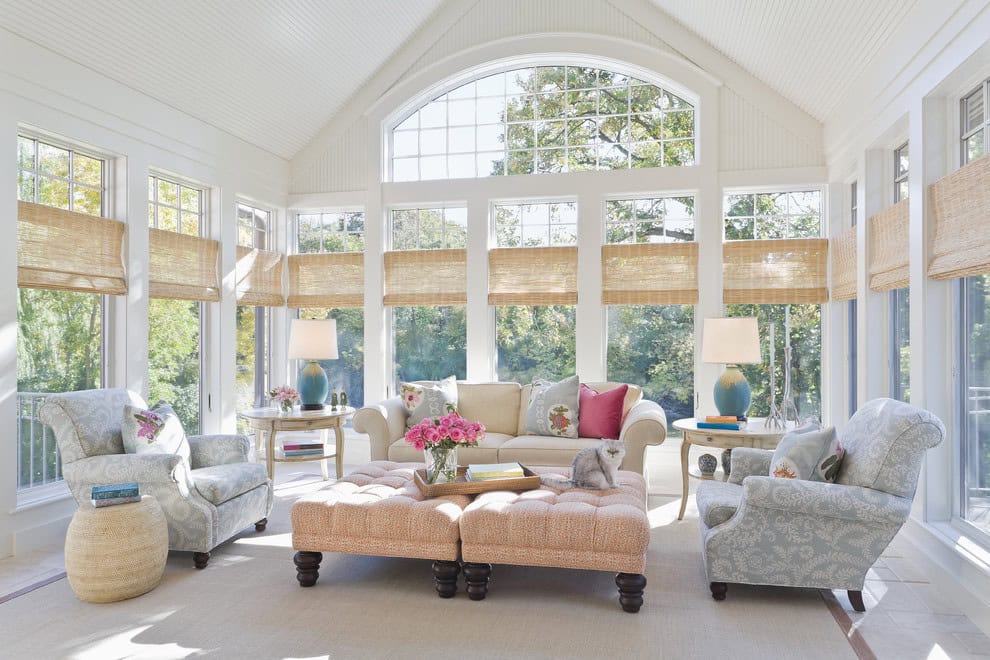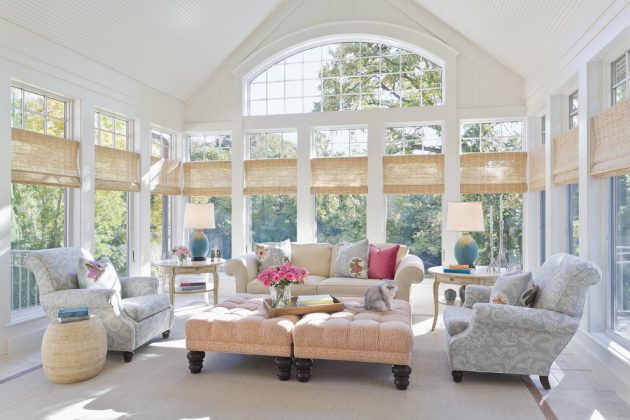 The sunroom is an amazing addition that can really open up quite a lot of new opportunities. It is very similar to a living room but unlike it, the main focal point of the sunroom is the glass area that frames the outdoors. You can choose to build one separately if you have plenty of space somewhere in your outdoor areas or you can extend another room, most commonly the living room. It can be styled however you want as long as you keep its primary objective in mind – lots and lots of windows, or a few but larger ones, that create a portal to your garden and let large quantities of sunlight inside. Of course, do not forget to install blinds such as the ones here because if your sunroom is an extension of another room, you might want to block some light sometimes.
As far as the furniture goes, you have complete freedom of how you decorate the sunroom. It can be a successor to your living room with pieces that are very similar or you can choose a totally different look. You'll need comfortable seating solutions, a few storage items and maybe a few planters that will create an even smoother indoor-outdoor connection. If you want to go for an even comfier look, rugs such as these are going to soften the floors up. You should avoid multimedia electronics such as a TV unless you really, really need on in this room, otherwise it will just beat the point of the entire room.
We've provided a few examples of sunroom designs from different styles. They can serve you as inspiration for your own home but in the end, it all comes down to the amount of space and budget that you have at your disposal. You will need to find the perfect balance between these two constraints and then use your creativity to make the most out of it. Enjoy!
1. Traditional Sunroom
2. Traditional Sunroom
3. Traditional Sunroom
4. Traditional Sunroom
5. Traditional Sunroom
6. Traditional Sunroom
7. Traditional Sunroom
8. Transitional Sunroom
9. Transitional Sunroom
10. Rustic Sunroom
11. Victorian Sunroom
12. Beach Style Sunroom
13. Farmhouse Style Sunroom
14. Farmhouse Style Sunroom
15. Farmhouse Style Sunroom