Residential architecture is a reflection of how people want to live. It's what they envision when they think about "home." It's what they surround themselves with when they're at their most comfortable and feel most themselves.
The family home remains one of the most popular home types around the world, even at a time when cities are getting bigger, denser, and taller, and residential units are getting smaller and more economical.
The home isn't just a major financial investment, it's also a source of inspiration, lifestyle, and privacy.
In Niagara, the wine-producing region south of the Greater Toronto and Hamilton Area, the custom home has become a mainstay of new development.
Toronto, Canada's most populous city, has become one of the most unaffordable real estate markets in the world. That's driving home buyers of all ages further out to places like Niagara, where pastoral beauty and country living provide a home to contemporary design. It also means that residents selling their homes in the city and moving out have more resources to build the home of their dreams.
These are some of the trends that you'll find with a custom home builder in Niagara today.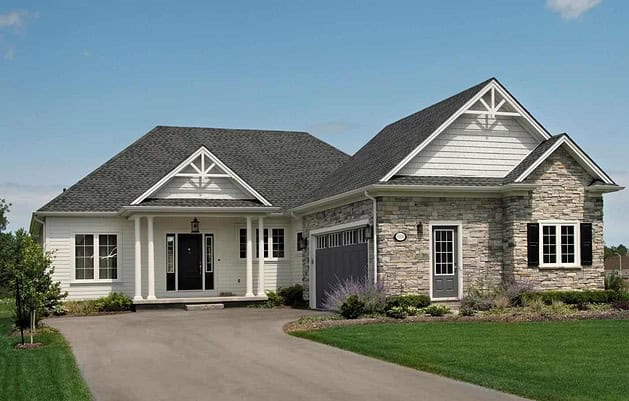 Traditional Design Meets Modern Construction
In many Niagara communities, traditional house styles remain one of the most popular types of architecture for detached homes and townhomes. The style is recognizable for having little ornamentation, symmetrically spaced windows, and simple rooflines.
Singlelevel bungalows frequently make use of this style. Often, traditional-style bungalows come with more steeply pitched roofs, loft space, open foyers, and covered porches that provide shelter from the elements as you get to your front door.
They also tend to use hipped roofs, which differ from the gable in that all sides slope toward the ground. The hipped roof lessens the effects of high winds, while homebuilders can use the opportunity to implement premium designs like vaulted ceilings or add a dormer. With the addition of wraparound gutters, it protects siding, and the consistent fascia makes installing gutters easier all around.
It's one of the most common architectural styles in North America and a familiar sight in subdivisions. Traditional house styles were the most commonly built type of housing in the 1940s and 1950s, but the building techniques used in them have changed.
A good custom home builder will use a variety of modern methods of construction to reduce construction time and costs, as well as make construction more sustainable. The result is traditional architecture made with better craftsmanship than in the past.
Open Lofts
Loft space creates more square footage out of the area above your main floor. They're an excellent way to make use of a hipped roof to create some additional room without committing to a second floor.
For older homebuyers, the loft area is the perfect option for having grandkids over, as a place where they can play or stay the night. However, it can also be used more creatively by turning it into a home office, study, or even a library. Paired with a spare bedroom and bath, it's a unique architectural touch.
Outdoor Living Spaces
One of the unique features of Niagara is its relatively temperate climate for Canada. Surrounded on two sides by Great Lakes, it has a much longer growing season and pleasant summer. That makes for a longer and more pleasant patio season, which means homebuyers are looking for bigger outdoor spaces that can be used for entertaining, dining, and more.
The long winters in Canada mean that Canadian homeowners are eager to make the most of warm weather. Niagara homes are trending toward outdoor spaces that can be used even if there's rain or direct sunshine, utilizing covered terraces and smart landscaping to make sure outdoor spaces enjoy the right mix of sun and shade.
Backyard areas might also feature stone terraces to transform a grassy lawn into the ideal space for entertaining.
Townhomes often feature landscaping that cultivates a greater sense of privacy and noise retention, not just a pleasant garden-like feel.
Pedestrian-and-Cycling-Friendly Communities
Niagara is home to incredible natural beauty, from the vineyards to the Niagara Escarpment, so it draws people who are attracted to an active lifestyle. With hundreds of kilometres of cycling trails and wineries that you can visit via rural paths, Niagara is moving toward building more pedestrian and cycling-friendly communities.
In Niagara, you'll find plenty of design features where modern construction techniques meet traditional architecture.