If you are an avid collector of vintage or exotic cars, you know the amount of care that goes into your craft. You are dealing with very fragile rarities that you either display in an ideal storage facility or exhibit in car shows, and the slightest damage can cost you thousands of dollars.
Keeping an exotic car in good condition requires an eye for detail and the calculated movements of a craftsman. It takes a lot of work to handle, but going the extra mile when it comes to securing a garage for such works of art on four wheels always helps. Here are a few tips to help you build or refurbish a garage that's worthy enough to safeguard a vintage beauty like the classic Porsche 911.
Make sure it's durable
The first thing you might want to consider is how well the garage holds up against the elements. You want a garage that can shield your collection from hail, wind and more. It's always best to choose high-quality and durable materials for the roofing and walls. You wouldn't want a large hailstone smashing through the ceiling and breaking the windshield. While you can replace it with the help of auto-glass specialists like vanisleglass.com, it's still best to opt for a garage that's sturdy enough to prevent any costly and unexpected damages to your exotic car.
Provide added security
It's not only the elements you should be worried about; you should also prepare for scenarios like an attempt to steal or vandalize your car. No collector in their right mind would think about parking a multi-million dollar car by the curb with only a sheet of tarp to protect it from criminals. Such a valuable vehicle has to be secured, and of course
insured with a classic car policy
, so spending heavily on motion sensors, surveillance cameras, and a highly sensitive alarm system is still a worthwhile investment.
The secret to a secure garage lies in the type of door that's installed. Opt for a door that's made from reinforced steel so it won't dent easily from blunt force. It's also important to install an opener with advanced features for extra security.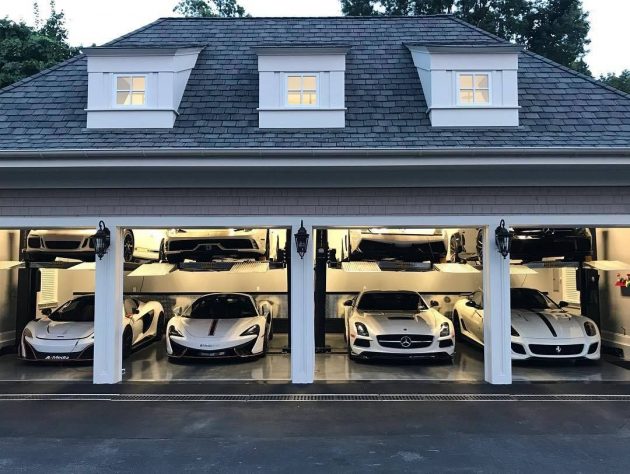 Give enough space for presentation and movement
If you own multiple vintage cars in one place, you might want to provide enough room for the vehicles to "breathe". In other words, you will need to get rid of clutter and limit the amount of items you store. Not only does this provide enough room for you to maneuver if you are planning to transport or take an exotic car out for a spin, but it also helps with presentation. You want to display your collection from all possible angles, so go for a minimalist design for the interior. Use grey or white paint so visitors can see the vehicles in all their exotic glory.
Collecting cars is a great hobby — and a high maintenance one, too! Don't shy away from giving these beauties the shelter they need to maintain their value and lifespan.