As the owner of a luxury vehicle, you know just how important it is to take good care of your pride and joy – and we're not just talking about when you're behind the wheel. When you're not hitting the open road for a weekend drive or taking it along to a local motor show in the company of other luxury car enthusiasts, you need somewhere safe and secure to keep it. There are a number of things to consider, so we thought we'd detail some of the important decisions to be made when it comes to choosing the right storage for your luxury vehicles.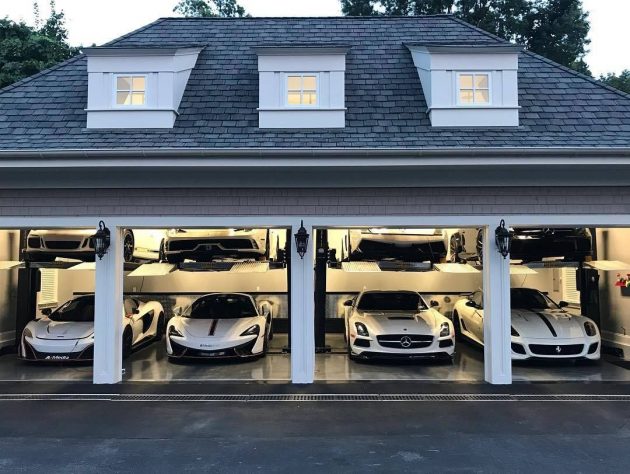 Quantity and budget
Your storage of choice will largely depend on the number of luxury vehicles you're looking to park, as well as deciding your budget. If there's just one car, then you might find it easy to safely store at home. Then again, having just one car might also allow you the budget to pay for secure, specialist storage elsewhere. A larger number of vehicles might be harder to keep on your own property, but could also prove too expensive to rent space at a dedicated car storage facility.
Home storage
The inclination for most owners would be to keep their vehicles safely at home on their own property, so it's great if you have the space and security to do so. If you have a gated driveway, then it might be tempting to keep your vehicles out on show. But this obviously opens you up to not only security risks, but the elements too, so it's always best to try and store your vehicles indoors.
If you've space in your garage and have only one vehicle to store, then parking it there is certainly an option. Just bear in mind that there becomes a risk of damage if you use your garage for anything else other than just vehicle storage.
One of the best options when it comes to home storage for your luxury vehicles is to have your very own purpose-built container, such as a SteelMaster Quonset garage. Secure, sturdy and surprisingly cost-effective, you can make a one-time purchase for your own personalized garage, built to your needs. Its convenient portability also means you can dismantle, take it with you and re-erect it anywhere, should you ever need to move.
Rented storage
If you'd rather leave your vehicles in the capable hands of the professionals, then there are plenty of luxury car storage specialists located across the states. You can pay a regular fee to have your prized possessions expertly taken care of, from climate-controlled environments to vehicle inspections, fluid top-ups and battery charges – these places have got it all covered. Then, of course, you're free to go and take your car out for a spin as and when you like.
We've given you your options, so now it's up to you to decide which is the right storage solution for you. Whichever one you choose, with the right care and attention, we've no doubt you'll enjoy your peak-performing luxury vehicles for plenty of years to come.