With its elegance and durability, wooden furniture is a great choice for your home, but the market is flooded with products of varying quality. There are different types of wood used in furniture making and their characteristics differ enough for customers to get easily confused.
If you're shopping for wooden furniture, there are a few key things to know so you can spend your money well and get long-lasting value from your purchase.
Wood Hardness Determines Durability
Each type of wood has its unique set of features, which includes colour, grain, density and finishing. To determine how durable and versatile a type of wood is, it's important to know that hardness dictates its ideal uses. Using this wood hardness info chart, you can determine whether a piece of furniture has lasting value depending on the type of wood it was created from.
Hardwood Versus Softwood
Hardwood and softwood are the two main categories of furniture wood, each with its distinct features. Less dense than hardwood, softwood is a good choice for furniture due to its versatility, but low density also means lower stability and lower durability. Stronger and heavier, hardwood suffers less damage over time. Yet not all hardwood makes great furniture because some types are too hard to be carved.
If you want to buy long-lasting pieces that can take the abuse of daily use, go for hardwood furniture. Known for its outstanding durability, this type of furniture also has great resale value. However, if you favour affordability, softwood is cheaper and easier to restore or discard.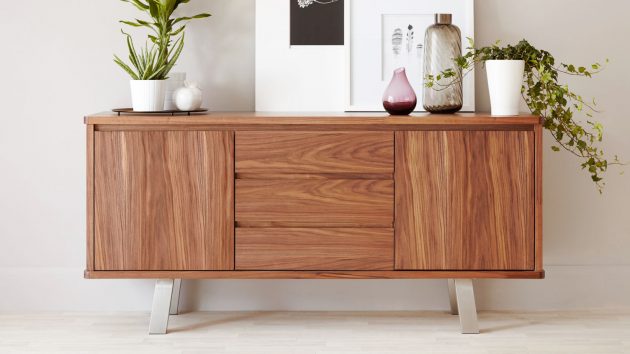 Most Popular Types of Furniture Wood
Since there are dozens of wood types to choose from, you need to decide which features are the most important for you. Do you value durability, strength, appearance, affordability, or all the above? Browsing furniture catalogues will reveal many options, yet you also have to consider how well would a piece fit in with the general design of your home.
Today, most wooden furniture has great durability, yet the range of colours and designs varies widely according to the type of wood used in the making. Furniture from light coloured, smooth wood will have a different feel and look to it than furniture from dark, rough wood. Here are the most popular types of furniture wood:
Light Hardwood
Maple and rubberwood are light hardwoods known for their incredible ability to stand up well to regular use and moisture. Easy to paint, maple comes in many different colours.
Flexible Hardwood
Some hardwoods are too heavy and strong to be used in making curved pieces of furniture. The lightest and most flexible hardwood used by furniture manufacturers is ash. If you're buying a chair, for example, look for ash.
Strong Hardwoods
Oak, walnut and mahogany are among the most popular types of hardwood. They are strong, durable and elegant. Oak comes in various colours such as white, light brown or grey. Walnut and mahogany can be found in various shades of brown.
When buying wooden furniture, the first impression is that each piece has a unique character. Prices, colours, shades, textures, carvings and shapes vary significantly. Research in advance so you can choose pieces that will wonderfully complement the design of your home and last for years to come.