New Delhi, India – Feb 25, 2020 – International Architecture Platform Rethinking The future has announced the Results for 8th Edition of annual Award Series Rethinking The Future Awards 2020. for excellence in Architecture and Design.
Renowned firms like Diller Scofidio + Renfro and Rockwell Group, Salazar Architect Inc, Rechner Architects, Rosales + Partners, UNStudio, and many more are among the Winners this year.
Rethinking The Future has created one of the largest awards in architecture and design with some of the globally esteemed studios as winners like Bjarke Ingels Group & Dialog, Perkins Eastman, HOK, Page, RTKL, AHR, Aecom, Henning Larsen, CAZA, DLR Group, Behnisch Architekten, UNstudio, HOK, Gensler, HKA, LMN Architects, LAN Architecture, WOW Architects, EYP Inc., Line and Space LLC, IDOM UK Ltd, CCB Architects, etc.
The objective of these awards is to raise awareness around the strategies Architects and Designers around the world are employing to deal with the contemporary global challenges, and to bring the best of such projects into the light to inspire the next generation.
This year, the competition received 1500+ Entries from 40+ Countries, under 50 categories.
Following are the highlights of the Winners, for more details kindly visit the RTF Awards Official Website.
Slack Headquarters by Studio O+A
1st Award – Commercial (Built)
With its landscaped terrace and choice of cafes, its places of respite, its photography and art, Slack's San Francisco office takes an expansive view of how work helps people grow. If every work day is a hike along a trail whose end we can't predict, why shouldn't the workplace reflect that uncertainty? The design for Slack deliberately altered the floor plans and placed design highlights in unexpected places on each floor. Using the natural landscape as inspiration, designers achieved a model environment for employee well-being.
RIO ECO2 VENTURE by Krause – Architecture + Interiors
1st Award – Commercial (Concept)
ECO2 combines state-of-the-art sustainable technologies to reconnect what will be a new vision for a resilient desert community. The mixed-use, low-rise, high-density development will be the first modern community in the world to operate without fossil-fueled vehicles at street level. The plan for ECO2 offers an approach which shows that agriculture can coexist with development, that sustainability can be timeless.
The Shed by Diller Scofidio + Renfro and Rockwell Group
1st Award – Cultural (Built)
The Shed is an 18,500 m² arts center dedicated to commissioning, producing, and presenting original works of art, across all disciplines, for all audiences. The Shed's open infrastructure can be permanently flexible for an unknowable future and responsive to variability in scale, media, technology, and the evolving needs of artists. The Shed's non-profit mission is to ensure New York City's diverse communities have equitable access to cultural opportunities.
Beggar's Wharf Arts Complex and Redevelopment Design Vision by Ten to One
1st Award – Cultural (Concept)
The Beggar's Wharf Arts Complex is the heart of the redevelopment design vision. The Arts Complex is a collective of institutional spaces and ancillary mixed-use spaces including public parks, exhibition and event spaces, maker space studio and educational workshop facilities, artist-in-residence work / live studios, townhouses with flex studio apartments, commercial, as well as, in the larger development, marina, hotel, conference and co-work spaces.
International Self-drive Tour and Recreational Vehicle Campsite By Arch-Hermitby Suzanne Holtz Studio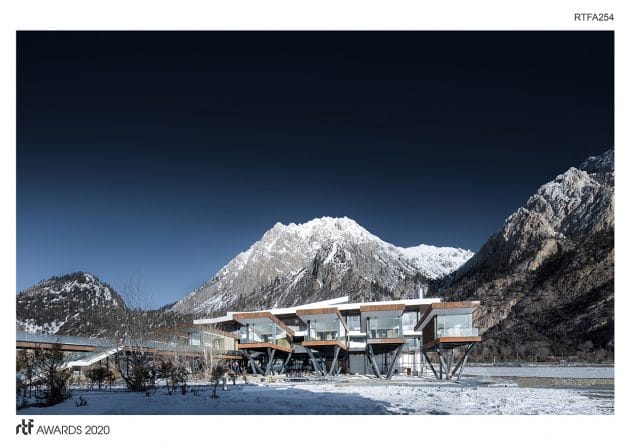 1st Award – Hospitality (Built)
The campsite is the best spot for self-drive travelers to stop and enjoy the beautiful scenery of Ranwu Lake. There are comprehensive travel services at the campsite, such as travel information, service management center, restaurant, Tibetan specialty exhibition and sales, high-end holiday hotel, bar, medical assistance, vehicle repair, tent camping, RV camping and 176 car parking lots, 5 tour bus parking lots and 7 RV parking lots are provided.
Karma Bequia By P-A-T-T-E-R-N-S
1st Award – Hospitality (Concept)
Karma Bequia operates as a "rural ensemble"consisting of a grouping of new buildings and open spaces. The project features various sizes of living units with public amenities such as a marina, spa, pool, gym, and a cafe / bar. It focuses on exploring and developing methods of prefabrication to be shipped and installed in remote sites, and which beyond their own generic nature could still be embedded in a genuine local vernacular. The layout takes advantage of the dramatic slope directly off the coast, allowing the project to cascade down to the shore while blending with its environment with its subtle form and materials.
Vibrant! by Salazar Architect Inc
1st Award – Housing – Over 5 floors (Built)
Vibrant! is an affordable housing high-rise in Portland, Oregon that draws inspiration from the surrounding neighborhood and the community it serves to create a culturally meaningful, contextually rich solution. The building shell is designed with the site's history in mind. The building provides 93 one-, two- and three-bedroom units, including 40 Permanent Supportive Housing (PSH) apartments for families transitioning out of homelessness.
Bosco Esposizione By Torres Arquitetos + Construesse + YDesing
1st Award – Housing – Over 5 floors (Concept)
The Bosco Exposizione residential building, located in Caxias do Sul, in the interior of Rio Grande do Sul, with a total area of 7,810.00 m², consists in a single, compact and linear prismatic volume of 10 floors. The building seeks to explore the dialogue between private and urban life through nature.
Réhabilitation des anciennes archives départementales en logements by S&AA – Schweitzer et Associes Architectes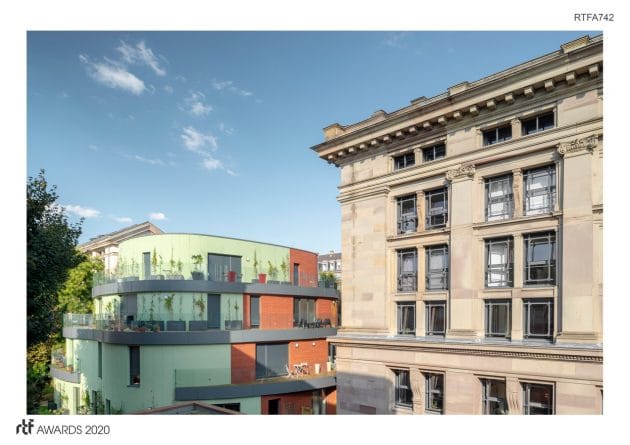 1st Award – Housing – upto 5 floors (Built)
This imposing, monumental building was an integral part of the architectural and urban planning scheme for the Neustadt, which includes the University and Saint- Maurice districts, and of the cultural and urban development strategy of the Second Reich, which included the construction of the National and University Library in 1890. The style is eclectic: a mixture of Neo-Renaissance and Neo-Classical.
Bamboo Terrace Homes By Eleena Jamil Architect
1st Award – Housing – upto 5 floors (Concept)
The proposal references a typical terrace house across Malaysia with its 22 feet wide frontages that overlooks out to the street. The design explores the potentials of replacing construction materials such as concrete, steel and bricks with bamboo in the hugely popular house typology. The proposal is still at an experimental stage, but it is hoped that it will spark some interest among developers and the local government with a view to start building housing more sustainably using bamboo.
Roy and Diana Vagelos Education Center By Diller Scofidio + Renfro
1st Award – Institutional (Built)
The Vagelos Education Center is part of the Columbia University Medical Center. Completed in 2016, the building reflects a paradigm shift in medical education from passive, lecture-based instruction to team-based problem solving, while simultaneously responding to the site's narrow footprint and tapered zoning envelope.
Rabat Ibn Sina Hospital By HKS Inc.
1st Award – Institutional (Concept)
By unifying three different existing hospitals in one building it becomes a symbol for unity and strength. The facility consists of a variety of different components, each of them one part of a larger holistic healthcare environment. The design treats them as equals and joins them under one roof, allowing opportunities for synergy and collaboration for the staff as well as convenience in access to healthcare for the patient.
Alnatura Campus by Haas Cook Zemmrich
1st Award – Office Building (Built)
Alnatura is an upscale food market chain featuring regional and natural products. The Working Environment Forms the nucleus of the Alnatura Campus in Darmstadt. The Alnatura Working Environment was not designed to impress but instead to invite: it is open towards its environment, for new ideas, and even more importantly, towards people.
Revolution By Perkins and Will
1st Award – Office Building (Concept)
The new paradigm must combine strategies to reduce energy load while maximizing efficiency in the future workplace. Overall, the building aspires to be 100% recyclable. Through both active and passive solar design, over the course of 20 years, the building is anticipated to save $3,450,000 on electricity alone. In addition, the building will also save millions, functioning as a net zero waste and net zero water building, and will benefit the environment, the building's occupants, and the surrounding community.
Java Rain By Ficus
1st Award – Private Landscape Project (Built)
'Java Rain' is a 5 acre resort nestled in 40-acre coffee estate in Chikamagalur and is part of the eco sensitive Western Ghats. The idea was to focus on retaining these impressions, without adding deliberate structure, examining ideas like 'as found' and 'figure-ground'. Site appraisals and dialogues with clients were a key trigger in paring down ideas to their core.
Redfern Warehouse By Ian Moore Architects
1st Award – Private Residence (Built)
This adaptive reuse of a former warehouse has maintained the exterior almost untouched, with only a few new windows inserted into existing openings. This soft touch has been extended to the interior, where original brick walls have been exposed and the large timber roof trusses highlighted as the starting point for the conversion to a family home.
Casa Mas By Doo Architecture
1st Award – Private Residence (Concept)
Limited by restrictive development codes and lot limitations, this residence was designed as a collection of raw concrete volumes. Design elements such as natural light, materiality, and typology, dictated the main architectural principles driving the project and its geometry. The space is conceived as a collection of small volumes whose interactions create a flow that circulates throughout the courtyard spaces, and allows natural light to wash all the main habitable areas.
Diablos Rojos Baseball Stadium By FGP Atelier and Taller ADG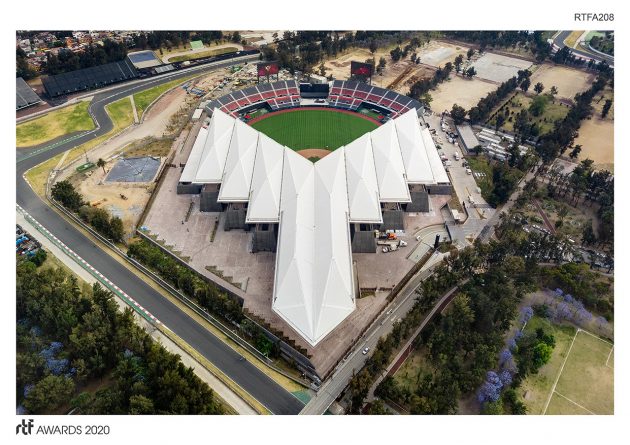 1st Award – Sports and Recreation Project (Built)
Alfredo Harp Helú Stadium is more than a building, it is an urban complex. Estadio Diablos will have a monumental lightweight roof structure resembling Diablos' trident, which drastically contrasts the predictable roof geometry that has historically defined baseball stadiums around the world. Indicative of the sky, the roof design is sharp, translucent, luminous and dynamic. Composed of lightweight steel wrapped in PTFE textile material, the roof will become an iconic symbol for the great City of Mexico.
Future Stadia By Pendulum
1st Award – Sports and Recreation Project (Concept)
The design was created with the intent of targeting communities that desire to promote economic development with sport as the catalyst for growth. Integration of technology is of major importance to the stadium design. The inspiration for the overall aesthetic of the stadium is "contextual fluidity". The design can take on the shape that best suits the environment and context it will be sited within.
LA Salon Prototype by FGP Atelier
1st Award – Fashion, Lifestyle & Accessories (Built)
The main goal behind LA Salon Prototype was to reinvent the salon experience as profound, interactive, and enlightening. FGP Atelier designed a unique atmosphere custom tailored to the young hip next generation of global celebrities that form their clientele.
Lucina Women and Children's Hospital by B+H Architects
1st Award – Healthcare Wellness (Interior) (Built)
The 23-story Lucina hospital complex breaks down traditional boundaries by combining high-end patient care for women and children (including antenatal, gynecology, obstetric, neonatal and postnatal care), administration offices, a maternity hotel, rehabilitation and fitness center, early childhood education center, family medical check center, and other support facilities in one building. The project embodies a new building type that blends together healthcare, hospitality and entertainment components.
Nieuwbouw S Radboudumc Nijmegen by Suzanne Holtz Studio
1st Award – Healthcare Wellness (Interior) (Concept)
Through a clear and unambiguous interior design, this large hospital offers a welcoming, accessible and safe green environment, and an environment which contributes to the healing process. The interior design lends a human touch to this large complex. The Healing Environment principles were applied: clear way-finding, view of natural light, view of greenery, autonomy thanks to one-person rooms with bright sites and lounges, which means that patients are also encouraged to be physically active when outside their rooms.
EL MORO By Cadena Concept Design
1st Award – Hospitality (Interior) (Built)
El MORO® has been one of the most popular images of daily life in Mexico City since 1935, enthralling different audiences due to its unrepeatable authenticity and rich flavor which offers the best hot chocolate and churros in the country's capital. Understanding their family values and history in order to merge and input them into a new strategic vision, was the guiding principle in this project.
About joyful life By Yuanmao interior design studio
1st Award – Residential (Interior) (Built)
The Public area defines the interior and exterior with two opposing brick walls, creating like a sunroom with an inclined ceiling providing natural light in the kitchen. This public area is activated by moving iron elements which separate the study and kitchen when needed.
Aqualuna By II BY IV DESIGN
1st Award – Residential (Interior) (Concept)
Majestic and poetic in design, this 2-tower condominium complex showcases the height of iconic residential architecture, luxuriously upscale interiors and features that highlight the flourishing neighbourhood it occupies. This captivating project is the fourth and final remarkable installment of a new waterfront community in one of North America's largest cities.
BKBX By Arrowstreet Inc
1st Award – Retail (Interior) (Built)
The design for this new boutique-style fitness center reinforces Brooklyn Boulders' core pillars to Train, Connect, Recover, and Adventure. Technology and lighting are an integral part of the newest Brooklyn Boulders. The entire facility is wired with real-time tracking so members can visualize their progress and customize their workouts.
Moloko Milk Bar By Earles Architects and Associates
1st Award – Retail (Interior) (Concept)
Located in Chicago's vibrant food scene, Moloko is a dessert bar specializing in sumptuous pastries and cakes, served alongside artisanal drinks for a discerning, diverse crowd. Moloko features various seating and dining options for the patron's preference in social interaction. Each custom piece is a study in soft geometry, balanced with luxurious, honest materiality, such as the Tesoro Blue marble tables set upon smoked glass blown pedestals in the front of the dining room.
3 Sweden By Studio Stockholm Arkitektur AB
1st Award – Workplace (Interior) (Built)
The concept is based on characteristics stereotypical for those working at Three – they are lively, forward-looking, young, sporty and healthy, with international diversity. The typical Three traits have been translated into a design language to achieve the right decor. The interior design concept is characterised by digital solutions, a robust choice of materials such as concrete flooring, solid wood and galvanised steel, as well as unexpected details like multi-coloured climbing ropes and LED cables.
A Building By Susan Strauss Design
1st Award – Workplace (Interior) (Concept)
As the corporate headquarters for multiple companies, this project was to be memorable, professional, and elegant. Utilizing strong geometric motifs on the exterior, the designer created a striking façade in a timeless colorway. The design concentrates on a focal section of the building whose architectural details make it the perfect spot to draw the eye in.
The High Line By Diller Scofidio + Renfro
1st Award – Public Landscape Project (Built)
The High Line is an extraordinary public park built on an elevated rail structure on the West Side of Lower Manhattan. Since its opening, the park has been lauded as an icon for innovative design and sustainability, a defining feature in its neighborhood, and a powerful catalyst for investment.
Avilala Ecological Park By Ravikumar and Associates
1st Award – Public Landscape Project (Concept)
The purpose of this project is to develop an Ecological Park with water conservation as a priority. This proposal intends to create a park, representing the ecology of the surrounding region, within the following design intents, catering to the local public as well as the visitors;
Creation of ecological HABITATS. 2. Providing ecological EXPERIENCE to the visitors. 3. Spreading KNOWLEDGE & awareness about ecology. 4. Developing RECREATIONAL activities & spaces within the park.
Seaport Circle By Arrowstreet Inc
1st Award – Mixed Use (Concept)
Seaport Circle is a new type of project– a hybrid building/landscape that fosters opportunities for social impact, enriches the environment, and creates economic opportunities for all. The design is holistic, with landscape designed as a phyto-forest to capture air particulates and mitigate stormwater impacts and urban heat island effects. Seaport Circle optimizes the outcomes for both the environment and people, providing a comprehensive strategy to achieve a high-performance building that is ready for climate changes in the future.
ABWAB By Fahed + Architects
1st Award – Pop-ups and Temporary Structure (Built)
The Abwab Pavilion was designed in collaboration with the Dubai Design District and Bee'ah for the 2017 Dubai Design Week. The pavilion was designed to be an innovative work of art, predominantly using the recycled materials from Bee'ah to showcase creativity through various domains of art. The Pavilion starts and ends with very concept of sustainability. All materials used in the development of this structure are sustainable and 100% recyclable.
The Golden Cage By Form4 Architecture
1st Award – Pop-ups and Temporary Structure (Concept)
The rich and lyrical symbolism of Metamorphoses is the theme for this Burning Man base pavilion design in Black Rock City, Nevada. This design suggests an experience symbolizing the nature of Metamorphoses, of transformation, following a path of mystery and ambiguity. There is village that surrounds both sides of The Man, within which there are eight workshops, workshops that focus on transformation, on how the world might progress if we made the effort.
Community Center Ceminac By Rechner Architects
1st Award – Public Building (Built)
Community Center Ceminac was designed and built to become a central location for different activities, social interaction, events, celebrations, ceremonies, entertainments, concerts and exhibitions. Respecting the context, the shape of the building was designed to adapt to the street silhouette. Community Center Ceminac is an architectural contribution for better and meaningful life in one small place.
Alief Neighborhood Center By EYP Inc
1st Award – Public Building (Concept)
The Alief Neighborhood Center combines three City of Houston departments (Library, Parks, & Health) to create a civic center at the heart of the redeveloped 37-acre urban park. Raised out of the floodplain, the building's elevated 'front porch' frames a space for the diverse community to come together, share ideas, and express an identity unique to Alief. The Center is a model for resilient design in a post hurricane Harvey environment – a 'lily-pad' for those seeking shelter from the storm.
Frances Appleton Pedestrian Bridge By Rosales + Partners
1st Award -Transportation (Built)
The Frances "Fanny" Appleton Bridge is a new 750' (228m) long multi-use walkway located on the banks of the Charles River in Boston, MA. It connects the historic Beacon Hill neighborhood to the Esplanade Park. One of the goals for the new pedestrian bridge project was to achieve visual transparency and lightness to allow views of the park, river and adjacent historic landmark Longfellow Bridge.
Brainport Smart District By UNStudio
1st Award – Urban Design (Concept)
Located in Helmond's Brandevoort district, the Smartest neighbourhood in the world is currently being developed. BSD will be a 150 hectares mixed-use innovation district in which the urban environment is designed in conjunction with the latest insights and techniques in the area of health, data, mobility, energy generation and circularity, which are used here to create a sustainable and beautiful living environment.
Nomad Chair 2019 by Henning Stummel Architects
1st Award – Furniture Design (Built)
Nomad Chair 2019 is part of a new collection of flat pack ply-wood furniture. Each chair is made of five robust components that simply slot together – no glue, no screws and no tools required. Assembling and disassembling is easy and only takes minutes. The chair flat packs beautifully into a compact pizza box 640 x 540mm and weighs less than 10kg.
Yugen Collection By II By IV Design
1st Award -Interior Design Elements (Built)
Yugen is a Japanese word used to describe the subtle yet profound mysterious sense of beauty in nature. The Yugen Collection is a luxuriously tactile offering of contemporary carpets that evokes beauty derived from natural elements, triggering an emotional response and aesthetic power that moves the senses. The visual energies and patterns found in nature are expressed through five unique designs that represent a combination of the five natural elements: Earth, Air, Water, Fire and Space.
Undulae By TN MOS
1st Award – Interior Design Elements (Concept)
Undulae is a series of table and pendant lamps made of cornstarch-based bioplastic tubes. Bioplastic is made from the mixture of cornstarch, water, vinegar and glycerin with particular proportion and mixing process. Bioplastic mixture is spread on a sheet of parchment paper with another sheet on top to make a sandwiched unit. This is held with a PVC pipe inside to hold the unit in place by gravity.