The real estate market of Miami provides numerous offers for fans of a luxurious lifestyle. You'll find million-dollar apartments by the oceanside, stunning villas with private beaches, and incredible suits on the top floors of the city's skyscrapers. However, none of the apartments or houses currently available for purchase gets close to condominiums of Porsche Design Tower. This building sets a new standard for the luxury real estate of Miami. What makes it so special? Let's find out!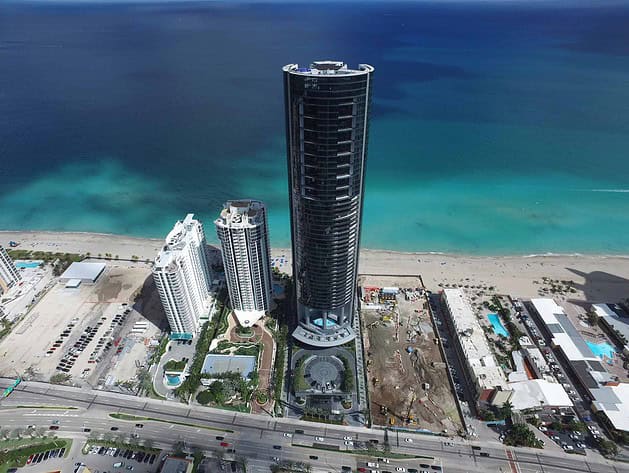 Why Choose Porsche Design Tower?
If you have always dreamt about a personal elevator to your apartment, Porsche Design Tower would make your dream come true. The building's elevator doesn't just transfer yourself from the parking to your dwelling; in fact, it brings the car right to your apartment! That's right; every person who purchases or rents a condo in Porsche Design Tower receives a 2-car garage in personal lodging. Getting to the highest floor of the building on this elevator takes just 90 seconds.
Convenient access to the elevator allows the Tower's inhabitants to explore the area with ease. Within a 5-minute drive from the Tower, you'll discover the Aventura Mall, which offers more than 300 different shops. Spend 5 more minutes driving, and you'll reach Bai Harbor, a famous area full of fine dining restaurants and boutiques. Porsche Design Tower's inhabitants can reach Miami International Airport within half an hour.
An Apartment for Everybody
Whether you are interested in an option for a large family or a small condo for 1 or 2 people, Porsche Design Tower has something to choose from. The number of bedrooms varies from 2 to 5, not including the stunning penthouse on the top floor. The smallest available apartment occupies 3,130 sq. ft., while the largest option is almost twice that size – 6,121 sq. ft. Overall, there are 132 condominiums available, each with a ceiling reaching 10 ft. in height.
Infrastructure in Porsche Design Tower
Residents of the Tower don't need to leave the building to access the best public services; everything you may need is available within the Tower:
Entertainment. The building includes a private theater, a golf simulator, tables for playing cards, a billiard room, and a race simulator.
Food and drinks. There's no need to leave the building to have a delicious meal; the condominium offers a restaurant with an ocean view alongside a luxurious lounge bar. Bar and catering services are also available in the ballroom.
Beauty and sports. A building like this must include a top-quality fitness center open for residents whenever needed. There's also a SPA center and a hair salon available.
Pools and beaches. Apartments' owners enjoy limitless access to a private pool deck with a convenient relaxation zone and a lounge bar. In addition, anyone who purchases or rents an apartment in the building can use a 400-ft private beach area.
Overall, Porsche Design Tower is a great choice for anyone looking for a luxurious apartment at a reasonable price. Consider checking out https://exploremiamirealestate.com/ to find the best real estate offerings in the Tower and the city of Miami.