Cavallini1920 is a premium retailer of luxury Made in Italy furniture, with showrooms in the center of Milan and in the town of Varedo. More than a mere reseller, Cavallini1920 is a home living specialist that offers a number of dedicated interior design, planning and consulting services. The company's aim is to guide its customers in the creation of spaces that truly reflect their wishes and their taste, achieving a seamless fusion of beauty and functionality. Cavallini1920 is an official dealer of the most exclusive brands in high-end Italian design, and also boasts consolidated partnerships with numerous artisans, craftsmen, designers and architects, allowing it to tackle even highly-complex customized projects.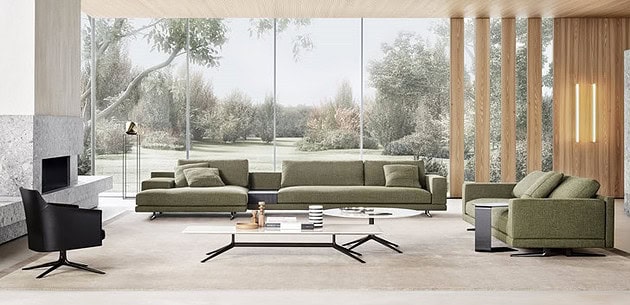 The Story of Poliform Furniture
Poliform is one of Italy's best known manufacturers of high-end designer furniture. The company was established in 1970 in Inverigo, at the northern edge of the Brianza furniture district, but actually traces its roots to a small carpentry workshop active in the area since the 1940s. Born from humble beginnings, but fueled by the passion and creativity of its founders, today Poliform boasts 7 state-of-the art factories and research centers, as well as a network of stores and distributors in over 100 countries. Yet, despite attaining global success, Poliform remains a family business and is still directly managed by the men who started the company almost half a century ago.
Poliform produces a complete range of furnishings that includes kitchens, beds, tables, chairs, sofas, cabinets, bookcases and much more. While its core business revolves around the manufacturing of Poliform furniture for residential and commercial spaces, the company also lends its creative and productive resources to major international projects. Recent special commissions include the custom realizations of London's West End Quay and Café Royal, Amsterdam's Conservatorium hotel, Tour Odeon in Montecarlo, the AOL Time Warner Center in New York, the Presidential Chambers of the Clinton Library in Little Rock, and the Palmolive Building in Chicago.
Poliform furniture: Italian design with a global appeal
Poliform furniture stands out for its sleek and contemporary appeal, its breathtaking designs and its inimitable Made in Italy style. The brand has built a reputation for peerless quality, which in turns comes from decades worth of know-how, ongoing investments in research and innovation, and a meticulous attention to details, materials and techniques. The company is also well known for consistently working with some of the world's most respected designers, such as Rodolfo Dordoni, Daniel Libeskind, Paolo Piva, Soo Chan and many more. Rodrigo Torres recently placed his signature on a breathtaking line of ultra-modern chairs and bar stools. Carlo Colombo is the visionary mind behind a number of Poliform's most successful kitchens. Jean-Marie Massaud has contributed many striking pieces, including some of the brand's most iconic coffee tables, modular sofas and beds.
The aesthetic language of Poliform furniture is a richly layered and dynamic mosaic, yet it ultimately expresses, through each of its manifestations, a single and very simple concept: excellence.