As one of the most transformative years that many people have seen so far, 2021 has shown itself to be an insightful year for many. With 2022 soon approaching, it's clear that many people are looking to reinvent their spaces to reflect their personalities and taste.
With places opening up and more events coming up, you are looking have more guests in your home in 2022. So why not revamp your space for it too?
You can find a painting contractor in Winnipeg to cater to your painting needs, but it's better to get an introductory course into painting trends for the next year first. That way, you won't feel like you've got the wrong painting job that doesn't make your home shine brightly.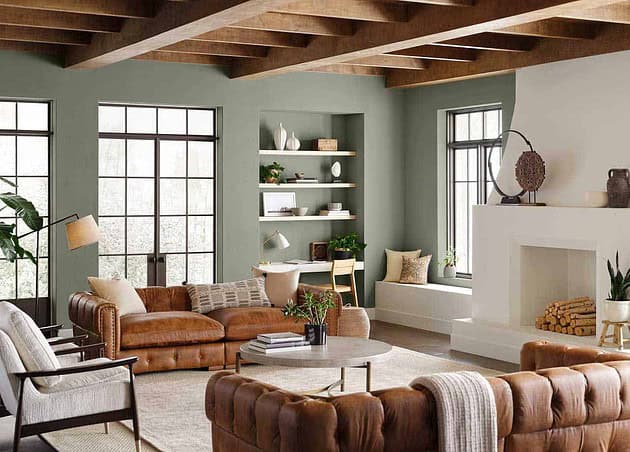 What You Need to Get Started on Your Painting Project
It is recommended to research and plan before getting your space painted. You need to think about
The dimensions of your room (size)
Current colors present in your space
The furniture that will be placed there
What the area will be used for
Whether it needs to fit within the rest of your interior design
If there's a specific theme you have in mind
Once you have sorted through the above requirements, you can go ahead and decide what kind of colors go with your space the most.
Pantone Color of the Year: Very Peri
When you're looking to go for a trendy and happening color, there's nothing better than going for Pantone's Color of the Year: Very Peri. Pantone's new hue for 2022 is precisely what you need when you're looking for a complete refresh. Part of the Blue family, the shade contains just the right amount of youthful spark to bring any space back to life.
The color has symbolic meaning, too, representing the transition from COVID-19 isolation to the 'new reality.' When you're looking to change your space to look more modern and represent the transition out of COVID, this is the perfect shade to go for.
The New Neutrals
While whites and tans were well-known to be the neutrals most people opted for before, that's not the case. The new neutrals, consisting of an upgraded but muted white, a light beige, and dark brown, are a trio of colors that you can do lots with.
Whether you're planning to decorate your space with statement pieces or looking to keep a minimalist theme, the new neutrals are precisely what you need. You can find a painting company in Winnipeg or around your area to see whether they carry these shades or find your custom shades through their in-house team.
Going for Earthy Tones
Many people have found that their homes don't provide the optimal energy and mood required to relax them. During isolation, many people faced disturbances in their personal lives, which affected their mental state. In this light, many people have decided to opt for earthy tones in the upcoming year.
Whether you're looking to revamp a room to make your Zen space or simply change your space to reflect a calmer setting, opting for earthy tones can be ideal. You can choose from several shades of the following colors:
Green: Inspired by natural greens and muted greens
Brown: Similar to woody colors found in evergreen forests
You can also opt for a mix in between or go for even lighter natural tones like beige and tan.
Deep and Rich Colors
If you're looking to make your space feel more luxurious, there's no better choice than going for deep and rich colors. Whether you're inspired by the amethyst purple of old royalty or the rich mahogany that was everywhere during the 1970s, the choice is up to you.
It is the perfect choice when you're looking for a color that makes statements about crucial spaces in your home, like your living room or your dining room. If you're short on inspiration, don't hesitate to reach out to your local painting company for a range of swatches that can give you some ideas.
Safe Tones
When in doubt, go for the safe colors. 2022 isn't all about experimentation, after all. Choose to go with whites, nudes, and peaches when you have no clue what to do with a space.
You can also contact your local painter in Winnipeg if you want some out-of-the-box colors that don't seem too dramatic for your home.
Bright, Hopeful Shades
While whites and neutrals are great for some spaces, they might not be your first choice when you're looking to make a space feel brighter and livelier. Whether you're designing for a children's room or a sunny nook in your home, you might be looking towards brighter shades.
Yellow is set to become all the rage in 2022, and for a good reason. The bold color is the right amount of sunny combined with vividness. You don't need to worry about the color being overpowering for your space either, provided you choose the right furniture along with it.
Comforting, Hopeful Shades
When you're looking to spread a bit more cheer in your home without using overly bright colors like yellow and orange, blue is your friend. Whether you choose a light sky blue, or a muted navy blue, they're all great for any space you're planning.
Painters in Winnipeg specialize in many different shades of blue, so you should have no problem finding the right type. Opt for space with open windows and space to make the color really stand out for the best results.
Vintage Hues
You might have seen some colors and patterns in your grandparents' homes and thought that you'd never see the day they'd be in yours. Well, you might be surprised to know that vintage prints and colors are back in style!
Whether you choose to go along with old floral prints, or colors like peach and pink, there's nothing wrong with adding an antique and rustic look to any space. Add vintage furniture and design to make the space complete for the best results.
Light and Relaxing Shades
If you're not exactly in the mood to do anything outrageous to your space, it might be worthwhile thinking about making your space a relaxing one. Whether you're opting for calming shades of purple and blue or brown, ensure it's one you can relax too.
For more inspiration, you can always look at the color palettes used in wellness spas and meditation areas. These spaces always use calming colors to put their clients at ease.
Choosing the Right Shade for Your Space
Finding the right trendsetting shade for your space doesn't have to be complicated, provided that you have the following elements:
Inspiration
Drive
Idea
Execution
Delivery
Once you've got this part sorted, it's simply a matter of research to find the right trendy shade for your space for 2022. Don't lose out on any aspect when you're taking a cue from this article!