Neoclassical architecture is identified by symmetry, simplicity, domed roofs, triangular pediments, geometric forms, and a grandeur use of columns. This classic style dates back to the mid-18th century when Rococo and Baroque styles appeared to highlight the architecture of Rome and Greece. Today Neoclassical architecture can be found throughout the most famous cities in the world.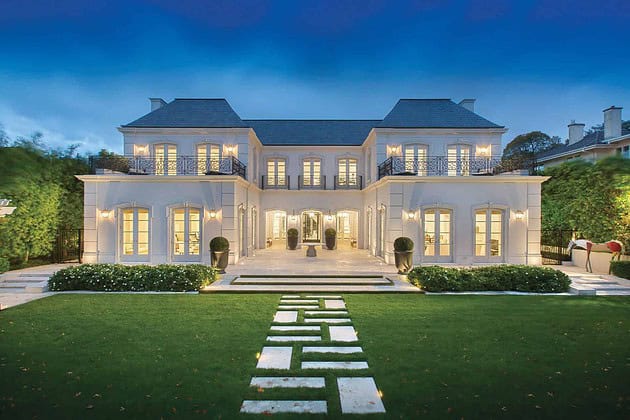 Many homeowners have fallen in love with Neoclassical architecture and would like to implement some of the grandeur and simplicity into their homes. The following ideas will spark your creativity and help you bring Neoclassical design to the interior of your home.
Columns Bring Neoclassical Design from Outdoors to Indoors
Columns are seen on the exterior of buildings in Rome and Greece but they also look lovely indoors. You can incorporate columns into your interior décor by using them as a table base for coffee tables, dining tables, and end tables. You can even create a vanity table using columns and placing a large piece of glass to create a flat tabletop surface. You can also install ceiling to floor columns throughout your home.
Symmetrical Neoclassical Furniture
Simplicity meets elegance with symmetrical furniture. Typically the furniture is made from dark wood and features luxurious fabrics in mild colors such as pale blue, light gray, cream, and light yellow. Sometimes richer tones are used depending on the preference of the homeowner.
Neoclassical Decorations Emphasize Luxury
Large artwork, mirrors, and decorative moldings boost the grandeur style. The placement of these items is key to creating an overall aesthetically pleasing look that represents opulence. Decorations such as statues, urns, pottery, and Wedgewood china are popular items that create the charm and focal points of the home.
Decorative Ceilings and Walls
Fresco painting on ceilings and walls that create a beautiful scene is an excellent way to bring color and design into any room. Popular places for fresco paintings are on the ceiling located in the interior entranceway of the home or on a feature wall in any room such as the living room or dining room. Some people choose to bring color and depth into the bathroom and bedroom with fresco paintings as well.
Window Treatments
Luxurious fabrics that have elegant design and color are used as window treatments. Solid and sheer curtains are often used together with the solid fabric panels on each side of the window and the sheer fabric covering the window. This technique allows light to flow into the room while at the same time limiting the view outside of the window. It's an excellent way to have privacy as well as natural light.
Window treatments are often colorful and feature elegant designs that tie the overall look of the room together. Tap into your creativity when choosing fabrics, colors, and patterns for each window in your home.
Incorporating touches of Neoclassical décor into your home can be done on a small or large scale depending on your taste and the look you desire. Check out April & Oak to start your design journey.