Not everyone is created with the ability to tell what furniture or painting complements a certain theme. And for those that have a rough idea, they can still have challenges mixing patterns. Designing your home without the help of high-end interior designers may be difficult, but it is not impossible.
Modern interior design can be overwhelming, to say the least. As such, there are certain key aspects to consider before diving deep. For instance, space availability, choice of color, and type of decor are some of the factors that affect how to design a house. Additionally, you should posses basic knowledge on how to strategically place furniture to ensure functionality and proper use of space.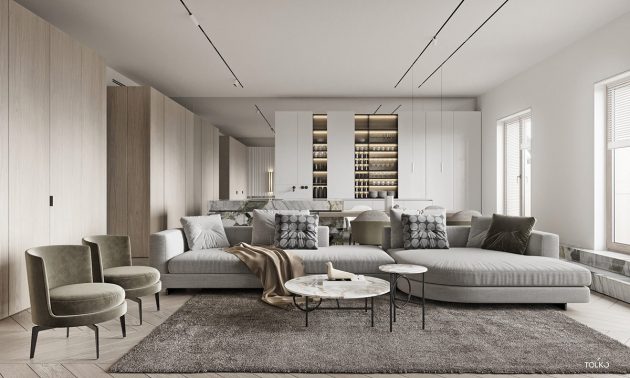 As professionals in the interior design industry, we understand modern home living. We know the ins and outs of proper flooring and all about quality furniture; things every homeowner looking to have a stylish and elegant household should have.
In this article, we are going to share tips on modern interior design that will make your home magazine-worthy.
Let us dive into specifics.
Laminate Flooring
It is no secret; laminate flooring is currently the trendiest and most stylish flooring option in the market. It offers a cost-effective way for homeowners to achieve the perfect look for their modern house.
Gone are the days when carpets were the preferred flooring option. Not only are they traditional, but they also wear out too quickly, giving your home an old unpleasant look. Besides, they attract dirt and stain easily, which is not the case with laminate flooring.
When going for this superior flooring option, remember that nothing beats a light grey oak effect flooring in a modern home today. Light Grey Laminate flooring is the go for color recently and you can easily complement the décor with whites, golds or vibrant colors, and darker shades of grey or even black. You can pick up some nice laminate flooring offers online with some trendy designs from https://www.floorsdirectltd.co.uk/laminate-flooring.html where you will find over 300 to choose from ranging across all budgets and styles. You cannot go wrong with laminate flooring as it is very versatile, cost-effective and it comes with endless choices.
Additionally, laminate options such as herringbone flooring are easy to install. They use a unique 'click' system where the boards are joined together without the need for adhesives. It is such qualities that make laminate a preferred flooring option for homeowners and architects alike, as they make floor remodeling projects fast and easy.
Velvet Beds
If you are looking for a plush and inviting look for your bedroom, velvet beds are a suitable option. As one of the most luxurious upholstery materials in the market, velvet gives your bedroom a cozy atmosphere where you can spend quality time.
Velvet beds are trendy right now. They make a statement, and go a long way in creating a stylish and modern bedroom. Conventionally, velvet was known to be popular with the wealthy. Yes, velvet is a plush material. However, it is affordable, making it accessible to anyone. Besides, velvet beds are not high-maintenance. With proper care, they can last for generations due to their unmatched quality. You can opt for the ones made from high-quality polyester as these do not fade or wear out easily, making them suitable for everyday use. To clean the material, all you need is a soft cloth and warm, soapy water. To help restore its shine, you can clean it using a steamer.
Modular Sofas
Are you looking for a versatile, flexible, and stylish way to revamp your living room? Look no further than modular sofas. These corner sofas are great for large and especially small living spaces. They are great as they utilize corner spaces that would otherwise be a waste with other types of sofas.
Modular sofas are now common with homeowners and for good reason. First, they offer a myriad of options to choose from in terms of design, color, and material used. Secondly, they can be customized according to your home's design. Last but not least, they come on different sizes, which makes them perfect for growing families.
What's more, they are the perfect living room couch furniture for homeowners that are constantly revamping their living space and changing their layout designs. For a minimalist space, opt for multi-functional modular sofa beds.
To top off your living room's exquisite look, purchase luxury dining tables with stylish finishes. These will not only change your dining experience but will give an overall modern look to your home.
Cinema TV Cabinets
Unfortunately, many homeowners focus on the furniture and flooring options that they fail to realize the impact cinema TV cabinets can have in your home.
TV cabinets are available in various options. From glass to wooden entertainment units, you will rarely miss one that complements the overall theme of your home. When going for glass TV cabinets, the thickness of the glass and the weight of your television are some of the things to consider.
For those that love a wooden stand, go for those that feature high-quality veneers. They are available in an array of finishes including Sahara, white, and dark oak. The trick is to choose one that goes well with your furniture.
Glass Furnishings
If you are looking for a lustrous way to decorate your home, glass furnishings are the way to go. They are versatile and come with exceptional designs to fit every home. Here is where you let your imagination run wild. From floating shelves to custom-cut table tops, you can never run out of ideas when it comes to choosing the right glass furnishing for your living space.
Conclusion
The interior design industry offers a wide range of possibilities when it comes to revamping your home. Apart from the above-mentioned suggestions, consider investing in beautiful window blinds as well as sliding wardrobes for your bedroom. You can also hang interesting pendant lighting and add eye-catching pieces of art in your home.
It is by incorporating these tips that you create an inspiring interior design that appeals to you and your family.