With increased attention placed on designing bathrooms as an integral part of modern-day homes, it's time you learn the art of choosing bathroom tiles in a trendy and functional way.
Bathrooms are arguably the most essential element of our homes. It has a profound impact on our physical and mental well-being. Yet, for a long period of time, it used to be treated as an afterthought, a hidden place of a home that doesn't really need many aesthetic elements.
Not anymore. In contemporary interior design, bathrooms are treated equally as to the other spaces of a home such as kitchens, living rooms, etc. In fact, they sometimes get preferential treatment by many modern homemakers considering its impact on mental well-being. Therefore, the decisions you make for bathroom tiles requires some thoughtful considerations these days. Let's start by learning a few basic elements of this particular decision-making process from below.
Functional Aspects of Your Bathroom
There is a great variety of both innovative and traditional materials that you can use to furnish your bathrooms. However, before getting down to choose the materials, it's important that you think about the functional aspects of it. What setup are you aiming for? Is it going to have a shower, a bathtub, a toilet, a washing basin? What about things like steams, cold and hot water?
Answers to all of these questions are fundamental to any bathroom design and should be considered as a guide to finding out what sort of materials are great for your particular setup. Bathroom tiles made with porcelain are always a great fit though, as they can easily withstand the rigors of a multi-purpose bathroom.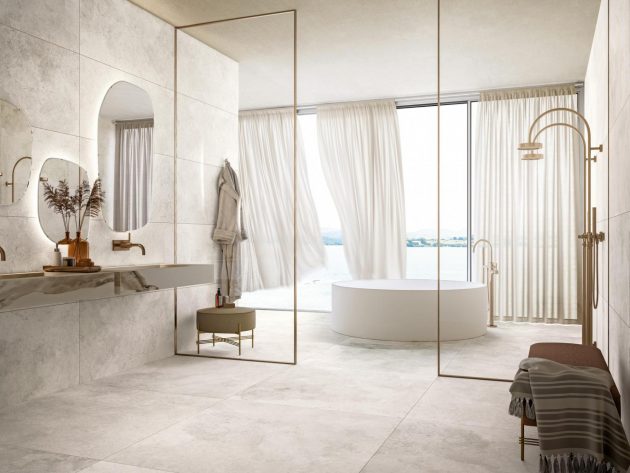 Aesthetic Aspects of Your Bathroom
Thanks to the advancement of ceramic manufacturing techniques, there are now a limitless amount of possibilities when it comes to composing the walls and floors of a bathroom in a beautiful way. There is a great variety of bathroom tiles available in the market, categorically differentiated in terms of colors, shapes, textures, and sizes. The shades include everything from the glossy, energetic hues to calming, neutral tones.
In fact, you can now even find tiles that can truthfully recreate the appearance of other materials such as woods, metals, stones, bricks, and so on. If you feel creative, you can also use a couple of different textures to create a unique composition of your own.
Finding High-Quality Bathroom Tiles
Once you settle upon the look and feel, as well as the practicalities of your bathroom; you can get down to shopping the perfect bathroom tiles you need. While browsing, you should be paying attention to their characteristics – their resistance to wears, tears, stains, and breakages, their abilities to withstand sudden change in temperatures, the longevity of the appearance, etc. Moreover, you should also consider the slip-proof features as well as the ease of maintenance. Ideally, the best tiles would be easy to clean with usual cleaning tools and require very little effort.