Probably you're wondering, does my kitchen really need a farmhouse-style sink? The answer to that question is yes. Why, you ask? This sink is deeper and longer than your average stainless steel, top-mount or under mount sinks. It can hold large amounts of water thus making it easier to wash a lot of dishes especially if you have a large family.
If you are remodelling your kitchen, the best farmhouse sink you should choose is the Latoscana 33″ Reversible Fireclay Sink. It is one sink you won't regret getting your hands on. Purely Italian, this sink features a reversible design that allows you to install it any way you like; flush mount, under mount or even a raised sink.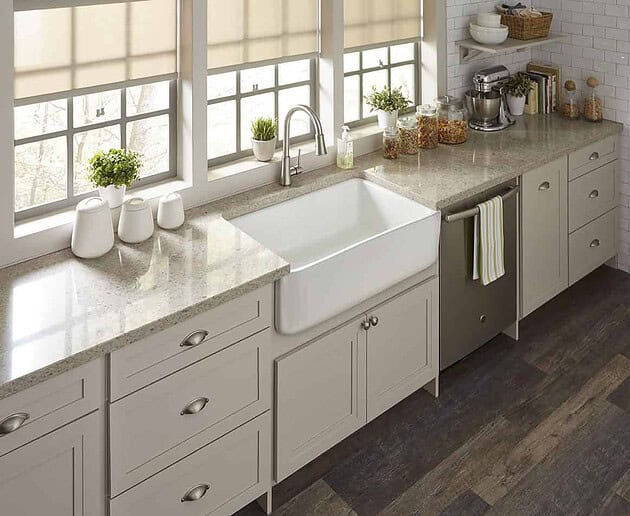 It has the standard three-and-a-half inch drain opening therefore compatible with standard basket strainers or waste disposal units. You do not require an extended flange as opposed to other sinks. Let's look at some of the pros and cons of this sink.
Pros.
1. Design
The sink features an elegant design with a white finish. It has a completely smooth design on one side and features a unique fluted design on the other side. The sink's white colour blends in seamlessly with all types of kitchen decors. Whatever colour theme you are rocking in your kitchen, this sink is sure to take centre-stage.
2. Size
The sink itself is massive. It measures 33 x 18 x 10 inches. It's the kind which you can place all your dirty dishes in instead of having them piled around and ruining the look of your kitchen. It's also the type of sink you need when you are on a cooking spree. You can wash a lot of stuff that wouldn't fit your normal sink like oven trays, large pots, baking sheets and even barbeque grills.
3. Material
This sink is made of one of the finest materials in the market, fireclay. The material is hard, durable and even resistant to those unsightly stains or scratches. The classy appearance of the fire clay will give your kitchen the premium look it deserves.
4. Price
Whereas most farmhouse sinks will leave quite the dent in your wallet, this sink goes easy on it. You can get it for as low as $541.25 on Amazon. Most sinks with the same features can even be as high as $1500. Crazy, right? With all its incredible features and a great price, it's no wonder that this sink is one of the best farmhouse sinks in the business.
Con.
It is really heavy.
Good things come big. This sink is really heavy. Weighing in at 85 pounds, you will definitely need a lot of help during the installation process. Due to its huge mass, you should be extremely careful when transporting it as a small slip could lead to a lot of damage. The installation process might also take a while, an hour or so. It is advisable to hire professionals to do the job.
That said, you don't want to miss out on this amazing addition to your kitchen decor. A sink like this will make you kitchen look more than fabulous and even make the boring task of washing dishes really enjoyable.