Shower curtains have been in use since indoor plumbing was created. Plain white liners are fine for containing the spray of water, but they provide little enhancement to the rest of the bathroom. Glass doors and mirrored enclosures are popular today, but when you explore more about inexpensive shower curtains, you will find that the variety is tremendous. You can change your curtain with the seasons, deck out the holidays, or pour nature into the room, with outdoor scenes.
Choosing the Right Material for a Shower Curtain
Depending on the type of use that your shower or tub receives, can lead you to different types of material. For instance, a child's bathroom calls for vinyl or PVC material. You may opt to buy a heavy plastic curtain and go for the need for a separate liner. Somehow, with kids splashing in a tub, a light-weight curtain always ends up on the outside of the tub, along with a gallon of water. For an older class of kids, though, inexpensive vinyl works just fine. Kids need a place where they can explore more about individualism, and shower curtains fit the bill. Dinosaurs, cartoon characters, favourite sports teams, and animals are a great way for kids to feel comforted with their passions.
If you have always dreamed of a luxurious bathroom, filled with an atmosphere of serenity, nothing but cloth shower curtains, will do. When you decide to explore more about the type of mood you wish to create, you can use the texture and patterns of curtain material to envelop you in your special space. Polyester is a fine fabric for showing off your favourite colours. Outlined in lace, woven with intricate designs, or stamped with shapes, this material can be machine washed and last for years. Linen brings a more defined look of elegance and creates more of a window treatment look to your bath.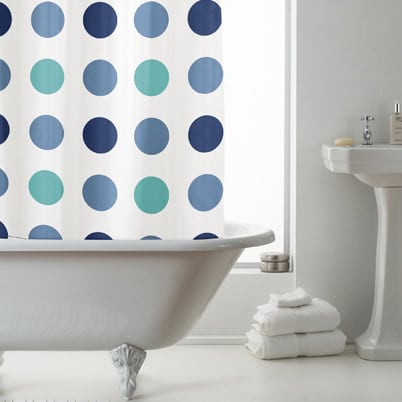 Making a Statement
Use shower curtains to announce what you feel as an individual. Witty, charming, or refined, there are thousands of statements to make. Begin with the right material, then move on to colour and style. If your home spells rustic, stay with a natural feeling with beige, brown, or light green. A portrayal of wood scenes, water or stones, works well. A modern style can be bold and rich colours, using straight lines, either woven in the fabric, or by using a contrasting single line, across the upper portion, or down one side.
If you like to have fun and spread cheer to everyone, a bathroom is the perfect spot for creating a smile. Anything from sharks, shoes, and rubber duckies, to whimsical messages, can be found on shower curtains. A family reunion is the perfect time to hang novelty shower curtains. Think of the funniest or most embarrassing time that everyone remembers, and get the group going for hours. The time that your niece had a passion for yellow ducks or bring back memories of beach combing, when you spent hours searching for sea shells.
Shower curtains can change a mood in just a few minutes, without spending a lot of money. Tropical places, where blue seas present soft waves, can give you peace, after a hectic day. Teens like geometrics, bold lines and dark colours. Let them select the design and colour that portray their latest passion, instead of remodelling their entire bedroom with colours that make you cringe.
With the selection of beauty, charm, wit and pleasure that shower curtains possess, it is hard to ever see them becoming extinct.