The perpetual advancement of technology over the years has enabled mankind to achieve incredible feats. Modern technology has allowed people to bring their most creative and imaginative ideas to life. This has revolutionized numerous industries such as architecture, which incorporate the use of vision and allow professionals to be as creative as possible. Owing to this, the world has witnessed an upsurge in the number of impeccable architectural wonders being created. These masterpieces manifest amazing inventiveness and design ingenuity in their purest forms. In order to achieve this, architects employ several techniques that are sure to make their structures stand out.
One such method is the use of sophisticated architectural signage designs. The secret behind producing these unique creations lies in the precise cutting and laser engraving of the materials. When this process is not done to perfection, signs won't have the nice smooth finish they require in order to stand out. Thus, even if a building has an incredible design, poorly made signage could end up destroying its whole aesthetic.
Modern architectural works of art aren't only meant to be admired from the outside. More often than not, the interiors of these unbelievable structures are just as mesmerizing as their outward appearances. Still, the exterior of a building is what truly captures the heart of people. Here are some of the world's most iconic architectural structures that are definitely worth exploring.
The Burj Khalifa
Standing tall at an unbelievable height of 2,717 feet, the Burj Khalifa reigns as the world's tallest building. This superstructure graces the skyline of Dubai, United Arab Emirates, with more than 160 floors that house offices, hotels, and residential apartments. The building also has an observation deck that is 124 floors high; it promises to give visitors jaw-dropping vistas that show the contrast between the thrilling city of Dubai and the desert that surrounds it. Construction of the Burj Khalifa began in 2004 and the building was officially opened in 2010 as the centerpiece of a new development known as "Downtown Dubai".
The Burj Khalifa is a physical phenomenon in its own right; this is because the amount of steel used for its construction is half of what was used for its American counterpart, the Empire State Building. This is even more surprising when you take into consideration that the latter is 1,467 feet shorter than the former. A fun fact about this jewel is that it was originally supposed to be named Burj Dubai but was changed so as to honor Khalifa bin Zayed Al Nahyan, the president of UAE and Ruler of Abu Dhabi.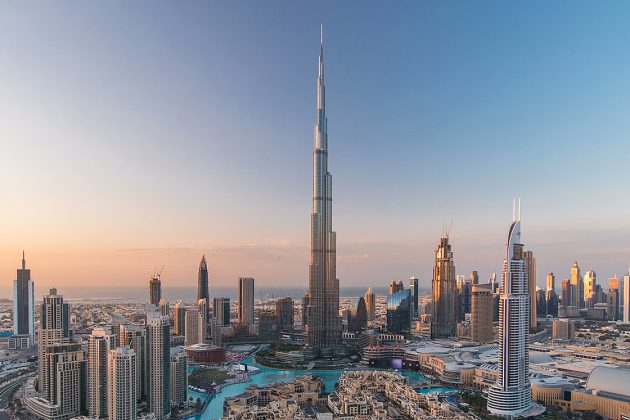 Upcycle Studios
Experts in the construction industry recommend the use of sustainable building materials. This means using supplies that aren't going to compromise the future by harming the environment in any way. Upcycle Studios is a great example of a building project that utilized sustainable materials. For construction, engineers used reclaimed oak, recycled concrete, and aluminum foil from salvaged cans. The materials were mainly sourced from the demolished Copenhagen Carlsberg brewery; hence no virgin materials were used; this has enabled the project to reach an incredible record of up to 70 percent carbon dioxide reduction. This has brought about new untapped resources in the form of construction waste. The project began in 2011 and took three years to complete, before finally opening its doors to the general public in 2018.
The houses are created in such a way that they can accommodate a workshop for freelancers and people who work from home. In addition, tenants can opt to rent out a section of the house for some extra income they aren't in need of so much space. Such amazing traits have made Upcycle Studios the fastest-selling housing projects in Denmark.
Metropol Parasol
Looking from above, you'd think that this awestriking architectural masterpiece is an alien spaceship. The Metropol Parasol, located in Seville, Spain is arguably the world's largest wooden structure measuring a whopping 490 by 230 feet long and standing at a height of more than 80 feet. The structure which is also referred to as Las Setas de la Encarnacion was completed in 2011 under the supervision of the German designer Jugen Mayer.
This peculiar construction consists of six umbrella-like structures that are known as parasols. They host a restaurant, an archeological museum, an aquarium, and a plaza. There's also an observation deck that offers amazing views of the city. The cost of constructing the building was initially estimated to be 50 million euros; however, some major structural alterations along the way brought the total expenditure to approximately 100 million euros. The source of inspiration for the building is said to be drawn from the vaults of the Cathedral of Saint Mary of the See.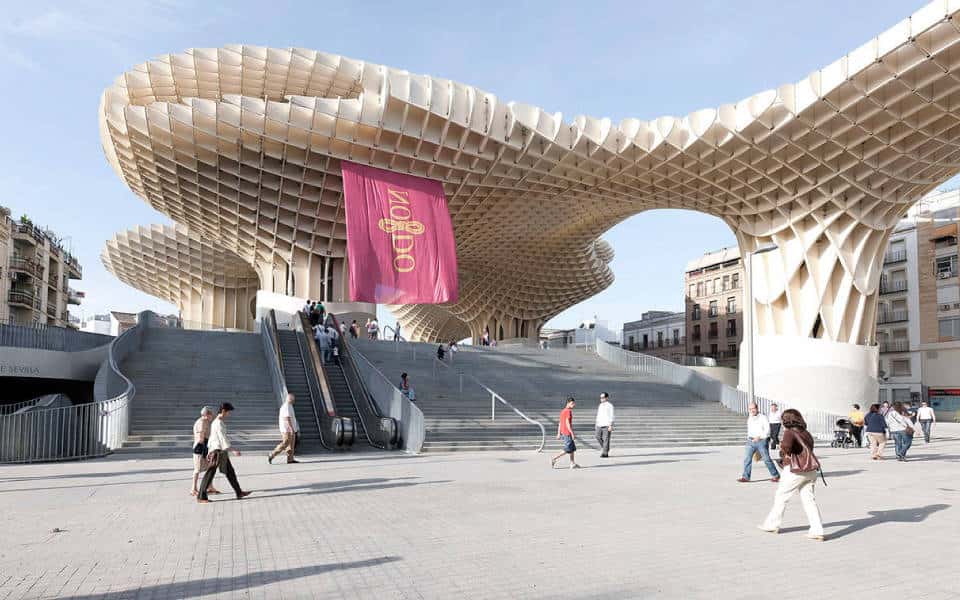 Evolution Tower
The visually appealing Evolution Tower is an architectural spectacle that sits in the heart of Moscow, Russia. Although the building is reminiscent of the double helix shape of DNA, the shape is meant to represent ribbons wrapping around each other to symbolize the intertwining of individuals, families, and generations. The Evolution Tower was designed by British architect Tony Kettle in collaboration with Professor Karen Forbes of the University of Edinburgh. Construction of the building took five years and while the actual cost of construction is unknown, it's estimated to be more than $500 million. It's also worth mentioning that Transneft, a joint-stock company, bought the building in 2016 to establish their base of operations.
This gorgeous construction stands at a height of 807 feet and covers a total area of close to 2 million square feet. In order to achieve the "swirl" effect, every floor of the building is rotated three degrees in relation to the previous one. This amazing display of ingenuity has brought the structure so much popularity that it has been nominated as the world's greatest skyscraper in 2015. Moreover, Evolution Tower was selected as Moscow's best office building.
Linked Hybrid
This is yet another masterpiece that consists of eight buildings that are connected to form a beautiful piece of architectural art., Located in Beijing, China, the Linked Hybrid is home to several restaurants, cinema halls, hotels, educational institutions, and over 700 apartments. The designers behind this marvelous construction created a mix-use space that has open passages for visitors to access. This move was aimed at promoting community-fostering encounters which lead to good relations between people. The structure also has more than 2,500 residents; it was built with the aim of promoting the use of shared resources and reducing unnecessary commutes. Construction of the structure took close to seven years to complete, beginning in 2003 and ending in 2009.
One unique feature of the Linked Hybrid is that it employs the use of displacement ventilation which has proven to be an effective way of ensuring overall fresh breathing environments. The technique entails removing air that's below the desired temperature through the floor and replacing it with cooler air from the roof. The structure is also famous for its environmental design and sustainable aspects. 100 meters below the basement of the Linked Hybrid lies more than 650 geothermal wells which are used for cooling and heating. Placing them underground helps preserve space, thus providing more green space.
The list of structures that have great architectural designs is virtually endless. These were just some of the few examples that show amazing feats of engineering and unique visualization. Every day presents brand new discoveries that change how we build structures; thus, we can expect to see even more jaw-dropping buildings in the future.