Perhaps, you're looking to attract homebuyers, increase your house market value, or just want to leave a good impression on your guests and passers-by. No matter your intentions for sprucing your home's exterior, one effective way is through lighting. After all, illuminating your home's façade can go a long way. And while it's true to invest in function and practicality, it won't hurt to give in to aesthetical additions to elevate the overall look of your home.
Besides, exterior lighting is not solely about making your home look beautiful; it also aids in improving the security and safety of your family and property. Once the lights are on, burglars and suspicious people can veer away from your front yard as they get intimidated by the bright atmosphere. The key is to create a landscape lighting design parallel with your goals and budget. Let experts like Oregon Outdoor Lighting transform your home into a beautiful and relaxing sanctuary for everyone in your household.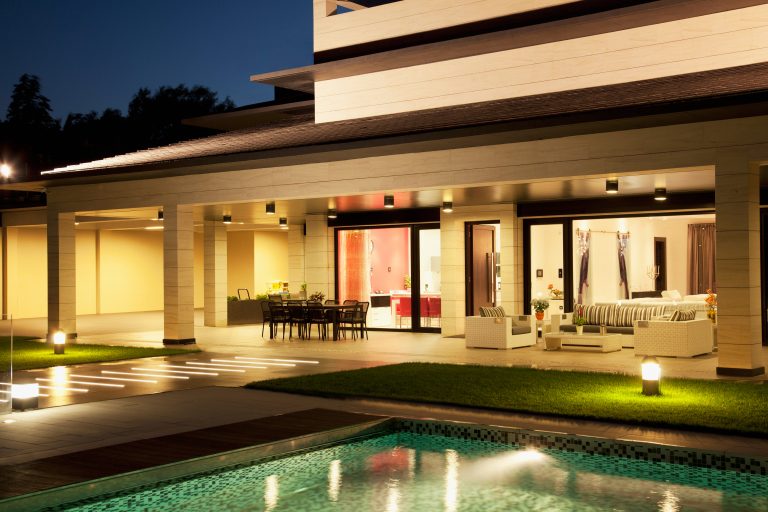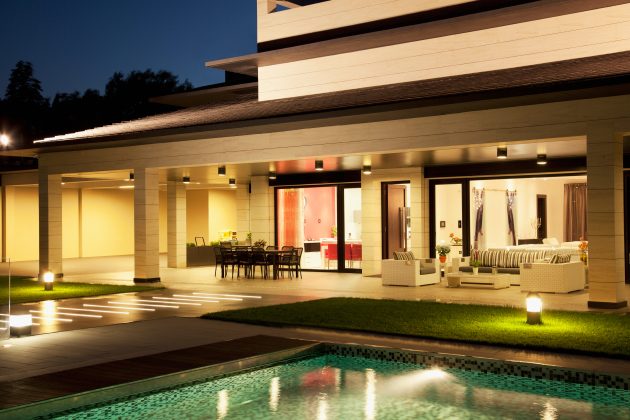 Furthermore, here are some ways to properly illuminate your home exteriors:
1.Prioritize Where To Light Up
Once you have decided to invest in outdoor house lights, task lighting should be your priority. This means you need to prioritize which areas, corners, and surfaces to light up. Most commonly, it includes your entryways, pathways, and steps. However, if these areas are exposed to the weather, you need to invest in weatherproof lighting fixtures that can stand through the four seasons every year.
Check out the appropriate areas to install bright lights if you intend to deter burglars. With advanced technology, you'll have a plethora of lighting choices to choose from. For instance, you can use LED light bulbs and control them with a remote. A motion sensor outdoor light can also be used, considering the size and distance.
When it comes to your outdoor lighting, location is everything. Assess your garage, fences, walls, and other elements in your front yard to see if they require additional lighting too. The option to add motion sensor lights is an excellent idea as they'll only be lit up when detecting movements. You don't have to worry about lighting pollution or expensive electricity bills with them.
2.Plan Early
Another essential tip is planning early and considering your home's exterior layout. Lighting your landscape requires time and effort to measure everything and develop the correct scale of lighting. But before buying a lighting fixture, determine the right size first and decide where to place it. It's best to create a draft layout of your exteriors to plan better.
More so, if the budget permits, you can opt for a landscape lighting kit. This can be a practical option if you don't want to hire an electrician for rewiring and lighting installations. Just plug the kit into a standard outdoor outlet, and your landscape will immediately be lit up. In most cases, ground spotlight kits are made up of a few lights strung together on a single cord. Inquire from the hardware near you and see which lighting kits are best for your home design. Check out and evaluate all your other lighting options before finally purchasing the best one.
3.Consider Layering
Layers are consistently effective in boosting the design of your home's interiors or exteriors. The same concept applies to your facade lighting. Lighting for the front yard used to consist of pole lanterns at the bottom of the driveway and sconces at the front door. As with indoors, you should also consider light layers. As part of the design, you need to consider what lights are best for accent, decorations, purpose, and ambiance.
For instance, your task lighting should be the primary lights on your streets, front door, and driveways. You should shield the light source to cast light downward along the paths that border the planting areas. However, if you go for accent lighting, you need to place them elsewhere, like your home's plants, trees, and architectural fixtures. Accent lighting highlights shadows and reveals a beautiful background of your exterior features or sculptures. Furthermore, a light wash can be cast along the facade to highlight the material of the building.
As for your decorative lighting, options are usually placed on walls, surfaces, and other areas that add more brilliance to your overall exterior aesthetics. They serve as additional accessories and decorations that improve your general exterior illumination. It is commonly believed that high-wattage bulbs provide more light in decorative fixtures, but this is not the case entirely. If anything, high wattages may produce more glares and lighting pollution. Go for 20 to 40 watts of bulbs, and you can acquire subtle lighting for your exteriors. Don't overwhelm your yard, as it could hurt your energy consumption and bills.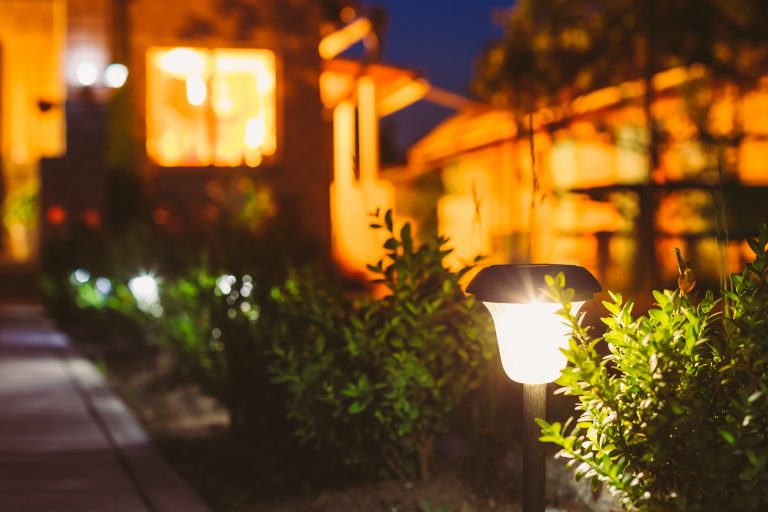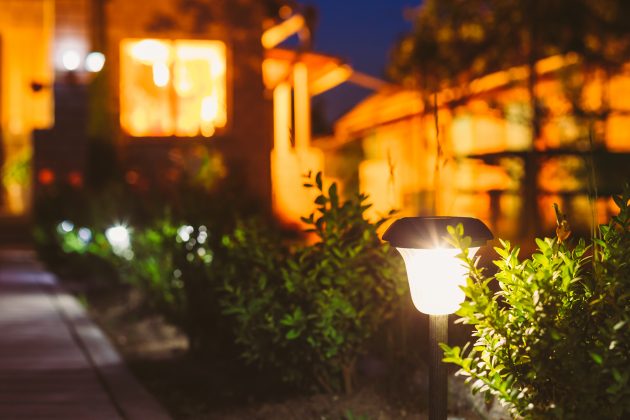 4.Lighten Up Your Porch
There are many beautiful porch design ideas, and they can be made more enjoyable with lighting. And so, while devising a plan to light up your outdoors, don't forget to lighten up the porch too. After all, this is a beautiful area for your home where you can entertain your guests and spend time with your family during relaxing evenings. Let porch lighting provide the brightness and comfort you want when spending a cool evening outside.
If your home is located in a hotter area, you can opt for a ceiling light with a fan, which hits both purposes of lighting and cooling up your porch space. The proper lighting makes all the difference. It is no longer just a safety feature; it is also a decorative feature. Find the best design and style for your porch lighting.
5.View Your Home From The Inside
You can use this tip to decide better which lighting you should install and where it should be placed. Sometimes, the view from the inside of your home will allow you to choose better. See how the patio, garden, and pathways look from inside your home.
A nighttime view outside from a living room or dining room could be further elevated with lighting accents on trees, shrubs, and plants. Furthermore, when you check your lighting from the inside, it can give a good view too. So, your guests can appreciate the outdoor lighting even when you entertain them indoors.
6.Evaluate The Efficacy Of LED Lights
LEDs don't have filaments to break or burn out, which makes them last far longer years of use than halogen bulbs. They're known to be eco-friendlier and sturdier too. LEDs also generate lower wattage but give out bright illumination. It is easy to install thanks to smaller transformers and cables, and it is less costly to operate and maintain. Over time, its expenses are pretty lower than those of halogens.
However, before investing in energy-saving LEDs, you need to be aware that they cost more expensive than conventional lights. Initial investments are higher, but the returns are high too, so they should provide the best value for your money. If you feel that the white LED bulb is too much for your exteriors, you can check out warmer-look options in the market. They come with enough brightness and color temperature to give your yard that soft and warm hue you're aiming for.
7.Go For Subtle Lighting
Too much lighting on your home's exterior can be overwhelming, too. Instead of sprucing up your home's façade, having excessive lighting can do more harm than good. To avoid overlighting, use a softer or warmer color temperature and keep the lighting design to a minimum by only adding them to highlight house elements you wish to be highlighted. Diffused lighting can work too. After all, when the moon is lit, your outdoors won't be as dark as you expect, so warm glows are enough as an addition.
In addition, you can achieve a restful mood by going for sconces, lanterns, pendant lights, string lights, or ceiling fan lights that project subtle lighting. Some fixtures come with dimming settings so you can adjust them accordingly. It is possible to create unwanted light pollution by using too much light, or installing lighting improperly, that shines into indoor spaces, obscures the stars, blinds people for short periods, and uses energy and money.
Therefore, maximize the use of outdoor lights in practical ways. Displace them in suitable locations. To focus light where you want it, use fixtures with reflectors and shields. Go for lower wattage as brighter lights do not improve aesthetics or safety. A low-watt bulb is often sufficient for illumination.
8.Create A Consistent Outdoor Lighting Theme
The majority of homeowners prefer the warmth of a warm glow to a cooler white light in their exteriors. Whatever home design or theme you have, this lighting style is always a great choice.
To achieve this intimate feel, it's best to use warm LEDs with a low color temperature. And more so, the key is to create a consistent vibe and language for your outdoor lighting. No matter where you add these fixtures, make sure they all compliment each other and produce a cohesive outcome for your exteriors.
Wrapping Up
Lights on a home's exterior are just as important as those on the interior. And when done right, your home's exterior lighting can elevate the beauty of your property even more.
Planning where to set the lights can dramatically affect the appearance of your property. You must also choose the proper lighting and go for a subtle and warm glow. Make sure you select the suitable one for the exterior of your home.