A key benefit of remote work is the ability to organize your desk and customize your workspace to your specific needs, resulting in a more ergonomic and functional home office that enhances work productivity. To help you achieve the perfect workspace, here are some expert home office desk organization tips to ensure maximum comfort and efficiency.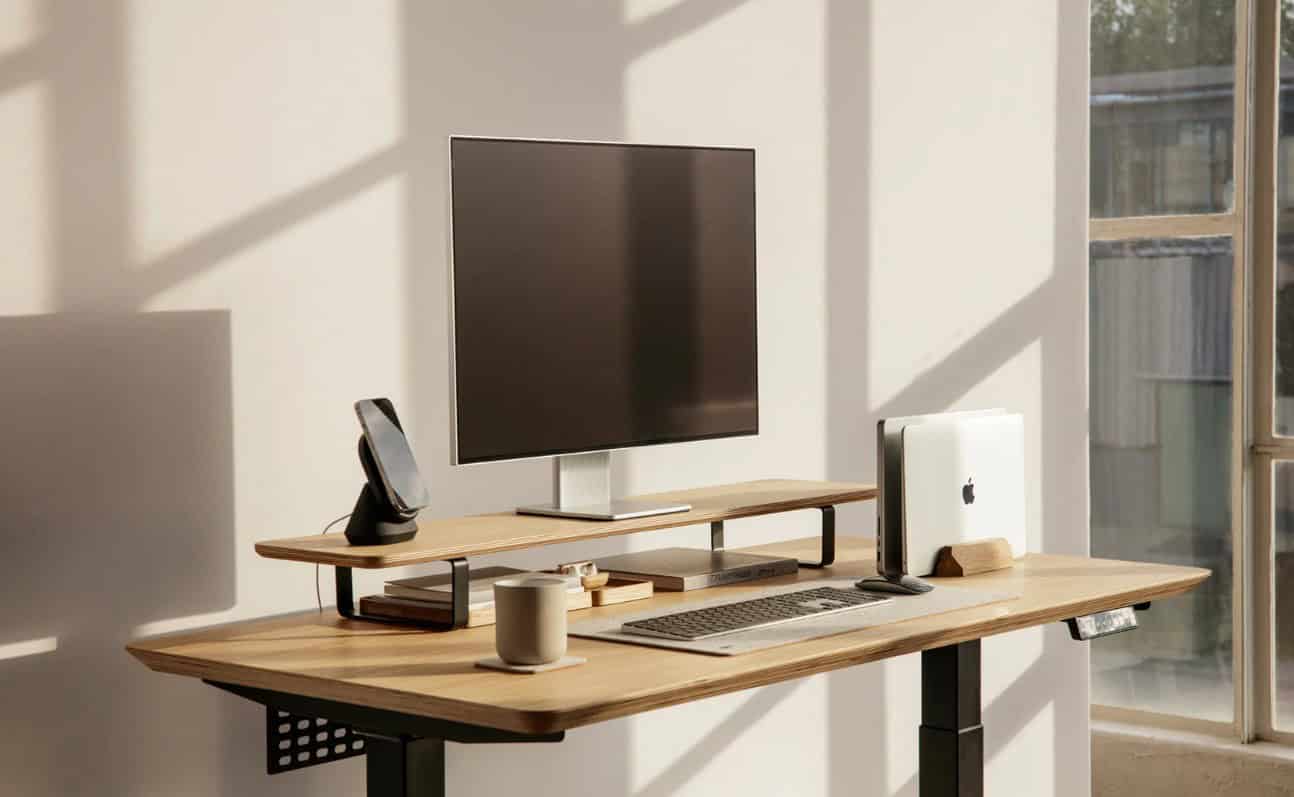 Personal and professional zone
If you lack space for an office, creating a clear physical separation between your personal and professional spheres becomes crucial. Using an unconventional decorative screen like a double-sided bookshelf or a thick, noise-muffling curtain can effectively divide your space.
Ergonomics first
Investing in high-quality equipment and sturdy furniture can greatly impact your work performance and overall health. When setting up your workspace, the first step towards ergonomics is choosing a desk and chair with proper height for a natural, healthy sitting position. For those who prefer to stand, an adjustable sit-stand desk is an excellent option – you can conveniently change your position from sitting to standing throughout the workday. Proper laptop or monitor placement is also crucial, with the screen positioned at eye level to avoid neck strain. Consider using a desk shelf or laptop stand – it is also the best way to organize your desk, by adding another level: under the shelf, you can place trays and organizers for small items.
Lights on
Bad lighting in the workplace can have adverse effects on eyesight and lead to recurrent headaches, and depleting concentration. Suitable artificial lighting, along with positioning the workspace in a place with access to natural light, is essential. However, one should account for the tone and intensity of lighting, which shouldn't be too cold or too warm, given how both too dim or too bright lights tire eyes. Implementing proper measures can help to improve eyesight, reduce headaches, and enhance productivity.
Make it green and artsy
Adding some greenery to your workspace can boost your mood, efficiency, and wellbeing. Plants are natural purifiers, absorbing pollutants and enhancing air quality. Similarly, surrounding yourself with art can also increase work satisfaction and productivity. Research shows that workers who choose and arrange the art pieces themselves enjoy even greater benefits: taking a moment to appreciate art can actually stimulate imagination and creativity. That's why incorporating plants and art into your workspace is worth considering.