Your walls don't have to remain dull with only a splash of neutral paint. You can add wall art to dress them up. And one popular option you'd want to try is canvas prints. These are images printed onto a canvas material and stretched into a frame. The wooden frame is usually hidden from view by the canvas sheet. Thus, you have clean edges with the image spanning from end to end.
Additionally, canvas doesn't produce glare as glossy photo paper and glass do when light falls on them. This makes them a classy choice among modern homeowners. Coupled with the fact that they're highly durable and budget-friendly, you can't hesitate to have some for your home.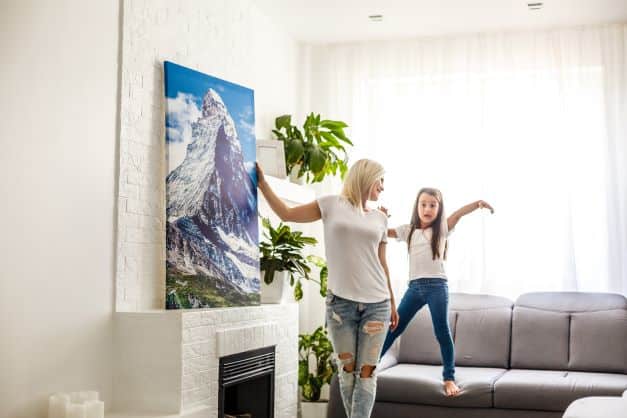 Here's a brief guide on decorating your walls using canvas prints:
1.Create a gallery wall
People globally are still waiting for gallery walls to run out of fashion. It's been around for several hundred years since its inception in 17th Century Paris. But its popularity is stronger than ever before. One good thing about galleries is that you can display several favorite prints simultaneously. Additionally, it's a perfect way of creating an endless visual interest in your interiors.
So, make a point of purchasing several canvas art pieces for your photo wall. You can go for similarly sized ones if you intend to create a grid-like pattern on the walls with distinct rows and columns. But you can still mix up big and small pieces and put your creative skills to the test as you figure out the best layout.
2.Lean them against the wall
While hanging wall art has its associated advantages, you'd want to veer slightly from the norm for a unique look. This can be done by leaning your canvas prints against the wall.
Here are a few benefits of leaning art against the wall instead of hanging them:
Allows layering of larger pieces with smaller pieces for a one-of-a-kind look. Layering also adds depth to your artworks and increases the visual interest in your rooms.
You can lean a few statement pieces to make your interiors feel more finished.
Allows you to transform the look of your space by rearranging the art as often as you wish to.
Leaning spares your walls from damage caused by fixing hooks and driving nails into the walls.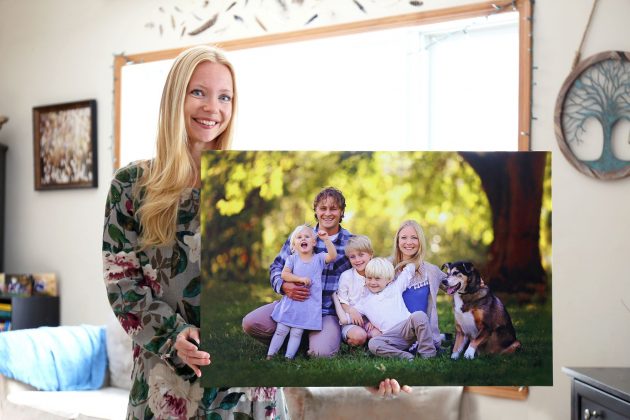 3.Customize with family portraits
Before displaying your favorite celebrity on your home walls, think about family portraits. They're 'the most tangible piece of your legacy.' Also, they're an immortal representation of the cheerful moments you spent together with your loved ones. Seeing them daily creates vivid memories of cherished occasions in your life.
So, find a dealer who makes custom canvas prints and provide them with your best family photos. Specify the dimensions you want, but it's always good to go for the big ones, as you shall see in the next point.
4.Go big
Oversized art pieces have a more significant visual impact on you, your family, and visitors. Additionally, they show that you're not afraid of boldly expressing your interests and sense of style. So, when purchasing your canvas prints, consider those with widths above 40 inches.
Here are practical tips on how exactly to pull off a spectacular look with them:
Don't mix them with several other art pieces. One oversized canvas print is enough for your accent wall.
Match its dominant color with other items in the room, such as pillows or sofa sets.
Angle it towards the wall if hanging it seems too overwhelming for your space.
5.Hang them in unusual spaces
In most homes, you'll find art hung above the three-seater couch, bed headboard, or fireplace. But it isn't mandatory to follow these age-old conventions. You can stretch your imaginativeness by displaying your canvas prints in some often-forgotten places, such as the following:
Bathroom, as long as you watch out for moisture damage
Toilet, just above the tank
Beside or right on the window trim
Inside a display cabinet
Around lonely corners
Above kitchen cabinets
In front of a bookcase
Beneath your stairs
Inside a non-working hearth
Conclusion
Decorating your walls using canvas prints calls for a bit of creativity to pull off a stunning and unique look. Use the tips above only as a rough guide. They're not rules written on stone. Therefore, feel free to tweak the suggestions to suit your personal preferences and taste. All in all, insist on museum quality when you set out shopping for canvas prints. And your art investments will last you a lifetime.